How to Make Morning Time Work for You
A quick video workshop to show you what you can do with a little focused family learning. This post is a transcription of the video for our friends who aren't video watchers.
There are free planning forms to help you get started with your own morning time included or you can try 6 weeks of already planned morning time free here and have it all planned out. Either way, we're here to help your homeschool succeed so let us know if you have questions or need ideas!
Morning Time 101: A Worshop for Busy Moms
Hello friends. I am Lara and I am the original creator of The Homeschool Garden Morning Time and I am here today to talk to you about the virtues of morning time.
Now, morning time is not inherently Charlotte Mason, but Charlotte Mason riches definitely fit really well within a morning time plan. There are many different curriculums out there to choose from or you can make your own. But the point of morning time is one: to make it easier on mom. If you have all your kids of all ages come together for one subject, it makes it easier on you because you only have to teach it once and everybody's on the same page. Older siblings can help younger siblings if it's needed. So there's beauty in that because simplicity is beautiful, friends.
Two: you can also use morning time to share the riches with everyone. Now if you are reading Wordsworth to all of your children and you have everybody from toddlers to high schoolers, I will tell you that everyone will get something out of your poetry time. Poetry is a perfect example of something that the whole family can enjoy together. Now the interesting thing about doing morning time subjects is that your older children and your younger children will all learn from each other. Something that makes your six year old giggle may be something that your 16 year old didn't quite catch. And so all the family learning together is a fantastic benefit of morning time. It really builds those relationships and it helps teach patience to both ends of the spectrum as well.
There are so many benefits to morning time. I truly hope that you will consider using it in your homeschool after we get done discussing it today.
Now for us, I'm using my cheat sheet here. This is my schedule from our morning time.
Artist Study in Morning Time
We do art study once a week on Mondays. And what art study is-  you read your biography about the artist and then you look at a piece of work from that artist. Two to three minutes generally is all that you need to spend looking at it. And then you put it face down and you ask your children to tell you what they saw. It's very simple. It does get more complex as your children grow and eventually even includes sketching out the shapes, but that is much later in the process.
---
Get our Simple Morning Time Planning Forms Here
There are three printable pages here to help guide you through planning your own morning time.  If you're a DIY-er, these forms will help you organize and implement a wonderful plan customized to your family!
---
It's really interesting to see the things that your children will pick up on and the more art that you study, the more they'll see.Then we like to put ours where the children can see it throughout the rest of the week. We also spend a few minutes looking at it again on Wednesdays. Art study is very simple, but it's a great way to expose your children to beauty, and to help them learn about history. You know when you study an artist, you learn about things going on in the world during that period and you learn about wars and you learn about governments and you learn about music, you learn about how everything affected the life and the vision of that artist.
Then you can put all those things into your book of centuries, if you have a student that's old enough to do that, and if not, you can have your children do little notebooking pages or even do a visual narration instead of an oral narration where they just draw out something they remember or something that stood out to them.
Hymn Studies in Morning Time
Then we have hymn studies. Hymns are great for learning theology. There is nothing like an old hymn that really just sort of speaks to your soul. A lot of the praise music that we have now, while it's wonderful and I am not dissing praise music, I like a lot of it, much of it is really not theologically sound, it's not scripturally accurate, if you will. Most of the older hymns really are based deeply in scripture and in things that are theologically correct.
For a hymn study, you sing the hymn, you learn the hymn, you can learn about the composer, you can learn about the things that led to them writing the hymns. So it's just interesting to hear how certain things happened, and learn about the history of the hymns and the composers. And your students will all benefit from that.
Plus it gives us a chance to practice using the instrument that God gave to all of us, which is right here. Yes, your voice. So voice training is a big part of homeschooling well – even if your children are never in a choir – being able to sing is a gift that we have. It's a way we have to worship and a way that we have to praise the Lord. And so bringing hymns and folk songs and music into your homeschool is an excellent way to help train your children to use their voices.
Memory Work
Then we do memory work. Memory work is a perfect thing to put in your morning time. So whether you're doing scripture memory work or poetry memory work, if you're memorizing parts of Shakespeare for recitation, whatever you're working on memory work-wise, you can just scale it so that everybody's working on the same thing.
Your youngest students might only memorize "
but soft what light through yonder window breaks. It is the East and Juliet is the sun.
" While your middle children may continue on, "
Arise, fair sun and kill the envious moon who is already sick and pale with grief, that thou, her maid are, are more fair than she.
" And then, of course, your older students will continue on with, "
Be not her maid, since she is envious; her vestal livery is but sick and green and none but fools do wear it; cast it off. It is my lady. O, it is my love!
" and you know, on from there.
So every grade has something that's scalable for them. When you're memorizing longer passages of scripture, expect it to take a little bit longer for your youngest students than your older students – usually not always. Sometimes we have really good memorizers when they're very young and they struggle more when they're older. Most of us can empathize with that, but your memory work is very important.
I have a son that has dyslexia and it affects his memory and his processing, and so if you have a child with special needs, adjust your expectations. You still expect them to memorize but maybe not as well.
While we are aiming for excellence, excellence looks different for every child. And that is a huge thing that you need to remember when you're doing your subjects, especially when you're pulling everybody together for the same subject.
Like morning time when you're working on your memory work. Some children are just naturally more inclined to memorizing and some are not. Sometimes we pick things for them to memorize because we know that it's true and it's good and it's beautiful and they need this embedded in their head, but they're not crazy about it. Be willing to work with that. Be willing to ask them, "what's the problem?" And sometimes it'll be a compromise and sometimes it's, "You know what, we just have to plug through". We're going to do our duty because we are, we can, we ought, and we should.
Geography is another great subject to bring into morning time. That's one that we really enjoy because everybody can do a map and on their own level. Everybody can notebook on their own level. Everybody can memorize geography poems on their own level. Everybody benefits from seeing an activity done that shows you how the earth rotates. Visualization makes things very much come alive and sometimes kids need that, even the older ones. And so geography is one of those subjects that really lends itself to everybody learning together.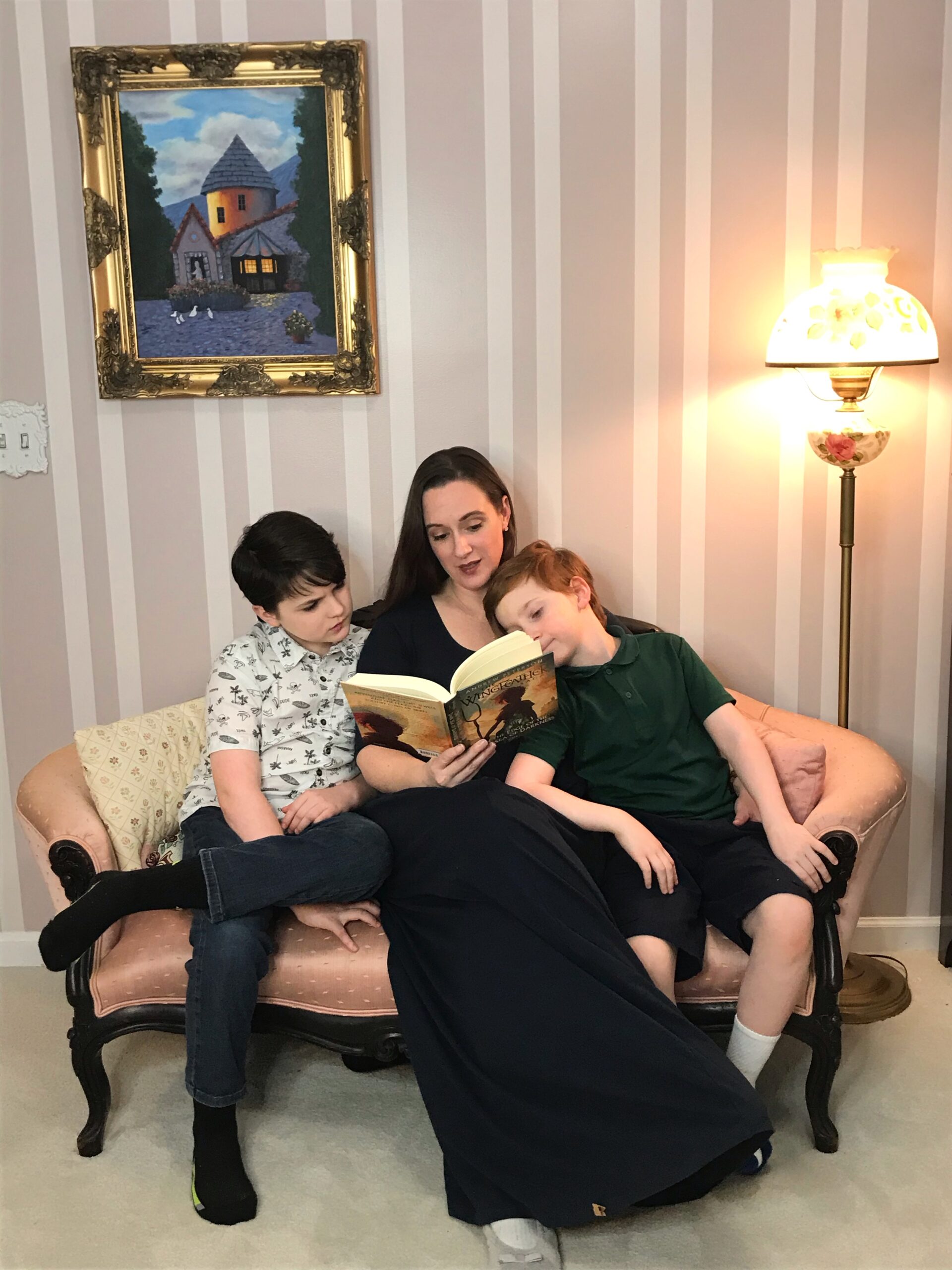 Now read alouds are another thing that are really great to have in your morning time. And if you're reading aloud, make sure you read out loud well. Don't drone on monotonously like college professors sometimes have a tendency to do. You want your children to be engaged. You want to be able to catch their attention and you want to pull them in. That doesn't mean you have to do a different voice for every character, but if you can do that, it's really fun, especially for the little ones. But read with emotion, read with passion, read in a manner that would make you pay attention if you were the one being read to.
For example, when you're reading your stories or your poetry, don't read it dead pan. We're going to illustrate with Wordsworth here.
I wondered, lonely as a cloud that floats on high or avails and Hills when all at once. I saw a crowd, a host of golden daffodils beside the Lake beneath the trees fluttering and dancing in the breeze.
Your five year old has already gone to the kitchen and started messing with the string cheese in the snack drawer. I'm telling you, you really have to animate in order to read aloud, but you don't have to go over the top. So let's move on to the next verse-
Continuous as the stars that shine and twinkle on the Milky way, they stretched and never ending line along the margin of a Bay. 10,000 saw I at a glance tossing their heads and sprightly dance.
Your children need to know that you find joy or fear or adventure in what you're reading. So bring it to life for them when you're doing your read alouds of what ever variety. That's my soapbox. 😉
Composer Study
Composer study is another thing that you can do morning time when everybody's all together. When you're studying your composers, again, it's like your artist – you're studying history, you'll learn about the art that was prevalent in that period. You'll learn about science, you'll learn about inventions, you'll learn about all kinds of things that were going on in the world just by studying the composer. And then you can learn about the era that they wrote in. You can learn about the things that are common to that era. You can learn much more in depth about that composer, especially with your older students. We usually do a very short biography of our composer. And then we listen to a piece by that composer and we'll listen to the same piece at least twice during the week.
Sometimes we listen to it when we're doing our copy work, which it's a really good thing to have background noise sometimes when you're doing copy work. Otherwise people start yawning if it's really early in the morning and you start, you know, twitching your finger, wanting to go get another Keurig cup. Um hmm. Yes.
So we really want to use the music as a way to sort of propel everything forward. So it's a great thing to have in your morning time, especially for some of the slower subjects like copy work. So we listen to ours twice a week at least, but we only do the biography once a week and we do it the first week. We do it the second week, the third week they narrate it and we go back over a few points, the fourth week that we go over the composer biography, they can do a note booking sheet with it or a guided narration.
And then we'll review it again a few more times before we're finished with the composer. But we'd like to do four to six pieces from each composer because that gives us a really good feel for what their music sounds like.
So sometimes you'll hear another piece and you're like, Oh goodness, I think that sounds like a Beethoven or I think that sounds like a Debussy or that sounds like Rachmaninoff. And often it will be, because once you get a feel for a composer, your children and yourself will both be going, Oh, I recognize the way that they do that there. And so it's just a very, very good thing to have in your homeschool to experience truth and goodness and beauty through music.
Copywork in Charlotte Mason Morning Time
We move on from that to copy work, which I just discussed a little. Now copy work is something that you can either choose for your children when they're younger or let them choose for themselves.
We do a mix. Most of the time I do the choosing still because my students are still quite young, but we do a lot of poetry copy work. We do a lot of quotation copy work. We'll do copy work from scriptures, we'll do copy work from fables and just things that, number one, are good content. Number two, it's quality thoughts and great grammar. And sometimes it'll have really neat alliteration. You get to explain what alliteration is and throwing these little tidbits of grammar so that those little seeds are planted for when your children are a little bit older and doing more writing of their own. And it can also give your older students ideas, "Oh, I forgot that was a tool that I could use!" So copy work is really beneficial and it works on handwriting.
Now we are the parents, we are the educators. We are also the modelers and I like to do copy work with my children. Sometimes I do copy what they're doing. Sometimes I just take notes on it. Other times I might write a note to someone but I do work on my handwriting while they work on theirs because I feel like it sets a really good example.
So if you have somebody that you've been wanting to write a note to, this would be a prime time to do it when you're doing copy work. Now for us, we started with print a long time ago and then we moved to cursive and we do cursive now for the boys because cursive is just really great for your brain. Plus they'll be able to read the Declaration of Independence someday, so that's fun.
But copywork is another thing that we really enjoy, it's a great morning time activity because again, if you do it in primary for your younger kids and you do it cursive for your older kids and your middle grade kids, and then you have just a notebook sheet for your older students where they can take notes or they can copy out just a small section that really speaks to them and then kind of narrate underneath why they chose that specific section. It's double duty. It's great because they're working on their handwriting, they're working on their grammar, they're working on their writing skills. It's just a really great thing for everybody to do altogether.
And if you do it all together and you have your 20 minute block, you know your kids that are little, they're gonna finish – unless it's a bad day- they'll finish early and your older kids might write a little bit more. But as long as you keep it within, you know, 20 minutes, everybody should be good. Caveat, as long as you keep it to 20 minutes for your seven and ups, your kids under that age, generally are going to fight you to do that much writing. So 10 minutes tops for anybody under seven. And depending on their ability level, your seven year olds may not be able to do 20 minutes and that's okay.
And so then we move on to just poetry, poetry for the sake of poetry. Poetry is a beautiful thing to have in your home. And Charlotte Mason actually suggested reading poetry every day for the younger forms. And I think that's a great idea. Poetry exposes you to so many things. It exposes you to feelings and it helps you learn cadence and rhythm and it can show you how words can be used to sort of propel you forward into new ideas.
And reading a poem a day if that's not something you're comfortable with, at least do it once a week. There are so many great treasuries of poetry out there. This one, Classic Poems to Read Aloud by James Berry. It's one that I go back to all the time. Um, if, if I were to show you the pages are about to fall out of this one, but it's just a great resource to have a couple of good volumes of poetry.
I would recommend having at least one that has Shakespeare's sonnets. They are beautiful. Some of them may be a little risque for the younger crowd, so you'll want to peruse those before you start reading them aloud. Poetry is just a great subject where everybody can come together and what your, you know, five-year-old may delight in is Ogden Nash and your 16 year old may love Wordsworth or Tennyson and you know, they can have these conversations about the poetry afterwards and it really helps build those family relationships, especially when you're dealing with a little bit bigger age gap because that gives them a common ground that they don't have anywhere else.
Tea Time for Homeschool
Tea time! Now tea time is not a Charlotte Mason requirement. Tea time is something that has sort of taken the homeschool world by storm over the last four to five years.
And tea time is something that's very fun to implement and it kind of either you can use it as an extra time together or you can sub it in for a morning time, one day a week. You don't have to do anything fancy. But tea time is really fun because it gives everybody snacks, which kind of brings everybody together anyway. And so if you have a poem or a story that you really wanting to get through but your family's kind of resistant to it, put out food and they will come. I have yet to meet a homeschool child that did not eat like a Hobbit. So tea time is just really a fun way to bring everybody together.
Now for us, we use cloth napkins. We have utensils because I am teaching my children manners at the same time. So table etiquette, things like that, you can use tea time to work on that. You don't have to, it can just be very low key and relaxed. For us with my two wild boys, we decided that that was a great time for us to implement etiquette lessons. And so tea time is actually part of our homeschool routine. And we do consider it part of our morning time cause we're together for that.
You can do all kinds of fun things with tea time. We have done geography tea times, we've done poetry tea times, we've done hymn tea times, we've done tea times where we just had tea time so we could sit and chat and you know, especially if you had a rough week, it's a really good way sometimes to pull everybody back together and kind of reset and put everybody in a better mood.
Store bought cookies are fine. Lemonade instead of tea, milk instead of tea, whatever your kids want, store-bought cupcakes, popcorn, whatever makes it feel a little bit special and a little bit set apart and some way that you can all just sort of breathe.
We also do handicrafts. Handicrafts are a really good thing to do during morning time. So when you get everybody together, you can also scale a handicraft. It's really fun to be able to do that. You can teach knitting where your older students will learn how to use the needles and your younger students can do finger knitting. You can do do friendship bracelets, gardening, cooking. All of these are actually life skill handicraft things. Charlotte Mason was very adamant about your children not doing pea and stick crafts, I believe is the phrasing that she used.
Sometimes we'll do sloyd work, we'll do paper sloyd- it helps the students really measure with accuracy because if you don't cut your squares right, your project does not come out right at all. It's a little bit advanced for your youngest students to do sloyd work, but origami work does really well for those ages. So, you know, your swans, the paper corner bookmarks. Now some of the pieces are not really usable, but we do enjoy the paper corner bookmarks because my children go through bookmarks. If I get really nice book marks, they always end up tearing them up or losing them. They fall out of the car when we go somewhere. It's just, it's something fun that they can make and they can go in there and they can cut their little squares and they can make the corner bookmarks whenever they feel like it after we've learned how to do the first part.
That's something that's really neat with the handicrafts. You can buy the already cut woodworking kits for your younger students while your older ones learn how to use tools. You can do wood burning, you can do sewing. Even if you have a 15 year old boy, he might not want to learn how to sew an embroidery sampler, but he better learn some stitches if he ever spends time outside because at some point he may need to know how to stitch something up. Let's hope it's not them! Preferably a tent, but it's a very important skill to learn to sew. So there's all these great handicrafts that you can do and you can scale those just like you scale a bunch of other things where everybody can come together and do them.
And that's one of the most beautiful things about morning time. It's very accessible to everybody, but it really simplifies things for mom.
And then brush drawing and art lessons. Yes. Brush drawing and art lessons – brush drawing is where you're learning how to wield the brush. You are learning how to make strokes and lines. And blobs so that you can do a better job journaling or drawing with your brush and you keep it to a very limited number of colors at first.
But everybody – everybody – needs to learn how to do this. And while it may seem a little intimidating to have your younger children with watercolors and brushes, I promise it's worth it in the end. And using nature, your nature studies, which is another thing that you can do as part of your morning time. There are plenty of options for doing nature study at your table if you want to do it that way, or actually going out into nature and observing it. It just kind of depends on where you are and how often you can get out into nature to do that.
Some of us in the cities have a little harder time, you know, getting to the park every day, but it is well worth your time to spend at least a little time every week outside. Charlotte Mason would say hours a day, but I don't think that's realistic for most of us. But you do want to learn how to take what you find in nature and represent it well on a piece of paper. So you do that by brush drawing and you learn your little steps and your little swishes and your blobs and then you get to the point where you can do it very well.
Art lessons are something that the whole family can do together. In our morning time we do a variety of mediums, but chalk pastel and oil pastel because I have a son with sensory issues. He subs oil pastels for the chalk pastels. He is my older child. I don't think I'd let my younger one have the oil pastels yet. They stain.
But we do watercolors, we do acrylics, there's oils, there's all kinds of different mediums and there's all manner of ways that you can learn together at home now. And again, you just adjust your expectations. Your younger students may have a lighthouse that looks a little bit more like a tree while your older students have a very nice lighthouse that is worthy of gifting to someone.
But it's very important for us to have this together time and for everybody to be able to learn together and to build the relationships and to focus on truth and goodness and beauty and really just being together and being joyful and delighted in learning.
So if you have questions about morning time, post them in the comments. Have a great day and happy homeschooling, friend!
---
Don't forget to grab your Morning Time Planning Forms!
There are three printable pages here to help guide you through planning your own morning time.