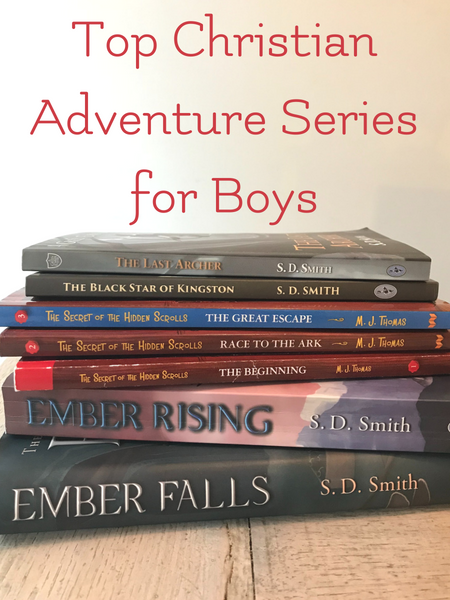 The Best Christian Adventure Series for Boys
Studies show that boys all over the world tend to struggle in the area of reading comprehension just a little more than girls. The reasons why aren't clear. But we do know that both boys and girls (and adults for that matter!) comprehend what they're reading much better when it's an enjoyable read.
Finding an enjoyable and morally awesome read for our boys is not the easiest task. But what boy doesn't love a little adventure?
Christian Series for Youth
Here's a few of our favorite suggestions that are sure to spark some reading excitement:
1. The Green Ember Series by S.D. Smith
This series is near and dear to us. Mr. T loves these adventures so much! The Audible versions are also an absolute delight. Your whole family will be fans of Rabbits with Swords!
Follow Heather and Picket, brother and sister rabbits, as they navigate one misadventure after another. Their once quiet and simple life is overturned and they are thrust into a much wider world, learning along the way the truth about who they are and where they come from.
S. D. Smith has three in The Green Ember series: The Green Ember, Ember Falls, and Ember Rising. A fourth book is rumored to be coming soon!
The rabbit saga doesn't end there, though. Smith has written two additional books that fit well within The Green Ember series. The Black Star of Kingston (Mr. F's favorite) sends you back a century before Heather and Picket, giving you a historical sub-story. The Last Archer (Mr. T's current favorite because Joe is his hero) is another sub-story that occurs during the time of Heather and Picket's adventures. The author recommends reading all five books in the order they were published to fully experience the exciting adventures:
The Green Ember
The Black Star of Kingston
Ember Falls
The Last Archer
Ember Rising
 Add to Cart Add to Cart Add to Cart Add to Cart Add to Cart Add to Cart Add to Cart Add to Cart Add to Cart Add to Cart
2. The Secret of the Hidden Scrolls by M. J. Thomas
These christian chapter books for 2nd graders (and 3rd, 4th, and 5th) have got my sweet boy with dyslexia curled up in our reading nook regularly. They are also fun read alouds and great character conversation starters.
They are the perfect read for reluctant readers since the chapters are short and the print is a little larger, but the interest level is high to keep them engaged!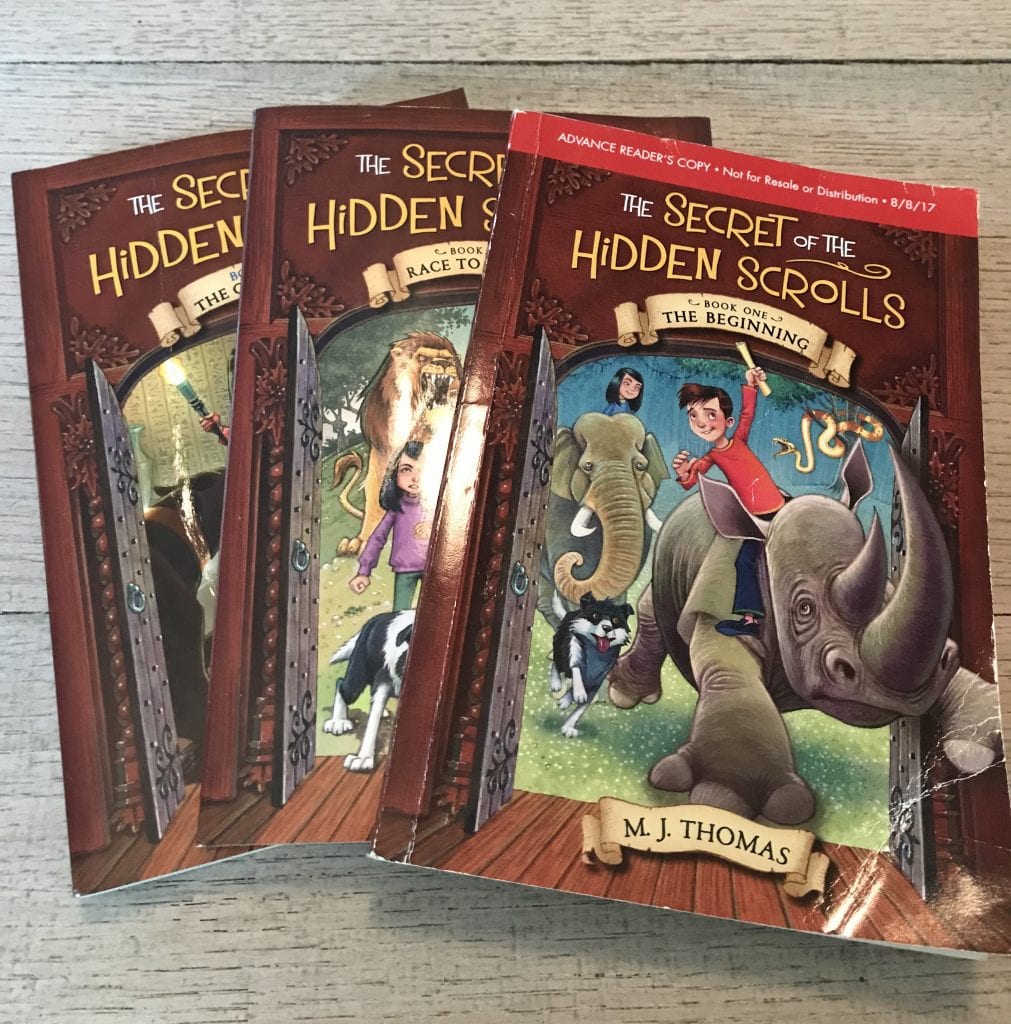 This three part series takes your boy back to key moments in biblical history alongside siblings Mary and Peter, and their dog Hank. It's an excellent series for emerging readers, bringing the truth of Scripture to life in a riveting and engaging way.
The first book, entitled The Beginning takes readers back to the beginning – the Garden of Eden. Explore Noah's Ark in the second book entitled Race to the Ark. Finally, join the Israelites as they escape from Egypt in the third book entitled The Great Escape.
M. J. Thomas isn't finished yet. Two more books are set to release this year: Journey to Jericho and The King.
 Add to Cart Add to Cart Add to Cart
3. The Wingfeather Saga by Andrew Peterson
Another personal favorite in our household, The Wingfeather Saga oozes with imagination, excitement, hilarity, and depth. Spiritual truths run deep within the pages, while fantasy engages your little reader.
Inside these christian adventure novels, the Igiby children – Janner, Kalmar, and Leeli – live in a world full of fascinating and creepy animals. They face sea dragons and toothy cows, and find their enemies to be the Fangs of Dang and Gnag the Nameless. The characters will have your boy giggling and cheering them on through perilous adventures as they discover a mystery that changes their lives forever.
The series includes:
On the Edge of the Dark Sea of Darkness
North! Or Be Eaten
The Monster in the Hollows
The Warden and the Wolf King
 Add to Cart Add to Cart Add to Cart Add to Cart Add to Cart
Whet your son's appetite for The Wingfeather Saga with this short animated film.
4. The Cooper Kids Adventures Series by Frank E. Peretti
This 8-volume series follows an archaeologist named Jake Cooper and his teenage kids through all sorts of exciting, tangled, suspenseful adventures. Historical facts and biblical principles are written in to each story in an engaging way, opening up excellent opportunities for family discussion.
These tales provide easy to read stories with impactful truths for a wide range of ages. You'll find your boy soaking these Indiana Jones-style books right up, and you just might soak them up right alongside him.
The series includes:
The Door in the Dragon's Throat
Escape from the Island of Aquarius
The Tombs of Anak
Trapped at the Bottom of the Sea
The Secret of the Desert Stone
The Deadly Curse of Toco-Rey
The Legend of Annie Murphy
Mayday at Two Thousand Five Hundred
 Add to Cart Add to Cart Add to Cart Add to Cart Add to Cart Add to Cart Add to Cart Add to Cart
5. Code of Silence Series by Tim Shoemaker
There's suspense on nearly every page, encouraging even the most reluctant readers to keep the pages turning. Inside each story is a moral dilemma that a boy named Cooper has to navigate.
While the actual events in the stories aren't likely situations that your boy will ever face, the lessons learned can be translated into every day life. He'll be challenged with honesty, grapple with facing fears, and learn the lasting benefits of loyalty and friendship.
The series includes:
Code of Silence
Back Before Dark
Below the Surface
 Add to Cart Add to Cart Add to Cart
Somewhere among this list of adventure series' is the one that will light a fire under your boy, thrusting him into the exciting and wonderful world of reading. Let us know which christian adventure series is your favorite!