A Green Ember Inspired Tea Time
Have you ever loved a story so much you found all kinds of reasons to listen to it again and again? That's how I am with the beloved Anne of Green Gables and how my boys are with The Green Ember.
This is our second post in our 5 Days of The Green Ember Series and we're sharing our Rabbits with Swords Tea Time with you. I cannot tell you how much my sons love adventure, swordplay, noble deeds, and bravery. They also really love cookies, so when it's time for tea and there are cookies, it's guaranteed to get them to pause the current battle and join me at the table 😉
Don't forget to enter our Story Formed Prize Pack giveaway below!
Mr. T actually took a sword casting class to celebrate his 10th birthday. He is big on chivalry and loves how the different characters in The Green Ember exemplify (or act in opposition to) the Code of Chivalry. He is always ready to defend the defenseless, and as his mama I'm so glad to be able to share with him the noble spirit that is found in stories about knights of old, kings of the Bible, and new stories with an old soul.
"Some say that the age of chivalry is past, that the spirit of romance is dead. The age of chivalry is never past, so long as there is a wrong left unredressed on earth."
― Charles Kingsley
Now, about that tea time . . .
What to Listen To:
Having an epic adventure is more fun when mom gets to listen in, too. While we love reading aloud and I enjoy telling the stories, there are times (especially when the narrator is excellent!) that I want to listen, too! Enter Joel Clarkson and Eric Fritzius. Not only are they the wonderful narrators of The Green Ember series, but Joel has crafted an audio delight inspired by these wonderful stories!
Melodies for The Mended Wood is just beautiful instrumental pieces that carry you along on thee adventures of Heather and Picket. They are so beautiful – my boys even ask to listen to them on car rides. I often turn them on to listen to when I curl up with a mug of hot tea to read. They are soothing, lovely, and some are full of excitement and adventure. It's an album your family will love to listen to over and over, and for tea time it provides a lovely backdrop for discussions of grand stories you've been learning about together.
 Melodies from the Mended Wood Volume 1

 The Green Ember

 Ember Falls

 Ember Rising

 Ember's End

 The Black Star of Kingston

 The Wreck and Rise of Whitson Mariner

 The Last Archer

 The First Fowler

 Enter the Giveaway!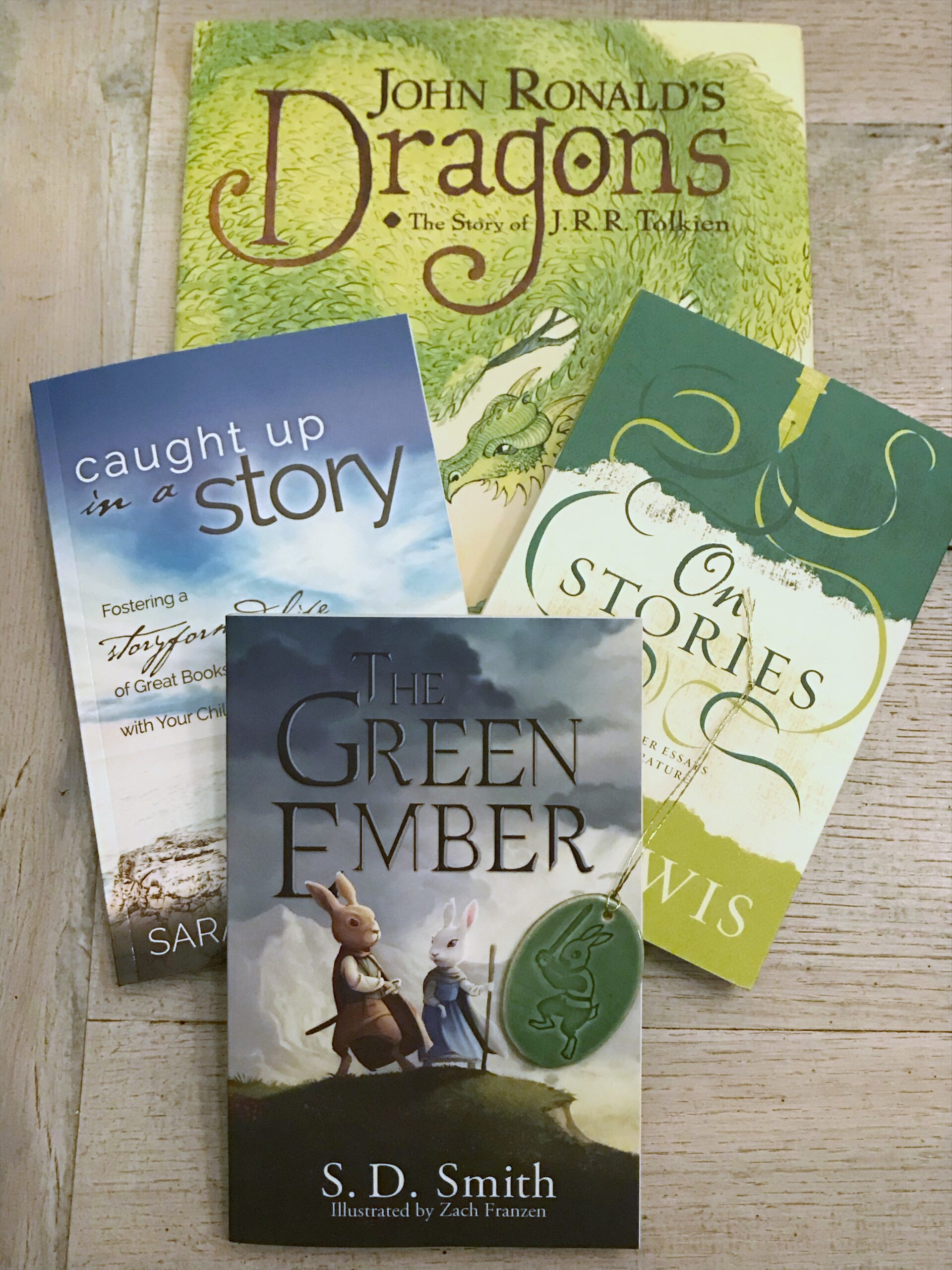 The Giveaway has ended, but you can find the books here: 
Download the printable cookie recipe here:

The Ultimate Cut Out Cookie Recipe for Rabbit and Sword Cookies
Ingredients
3 cups all purpose flour
2 teaspoons baking powder
½ teaspoon salt
1 (2 sticks) cup butter, softened
1 cup sugar
1 egg
½ teaspoon almond extract
1 teaspoon vanilla extract
Powdered sugar or flour, for rolling
Sword and Rabbit cookie cutters
 Rabbit Cookie Cutter

 Sword Cookie Cutter

 Gold Gel Food Coloring

 Stone Grey Gel Food Coloring

Instructions
1. Preheat oven to 350 degrees. Prepare a baking sheet with parchment paper.
2. Whisk together dry ingredients: flour, baking powder, and salt. Set aside.
3. In a mixing bowl, blend the butter and sugar until creamy and light. Add egg, almond extract, and vanilla extract. Mix well. Slowly add dry ingredients and mix until combined. Dough may be a little crumbly.
4. Turn out the dough onto a surfaced sprinkled with powdered sugar or flour.
Press into a ball and then roll out to ¼ inch thickness. Use cookie cutters to create shapes. Carefully lift shaped cookies to the baking sheet. Using a flat spatula is recommended to help the cookies maintain their shape.
5. Bake cookies for 7 to 9 minutes. Do not brown the cookies. Allow cookies to cool for at least 8 minutes on the baking sheet before carefully removing to a cooling rack.
Royal Icing Recipe
3 oz of room temperature egg whites
1 pinch of cream of tartar
1 teaspoon of vanilla extract or powder
4 cups of powdered sugar
Gel food coloring (if desired)
Instructions
In a large bowl (preferably of a stand mixer), combine the egg whites, cream of tartar, and vanilla and beat until frothy.
Add powdered sugar a little at a time and mix on low speed until the sugar is incorporated and the mixture is shiny.
Turn the speed up to high and beat until mixture forms stiff, glossy peaks and resembles toothpaste consistency. This should take approximately 5 to 7 minutes.
Add gel food coloring, if desired. (Gel is important – liquid will thin your icing!)
For immediate use, transfer icing to pastry bag or heavy duty storage bag and pipe as desired.
Thin the icing with a tiny bit of warm water for filling in large designs.
Allow the icing to harden before you stack the cookies.
Be sure to share your Rabbits with Swords tea time with the hashtag #EverydayGraces so we can share in the fun!