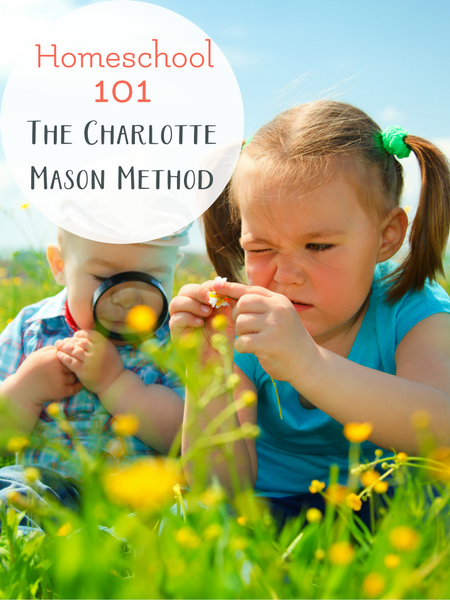 Charlotte Mason Home Education
When we hear terms like living books, narration, copywork, nature study, and habit training, we immediately think Charlotte Mason. Yet these elements do not tell the whole story of the Charlotte Mason method. It is important to know Charlotte Mason's overall vision of education to determine if this homeschooling method is right for you.
Charlotte Mason described her approach to education as "Education is an Atmosphere, a Discipline, and a Life." It is this approach that is the foundation for all the elements we associate with the Charlotte Mason method.
An atmosphere refers to your child's surroundings at home. This goes beyond the school room but the entire home environment. What does the atmosphere of your home say about your ideas, your life, and your value in education? Secondly, discipline refers to cultivating proper habits both academically and in their daily lives. Lastly, a life refers to a living education. Charlotte Mason believed that children should not simply be given dry facts but living ideas. This leads us to discussing the homeschooling methods derived from using living books as a primary source of material over textbooks.
Living Books, Copywork, and Narration
Living books are typically written by an passionate author in a narrative style. The book should "come alive" and engage the reader. Living books stand the test of time and evoke a curiosity about a time or place in the reader.
It is from these books that Charlotte Mason taught spelling and handwriting. She believed that children who wrote great quotes or passages from literature would influence them to appreciate great works and encourage better communication in their writing.
Narration also comes from the living books the child is reading for school. The process of narration is when a child retells part of a story in her own words. Narration encourages a child's attentiveness to the story and understanding of the message of the story.

Art study, Composer Study, and Nature Study
Charlotte Mason believed a rich education includes studying great works of art, composers, and nature. Typically an artist or composer would be chosen to study for several weeks.
Since Charlotte Mason also believed children should spend time outdoors all year round, nature study is a crucial element of this method. Students keep nature journals to record what they see and experience outdoors.

Habit Training
Habits not taught purposefully are taught by default. We are always teaching our children habits and Charlotte Mason believed a smooth running home was one where those habits were taught purposefully. The result of good habits will be children who respond well to their studies and perform their chores diligently. While we all understand that every day will not be perfect, proper habits will encourage an atmosphere of obedience.
 Habits: The Mother's Secret to Success Laying Down the Rails: A Charlotte Mason Habits Handbook
A Charlotte Mason Daily Sample Schedule
Another hallmark of the Charlotte Mason method is short classes. Charlotte believed that children retained more if given shorter lessons which gradually increased over the years.
Class Times Based on Grade
15-20 minutes per subject for grades 1-3
20-30 minutes per subject for grades 4-6
30-45 minutes per subject for grades 7-9

Sample Daily Schedule
Copywork/Dictation
Narration
Science
Nature Study
Art or Composer Study
Literature
Math
Geography/History
Once a Week:
Poetry
Handicrafts
Music
Art Appreciation
Keep in mind this is a very loose idea of how you can structure your home school. There are many other ways to create a homeschool schedule based on your family's needs and interests.
Places to Explore More about the Charlotte Mason Method
A Charlotte Mason Home, Twaddle Free Literature by Grade Level