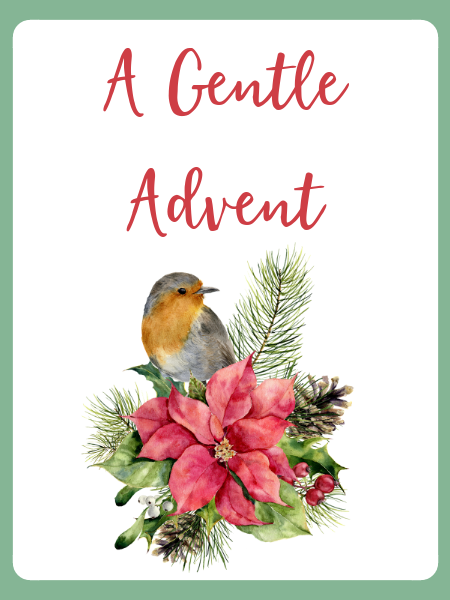 Advent Morning Time Plans
We do Holiday Homeschool around here. Since it's my own coined term, I explain that further down. That means during Advent, our studies are basically our morning time homeschool plans with reading and math added on 4 days a week. We use A Gentle Advent, the Advent session from The Homeschool Garden, for our morning time plans.
This keeps us on track, on a schedule (super important for my active boys), and ensures that we actually follow through with Advent studies. Keeping our family focused on the true meaning of the season is very important to us.
Our holiday homeschool includes lots of handicrafts, reading aloud (see our 20 favorite Advent read alouds here!), music, art, baking, and activities in addition to our morning time and Advent study. This keeps our minds active and our hearts full. What better way to maneuver homeschool through the holiday season?
This year, we are continuing our A Gentle Advent studies with A Gentle Advent – Jesse Tree.
Morning Basket Schedule for Advent
Our Holiday Homeschool starts slowly. Coffee and cocoa, gentle music like Midwinter Carols wafting through the air as we cuddle under warm blankets with our mugs, and lots of chatting about the day. Somewhere around 10 we settle in for our Scripture journaling and to plan for our activity for the day.
Each volume of A Gentle Advent contains daily activities. A Gentle Advent has more of a traditional morning time feel contained within the subjects and activities while A Gentle Advent – Jesse Tree has more handicrafts and activities to engage your whole family. Both have a scripture journal and are Charlotte Mason inspired.
After we finish our journaling and activities, we spend the day listening to audiobooks, enjoying classic movies like A Christmas Carol, practicing our musical instruments, or playing outside weather permitting. There is no hard and fast schedule, but we keep to a general schedule so that come January 1st, we don't have a major uphill battle to get back into the swing of homeschool. We do just enough to keep ourselves accountable without draining ourselves trying to keep it all done during such a busy time.
After dinner, we often gather by the fire for family game time or to listen to a favorite Christmas story. It truly is a gentle season and we approach it with much grace.
Advent Readings for Your Family
A Gentle Advent Jesse Tree contains a beautiful set of Advent candle readings for your family to use with the Advent wreath you create on Day 1 of the study. There are 5 readings, one for each candle on Advent Sundays and for the Christ Candle on Christmas Day.
Jesse Tree also contains optional ornaments for your tree to help visualize the Scripture readings each day. The ornaments can be cut out as they are, or mounted onto ornament frames, or transferred and burned onto wooden discs.
Advent for Mom
If you are weary and in need of Advent refreshment, A Homespun Hallelujah is an Advent course made just for busy moms to help you slow down, savor the season, and be present. Delight in the beauty of Scripture and join us for Mother Culture handicrafts and creative endeavors to settle your mind and sooth your spirit.
Contained within the guided Scripture journal are prompts to go along with each day's Scripture writing and journaling. There are activities including painting, needlework, creating gifts and hosting a tea time for friends, and more. A Homespun Hallelujah is an invitation to cherish the season and to move through it with grace.
Will you join us?