Listen to this post here:
A Gentle Homeschool Morning Time Schedule
We've been a morning basket homeschool for several years now. As far as homeschool schedules that work, beginning your day with your morning time binder in hand and delight filled subjects for your children to learn together is possibly the very best homeschool routine you can have.
Why morning time?
Morning time is a beautiful way to build in whole-family, whole-hearted learning. It builds relationships, lessens the load on mom, and helps the students learn how to interact on many levels and have great conversations about diverse subjects.  Morning time helps us to keep Truth, goodness, and beauty as a focus in our homes.
In a way, morning time is like a liturgy – the form and function of which guide our eyes to the sacred and important and joyful. We are using these rich subjects as a way to celebrate the beauty our Lord has bestowed through His goodness.
Beauty He created in nature. Beauty He gave us through music. Beauty written down in Scriptures, prayers, and even books.
We are arming our children against the world and all its darkness when we sharpen them with Truth and beauty. When we read aloud beautiful books full of stories that convey Truth, courage, and inspire them to look at the world beyond themselves, we are training them in what is good and that training will serve them well throughout their lives.
We follow our weekly plan that loops through each morning time subject and we are currently doing a 5 day week. In some seasons, we just do a four day week, so we mark off the days as we finish them. We've been using these menus to store out morning time plans and it's been awesome! It keeps everything organized, clean, and easy to find.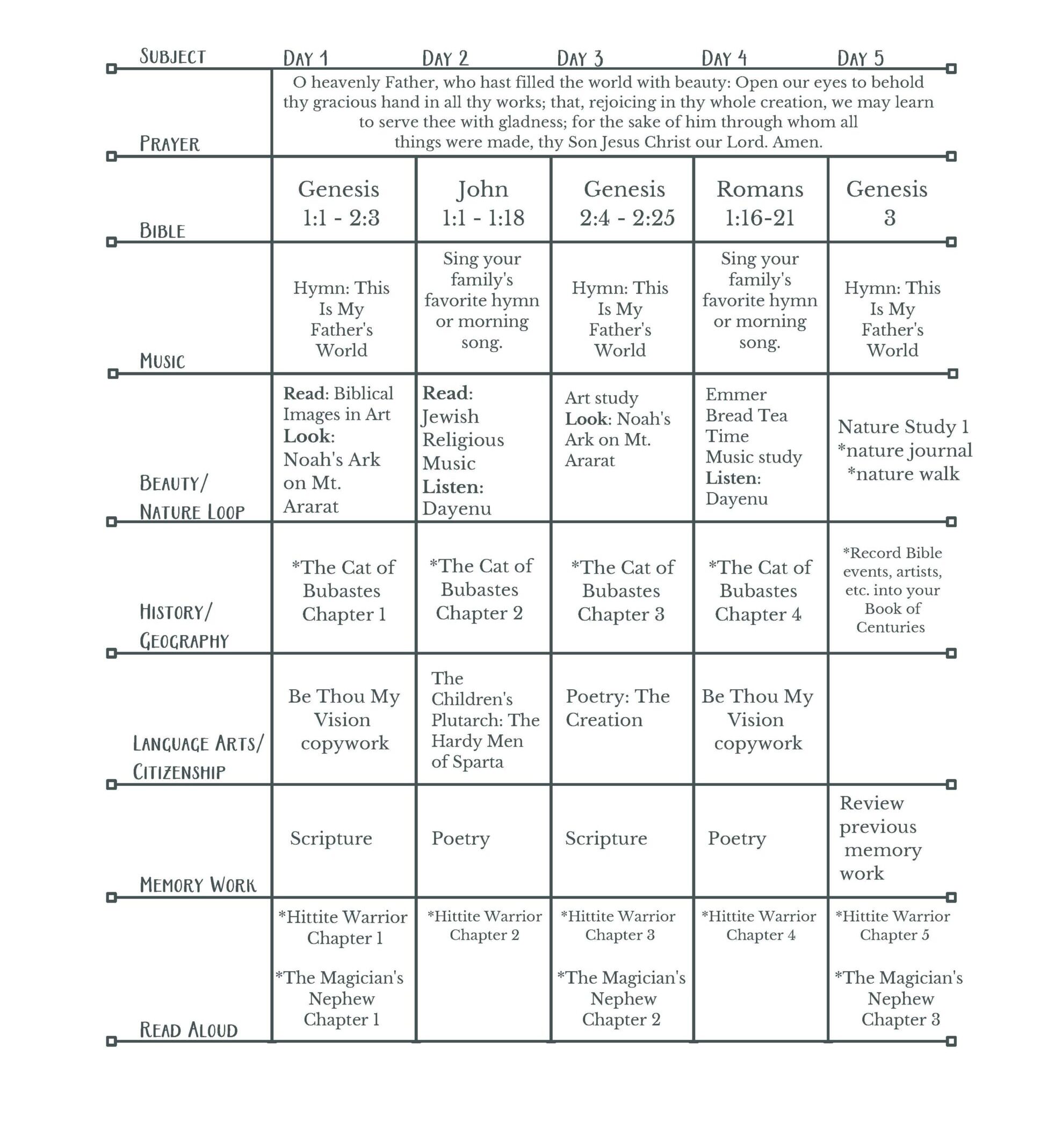 We use morning time plans to keep all the riches included without overwhelming me. There are also lots of our foundational Charlotte Mason subjects included in addition to typical "morning time".
Recommended Reading List
One of my favorite resources that has been added to our Morning Time plans is our Recommended Reading List so that our families can all dig deeper into what we are studying each session. We include the titles you will need for Geography if we're using a book (often these are in the pubic domain), Elementary and Middle Grade titles, and Upper Grade titles. We try to include at least one excellent read aloud selection the whole family can listen to and enjoy as well.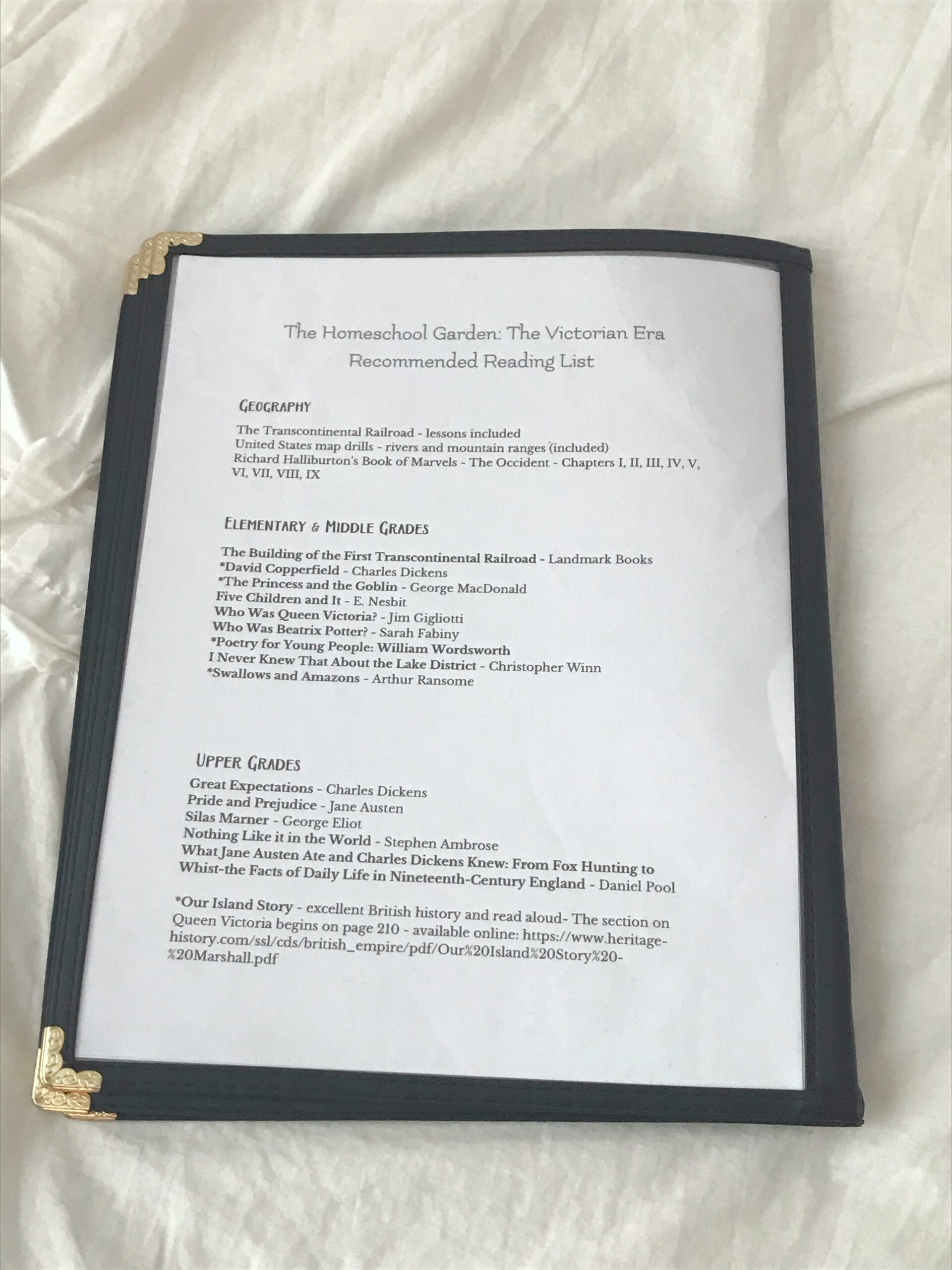 Morning Time Subjects
Our Charlotte Mason inspired curriculum includes these subjects:
A morning prayer (we do this at breakfast)
Scripture study and memorization
Poetry memorization
Music – a hymn or folksong on alternating weeks
Composer study – we read the biography on Tuesdays and listen to a new piece each week
Artist/Art study – we read the biography on Mondays and study a new piece each week
Copywork a few times a week
Nature Study
Handicrafts
Art lessons
Shakespeare or Plutarch – we enjoy a tale from Shakespeare or a life from Plutarch a few times each session
Poetry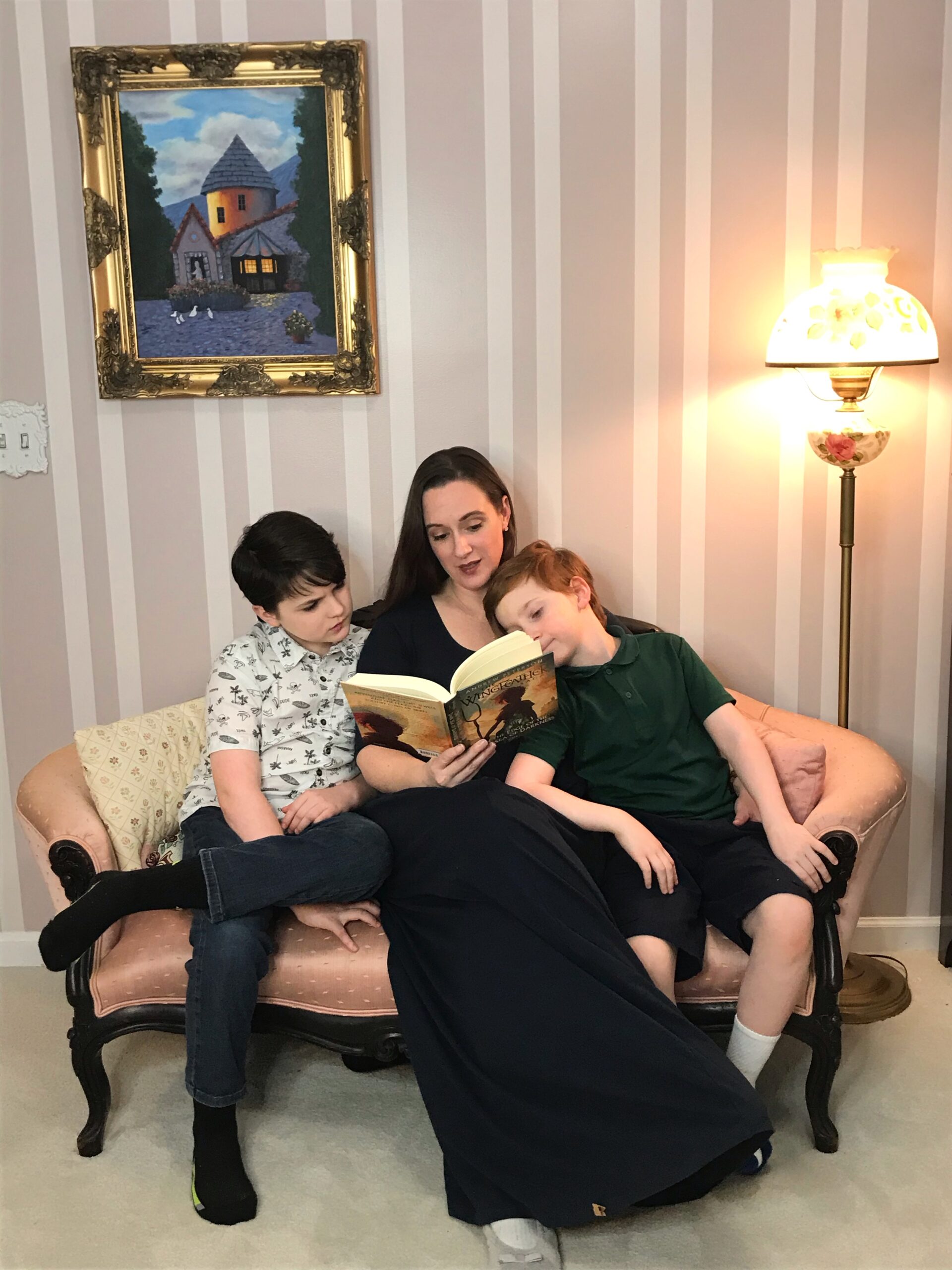 If you're wondering what subjects we do not do as part of our morning time plans , those subjects are:
Math
Phonics/reading curriculum for beginning readers
A chronological history stream for the home country of the students and world history (we jump around a bit)
Science above and beyond nature study (Form II and above)
Additional watercoloring and drawing lessons (afternoon occupation)
Read aloud and read alone time (*we do suggest using a read aloud, but it is optional)
Homeschool Morning Basket Schedule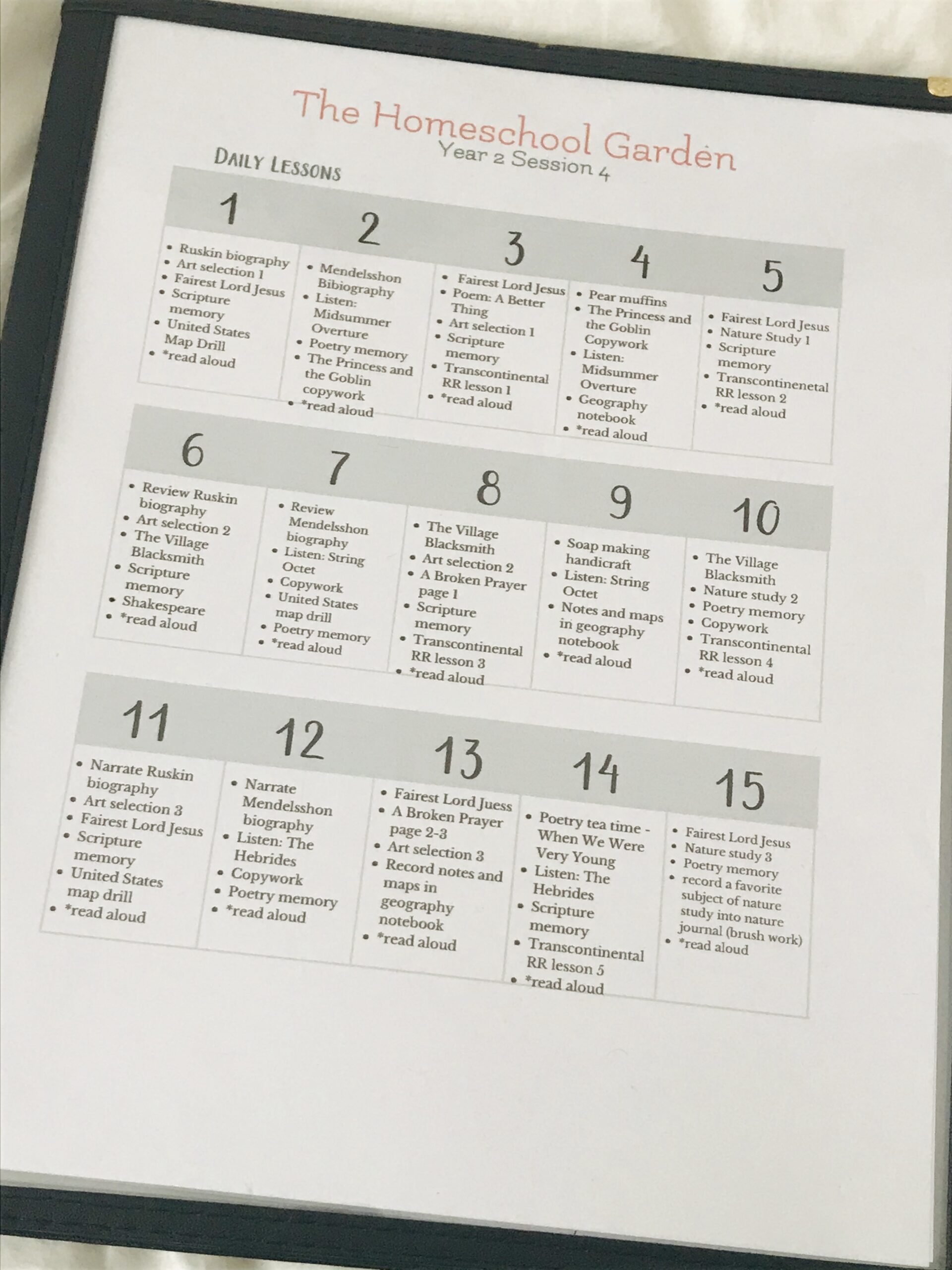 The beauty of Everyday Graces morning time plans is that it is all planned out for you! So all those subjects you struggle to round up, research, find resources, etc? It's all there for you. For our own morning time, we begin like this:
We call our attention to the table by lighting a candle and ringing our crystal bell. This helps the boys remember that it is time to learn and creates an atmosphere of peace and comfort.
Everyday that begins with a song is wonderful! We start Morning Time with a morning song. We learned the Doxology last year and on the days we aren't learning a new hymn or folksong, we begin our morning time by singing it a capella. On Monday, Wednesday, and Friday we sing our hymn or folksong from the morning time schedule for that day with the recorded accompaniment.
Each day's rhythm is built on this foundational liturgy of prayer (at breakfast), candle lighting and bell ringing, and song.
For the sake of transparency, I do not want you to think for a moment that each day is a peaceful and serene jaunt through delightful learning. I am a sinner saved by grace home educating two little sinners saved by grace. We are imperfect and often – our days reflect that. But this process each day helps keep us rooted and focused on the One who is Truth, goodness, and beauty. And isn't that the point?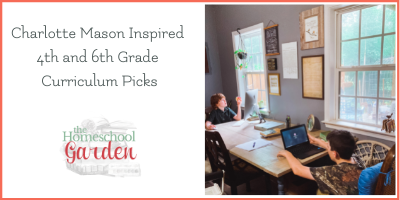 The Weekly Morning Basket Schedule
It can seem overwhelming to list out all our subjects so to help you see how doable this is, we're breaking down our homeschool morning schedule by day. This is how it works with a 5 day week. If you do a 4 day week, just loop the fifth day on to your next homeschool week and keep going.
Monday:
Read the artist biography or art history page
Picture Study Charlotte Mason style
Sing a hymn or folksong
Scripture memory
Geography lesson
*read aloud (optional)
Tuesday:
Read the composer biography page
Listen to a piece by the composer
Poetry memory work
1 page of copywork
*read aloud (optional)
Wednesday:
Sing the hymn or folksong
Poetry – read aloud and enjoyed by all, this is a longer poetry selection
Revisit your art selection for the week
Scripture memory
Geography lesson
*read aloud (optional)
Thursday:
Thursdays have a bit of variety in their setup. We have 3 teatime options including 2 scrumptious recipes each session that take place on Thursdays. We also have a handicraft, an art lesson, and a scheduled time for practicing brush drawing that take place on the other 3 Thursdays.
Teatime, handicraft, art lesson, or brushdrawing
Copywork
Listen to the composer piece for the week
Geography lesson or geography notebook day
*read aloud
Friday:
Hymn or folksong
Nature Study (these are simple and done around your table!)
Scripture or poetry memory work
Geography lesson
*read aloud (optional)
We stand to sing, to recite, and even just to stretch. Generally we can do all our morning subjects and language arts and math by lunch time. Not always, though.
This homeschool morning time routine has been a great way for me to also increase our consistency and keep myself accountable.
What does your homeschool morning routine look like? Share below and join us in our homeschool support community on Mighty Networks for encouragement in your homeschool journey!