Charlotte Mason Advent Traditions
We are so incredibly excited for Advent this year! Be sure to scroll down to the bottom to enter a wonderful giveaway of over $600 in homeschool goodies!
Preparing A Gentle Advent for you has warmed our hearts so much toward the coming season. We are delighted that so many of our dear friends and readers have decided to join us, and there is room at our virtual Advent celebration for your family, too!
These living literature books are a Charlotte Mason inspired reading list and are all books recommended to help your family experience a delight filled, character building, historically rich Advent and Christmas season. Many of these take more than a day to read or listen to together, so I only included 20 instead of 24. Some of them are harder to find, but well worth the effort and since they are available used, it is easier to justify buying more 😉
For our family, we select our Christmas books for the season and place them around the base of our tree which usually goes up the day after Thanksgiving. We have made this a tradition in our home that involves carols, hymns, baking, and homemade hot cocoa. We add a new book every Saint Nicholas Day. Because we follow the 4 gift rule, we wait till Christmas Eve to put presents under the tree.
Creating an atmosphere of love and learning only sweetens the beauty of the season. Where they were available, I included audiobook versions as well since the holidays can mean lots of busy hands and lots of travel. I can't wait to hear which ones your family adds to your holiday reading this year!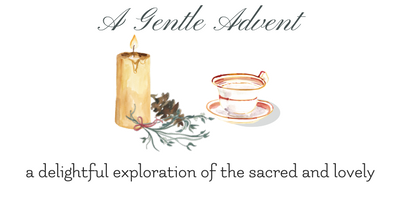 Living Books for Advent and Christmas
A Christmas Carol – Charles Dickens – Ebenezer Scrooge, a mean-spirited miser, is visited by a series of ghosts who help him discover the true meaning of Christmas.
 A Christmas Carol

 A Christmas Carol Audiobook

The Crippled Lamb – Max Lucado – Joshua is a young, crippled lamb who can't run and play with the others. Though Joshua feels sad, God shows him that HE has a purpose for everyone's life.
 The Crippled Lamb

 The Crippled Lamb [Board book]

The Legend of Saint Nicholas by Grun – This picture book tells the story of the life and miracles of Saint Nicholas. He was well known for his acts of kindness and generosity, and is celebrated with a feast on December 6.
 The Legend of Saint Nicholas

 Saint Nicholas figurine

Jotham's Journey – This exciting story follows Jotham as he journeys across Israel to find his family. He encounters thieves and robbers as well as wise men and shepherds before ultimately finding his way to the Savior who was born in Bethlehem.
 Jotham's Journey

Christmas in the Big House, Christmas in the Quarters – A Coretta Scott King Award winning holiday book that describes Christmas on a plantation in the pre-Civil War era. This book describes Christmas from the viewpoints of both the big house family and those living in the slave quarters.
 Christmas In The Big House, Christmas In The Quarters (Coretta Scott King Author Award Winner)

One Wintry Night – Ruth Bell Graham – This unique version of the Christmas story takes readers on a journey from Creation to Resurrection as they listen to the story unfold with a young mountain boy who is hearing it for the first time.
 One Wintry Night

The Christmas Miracle of Jonathan Toomey – Jonathan Toomey is the best woodcarver in the village, and he is lonely. No one knows of the sadness he has hidden away. One day, a stranger approaches him and what happens next is a Christmas miracle.
 The Christmas Miracle of Jonathan Toomey

Tailor of Gloucester – Poor tailor mouse is freezing in his workshop during a hard winter. He has a very important job to complete, but he is running out of thread – and out of time. Luckily, his friends pitch in to help save the day.
 The Tailor of Gloucester

 The Tailor of Gloucester Audiobook

Uncle Vova's Tree – Patricia Polacco – Take a look at the Russian Orthodox holiday of Epiphany. Explore the traditions, costumes, and decorations that are associated with this special day.
 Uncle Vova's Tree

The Tale of Three Trees – Hunt – Three trees growing on a mountain dream of what they want to become when they're grown. Their wishes come true in the most unexpected of ways.
 The Tale of Three Trees

The Story of the Other Wise Man – Henry van Dyke – During the time of Jesus's birth, a fourth wise man sells all he owns to buy a gift he wants to present to Jesus. Though he doesn't get to journey with the rest of the wise men, he sets out on a quest that has an unexpected ending.
 The Story of the Other Wise Man

The Gift of the Magi – O. Henry – Della and Jim long to give each other Christmas gifts, but they can't afford it. Each makes a sacrifice to get the other what they really want. While the gifts are useless, the couple's love grows stronger through these acts of love.
 The Gift of the Magi

 The Gift of the Magi Audibook

Silent Night: The Story of the World War 1 Christmas Truce by Weintraub (for older children) – Early on in World War I, troops on both sides laid down their weapons in order to celebrate Christmas together.
 Silent Night: The Story of the World War I Christmas Truce

 Silent Night: The Remarkable 1914 Christmas Truce Audiobook

The Glorious Impossible by L'Engle – The birth of Jesus was a glorious impossible. Celebrate the miracle of God's love in this beautifully illustrated picture book.
 The Glorious Impossible

Letters from Father Christmas by Tolkein – Every December, Tolkein's children would receive a letter from Father Christmas. They told tales of life at the North Pole. Children are sure to delight in these stories involving reindeer on the loose, clumsy polar bears, goblins and more.
 Letters From Father Christmas

 Letters From Father Christmas Audiobook

Christmas in the Country – Cynthia Rylant – This delightful story describes a snowy Christmas in the country. This book is a reminder that sometimes simpler is better when it comes to enjoying the holidays.
 Christmas in the Country

The Legend of the Poinsettia – Tomie dePaola – This Mexican legend tells how the poinsettia came to be a symbol of Christmas. It's also a gentle reminder that it truly is the thought that counts when it comes to giving gifts.
 The Legend of the Poinsettia

A Song for Young King Wenceslas – Cecil Maiden – In 10th-century Bohemia, 14 year old Wenceslas has to fight for his throne against the pagan forces led by his mother and brother. This book is a bit harder to find, but well worth the effort!
 A Song for Young King Wenceslas

The Candle in the Window – Grace Johnson – It's Christmas Eve, and Gunther misses his wife and son. When a stranger appears and encourages him to place a candle in his window. She says this candle will light the way for a visit from the Christ Child.
 The Candle in the Window

I Saw Three Ships – Elizabeth Gouge – Polly is sure that something special is going to happen this Christmas so she leaves her bedroom window open on Christmas Eve. When she wakes up the next morning, she discovers that more than one miracle has taken place.
 I Saw Three Ships

Enter the Holiday Homeschool Giveaway
It sure has been a crazy time this year! In efforts to ease financial burdens and help you to further explore your homeschool opportunities, we're giving you over $500 of homeschool and educational gift cards, printables, and courses!
Thanks to these amazing bloggers and brands that love supporting the homeschool community, we're able to give back to a lucky homeschool family in the best way! Hopefully, one of you deserving folks will be blessed by this bundle!
Inside the giveaway, you'll find a $125 gift card to Notgrass, $150 gift card to Lakeshore Learning from The Fervent Mama and Thrive at Home, 3 Sessions of the The Homeschool Garden Morning Time Plans ($89.97 value), a $50 shopping spree in The WOLFe Pack's store, Mega Holiday Bundle from In All You Do 7 unit studies in it + 2 Mommy & Me Journals (Christmas & Easter) + Christmas PreK Pack + Gardening Unit Study ($53.92 value), the Music Lessons for Holidays & Special Days course from Music in Our Homeschool, $50 Gift Card to Orison Orchards shop, the James Little Fishes Bible Study and James Self Study Workbook from 4 One More, and a FREE Grab Bag during the next Digital Grab Bag sale (coming soon.)
Learn more about the 2020 Homeschool Giveaway's Sponsors:
Notgrass History exists to glorify God by producing materials centered in His Word that help parents train their children to honor God with heart, soul, and mind. We publish history, geography, and government curriculum for all ages.
The WOLFe Pack creates science, history, literacy, holiday and Bible packs for the discerning homeschool mom.
The Fervent Mama is where you'll find encouragement, community, and hope in your motherhood journey. Learn to love Christ's design for womanhood through managing your home, homeschool, marriage, and life by Biblical standards.
Since most homeschool moms don't have the time or expertise to teach music in their homeschools, Music in Our Homeschool offers click-and-go, super easy-to-use music appreciation courses for all ages, so every homeschool can include music! Find Music History, Hymn Study, Composer Study, 15-Minute Music Lessons, Musicals, Christmas, etc., as well as Memberships for Elementary and High School!
At [email protected] I help working homeschool moms with sanity-saving tips and tools for an organized and successful homeschool, household, and career. I'm a homeschooling mother, grandmother, and former banker-turned-business owner. And I know just what you're going through.
The Homeschool Garden morning time curriculum is a way for even the busiest moms to include truth, goodness, beauty, and delight into their homes and homeschools. The Homeschool Garden is brought to you by Everyday Graces Homeschool which has been providing encouragement, resources, and support to Christian homeschool families since 2012.
Bible literacy is the goal behind Inductive Bible Study Courses. Our resources teach children and teens how to interpret and apply the text of Scripture through whole book studies from 4 One More.
Do your kids dread math? Do YOU? Math games are the answer! There's no getting around it — math just requires practice. You'll never be good at manipulating numbers without being incredibly familiar with them, forwards and backwards, inside and out. Math games are a fun way to gain that familiarity and practice facts without it seeming like drill.
Digital Grab Bag consistently provides you with the perfect opportunities to grow your digital library at an affordable price. No more shopping around, no more budgeting, no more missing out, no more FOMO. We give you all the content for one price, and in an easy to collect format that you'll be able to use in your own time.
In All You Do has been creating quality printables for the homeschool community for more than 8 years! You'll find over 750 printables and resources for PreK to High School in a variety of subjects from pre-reading to High School Literature to Geography and everything in between.
Want to enter to win? Simply fill out the form below and you're in it to win it!
You are responsible for reading the Terms and Conditions before entering. Entering this giveaway confirms that you have read and understand the terms.
WEBSITE EMBED: a Rafflecopter giveaway

LINK: http://www.rafflecopter.com/rafl/display/f407996930/?