Why we ditched Classical Conversations and what homeschool curriculum we're using instead. Not every method works for every child, and we must make the right decision for homeschool learning in our home.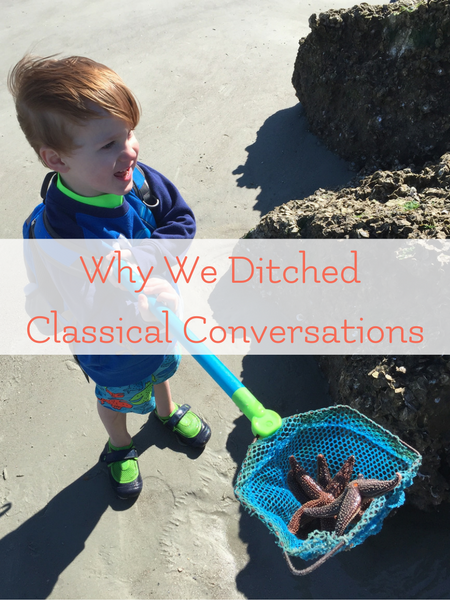 Why we ditched Classical Conversations
So I'm going to forego the dramatics of telling you how heart broken I am that CC just didn't work for us. Because getting started with Classical Conversations was so exciting for us.  Because I loved it and fought till the end to make it work. Had it been me in "School", we'd already be signed up through Challenge IV. It is not me and it was not what Mr. T needed. He adored community day but the presentation of materials and the classical homeschooling methods utilized by Classical Conversations, especially in the younger grades, is not his jam. So after our year in Foundations, we quit.
Here's the short list of whys:
Memorization without explanation and diving deeper into things he wants to know more about is not cool with him. He doesn't want an overview, he wants an exploration.
Mr. T isn't the most cooperative child at home when I try and teach things he doesn't want to learn about. He's 5 and a half, he has been in speech and occupational therapy over half his life, he has sensory processing issues, he has dyslexia, and he's gifted. If we are learning about Ben Franklin and his kite and Mr. T would rather be learning to weave a basket or how and why a paper airplane flies then there is no amount of bribery, cajoling, or threats of no dessert and no Magic School Bus that will make him budge. Welcome to Intense Kids 101.
Mr. T is competitive. Memory Masters is something he'd be totally into competing for, even at 5, but his Apraxia gives him a huge disadvantage for being able to say everything correctly and CC is not set up for kids with special needs to have any sort of accommodations. This would be my one big negative about MM in general. I get the why, but as a mom of 2 special needs children, it doesn't sit right.
Will we ever go back? I don't know. Classical Conversations Challenge program is an exceptional program that is designed to equip older children and young adults to go out into the world with the ability to think critically, debate and educate, and to make God known.
After having time (as in 2+ years) to mull over CC and look at other classical programs, I know we will not go back to Classical Conversations for elementary or middle grades. I do think the Challenge program for high school is a good program and we might consider that when the time comes. 
If your child is designed to thrive with classical style learning, then it is certainly a great investment in their education. If they are not designed to thrive that way, then CC is probably not for you.
What we are doing instead (Our homeschool curriculum picks for K/1st and Totschool)
Our home is full of books, and toys (though drastically fewer since we began purging "stuff" a few months ago), art supplies, homeschool supplies, and instruments. Much of the day is spent playing, watching and studying nature, and reading together.
We also spend a great deal of time traveling to therapy. Me letting go of my "ideal" homeschool has led to a much less stressful and more enjoyable home. *ahem* So, this year looks different. We are keeping the CC Timeline for history, and will be using it with our My Book of Centuries notebook.
Purchasing homeschool curriculum: Kiwi, Doodle, and Koala Crate
The grass green boxes are Kiwi Crate, the blue is Doodle Crate, and the yellow is Koala Crate.
Kiwi Crate, for Mr. T, is full of fun activities that are already ready to go. No Pinterest, no cutting, no rounding up materials, no researching the when/where/why/how, just open up the box and go. So far we've done Flags of the World, Castles and Catapults, Spheres and their Peers (bubbles and tangrams!), and now we are working on Insects.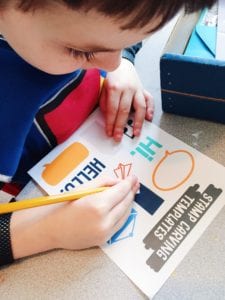 Doodle Crate, also Mr. T's, is an arts and crafts box full of super fun projects and fun homeschool classroom supplies. Mr. T adores art and even though Doodle Crates are geared for older kids, with the tutorial videos at Doodle Crate's site and a little help from mom, Mr. T hasn't had any trouble. He's made some neat fabric baskets you can see on Instagram and this month he carved his own stamps and made some cards! How cool is that? And I didn't have to go to Michael's once. Wahoo!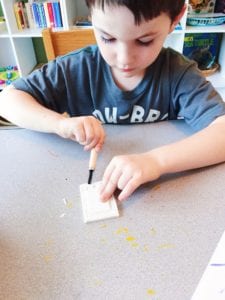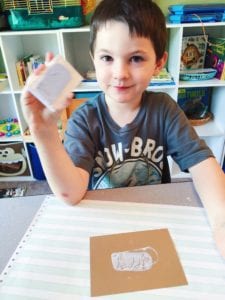 Koala Crate is for preschoolers. Mr. F's very own box! He loves to get boxes. Mail is so much fun when you're a little one. We've had a big ocean adventure and made little fish cards that are still getting played with, and now we are having a ton of garden fun! Our little grass-haired people are growing in the kitchen window. Mr. F likes watering them a lot.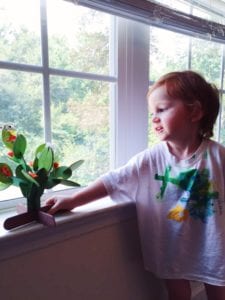 These 3 crates (there's a 4th in the Kiwi Crate Family called a Tinker Crate for young inventors, but we haven't tried it since Mr. T loves his SnapCircuits and Erector set for now) are a life saver. I don't have to look for ideas, they are perfect for rainy days, the Kiwi and Koala crate are full of educational materials, and the Doodle crate gives Mr. T opportunities to work on coordination, patience, concentration, and to exercise his creative muscles. These are all part of this year's curriculum. And this mom's sanity.
Teaching Reading with Suspected Dyslexia and Writing with Hypotonia
While we sort though who and where to get official testing done for dyslexia at 5, we are moving right along with some Orton Gillingham based All About Reading, level 1. Mr. T is doing great and the multi-sensory approach homeschool curriculum is exactly what he needs. The magnetic letters work great on our magnet board.   You can see our homeschool classroom pictures in this post highlighting our Charlotte Mason homeschool room. The review cards for each lessons are just enough without overwhelming Mr. T, and we break it up to review early in the day and then our actual lesson with new materials is later. There is still some frustration because he wants to read so badly and he gets a little angry that it's not coming easily to him, but we are getting there. The All About Reading Readers are also fun and make great read aloud material.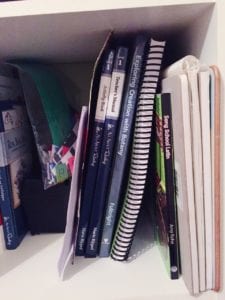 I filled our reading nook with familiar books Mr. T can begin to sight read from or browse for enjoyment. Our Children's Book of Art has initiated so many great art projects and it's a great book for Mr. T's artistic inclinations. Pete the Cat and Little Blue Truck are favorites of both boys. Andy and George just kind of hang out and wait to be read to. 😉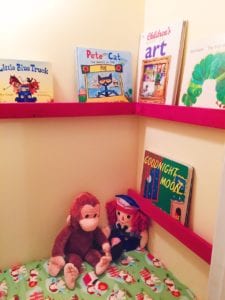 Our pre and level one readers, like Brickbeard below, are all fun and familiar characters or stories that are on subjects Mr. T loves. The motivation is much better when it's something he enjoys. It's extra awesome when we can incorporate LEGO into our reading time. The Pirate and Mermaid are from our Minifigure set of Historical and Fairytale people.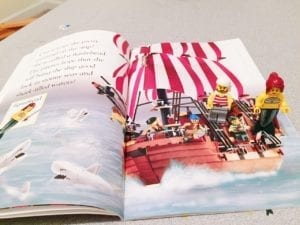 We have a slew of audio books. Lamplighter Theatre are our favorite, especially Teddy's Button. We also enjoy Adventures in Odyssey and Maestro Classics (these are also great for music appreciation). Mr. T has some great kids headphones, too. I try to be mindful that sometimes he just needs to decompress, and sometimes I need him to. This method works for both of us.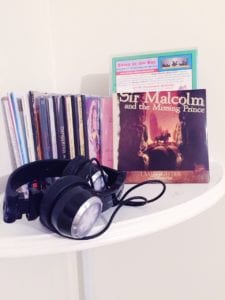 For writing we are continuing to use Fundanoodle. Developed by Occupational Therapists, we have had incredible success with the program. Mr. T thinks it's fun and asks to do it often. Because his Apraxia and dyspraxia cause frustration sometimes, we don't push writing every day. We have also been using Mr. Pencil from LeapFrog on the iPad and it's awesome. The boys both prefer to use the stylus that's attached to their Fisher Price iPad case, but Mr. Pencil is easier for Mr. F to hold.
Science, Bible, Math, and a Class Pet
So, what other homeschool curriculum are we using? We are using Apologia Botany and Botany Junior Notebooking Journal for our formal homeschool lessons, and we are utilizing our Magic School Bus kits and various lap books for breaks from the usual. Often, if I leave any kit out, the boys will play and explore on their own. (It's called strewing and it's a brilliant method of getting children to learn on their own!) We also have a couple models to use with science and history like the Wright Brothers plane.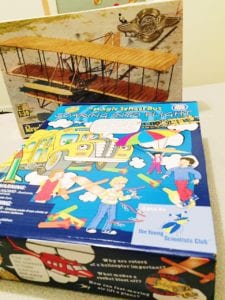 We haven't picked our next study, but right now we are really enjoying and learning from Because I Said So junior by Kim Sorgius. The space for writing is perfect for Mr. T and the pictures he draws are priceless. It's a really well done study and there's a youth version if you're looking for one study for multiple ages.
Math is mainly Life of Fred with living books like Sir Cumference and games like Sum Swamp and No Stress Chess. Fred gets silly points from Mr. T so the "lessons" are always fun for all of us.
And our class pet. Meet Peanut. He's a long haired Syrian Hamster. He's very sweet and cuddly and the nicest rodent I've ever met. He was supposed to be Mr. T's but I'm his main caregiver. Having a furry friend in the classroom is very grounding for Mr. T, and hopefully someday soon Mr. F. Peanut just hangs out during the day (since he's nocturnal) and begins to come around right after dinner time. Oh, and his ball. It's too funny to watch now that all the wood flooring is down!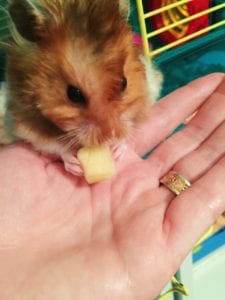 So that's it. We have ditched Classical Conversations. The plan for this year is a lot of interest led learning, more speech and OT, and lots of exploration. More field trips and less fuss. How is your homeschool learning shaping up this year?