We've been returning to our roots, so to speak. When we moved beyond tot-schooling, we loved unit studies. And after a year of Classical Conversations, we are going back to units for some summer fun-schooling. I feel like interest based learning is a great fit for Mr. T, and I enjoy it, too. Lately it's all been about castles and knights and catapults and cannons. Oh, I almost forgot the dragons, ogres, and thunder monsters! Can't leave those out 😉 Boys are so much fun and have such big imaginations!
The first thing we are using and loving is this DK Castle Cross Sections book by Stephen Biesty. It's so fun and there's even a "Where's Waldo" type of thing where you try to find the spy from a rival kingdom. I love how it shows all the details and uses fun but short captions for each area. We can use it with our Imaginext Eagle Talon Castle and our Kiwi Crate castle to identify specific parts and to imagine which castle inhabitants would have been in that part of the castle. You can see it in the photo above with Mr. T and our Kiwi Crate. You can see a cute little video of Mr. F launching the catapult from our Kiwi Crate on Instagram.
 We found some
great worksheets on Currclick to use
with our
Magic Tree House Knight at Dawn
book that is a favorite read aloud.  Mr. T loves all the Magic Tree House books we've read so far. I love how they combine history with fun facts and imaginative stories. They are a great way to get boys involved in the listening!
Our other fun resources are pictured and listed below. I love getting back into interest led learning and the fun stuff that comes with raising and schooling boys. What's your favorite boy-schooling resource?
Castle Unit Study Resources for Elementary
These are our T.S. Shure Castle blocks and they are so much fun! The set came with a cute little board story book and lots of fun figures in a sturdy wooden box. These are every bit as sturdy and high quality as the boys' beloved Whittle World blocks from Melissa and Doug! They have spent hours playing together (with little fighting) with these blocks and making up stories and games. There are good knights, bad knights, a king, a princess, treasure, alligators in the moat, and more. It really is an awesome set and also makes a great resource for writing/narration prompts.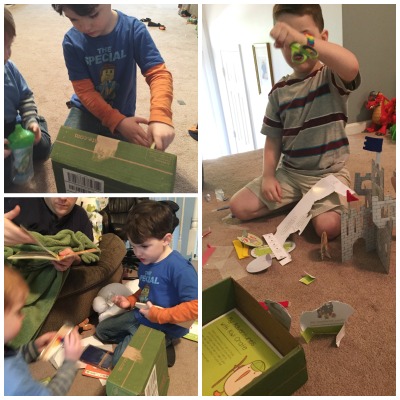 Our Kiwi Crate Castles and Catapults Crate is so much fun! If you haven't tried Kiwi Crate and want to see what it's about before you subscribe, then check out their individual crate options! There are so many to choose from and they are all awesome! This crate had a catapult to build with pom poms and a ping pong ball to "shoot", a target, a castle complete with stickers and characters, the usual sticker to mark your crate on the big poster, and the activity booklet with all sorts of fun coordinating activities. One thing I love about the Kiwi Crate is the educational information, like the facts about castles and catapults included with the instruction books for the activities. We still have to design and color our family crest, but we learned all about heraldry, something Mr. T was fascinated by when we visited Medieval Times in Atlanta for a homeschool performance.
Mr. T and his Knight puppet buddy watching a little Mike the Knight on Amazon Prime. We've found that finger puppets, real puppets, and stuffed animals are great for getting Mr. T to make up his own stories and to narrate back when he has been learning. I'm not sure if it's an Apraxia thing or if it's just a quirk of Mr. T, but it's been extremely helpful! So is Amazon Prime instant video. We've found lots of great documentaries, series, and fun older movies that I am more comfortable letting the boys watch than some of the more modern things. There's a free 30 day trial, too, so you can see if it's a good fit for your family. We dropped Netflix when we joined Prime and haven't looked back!
And our book list. Some of these address character, some are just about castles, some are history, some are living math books, and some are just for fun. We love them all!
If you love units like we do, be sure to visit our Unit Study Page!
*Disclosure: We were given a copy of Cross Sections Castle by DK Books for reviewing purposes. No other compensation was received. All opinions are my own and I was not required to post a positive review.*
Linked up with Homegrown Learners for Collage Friday!