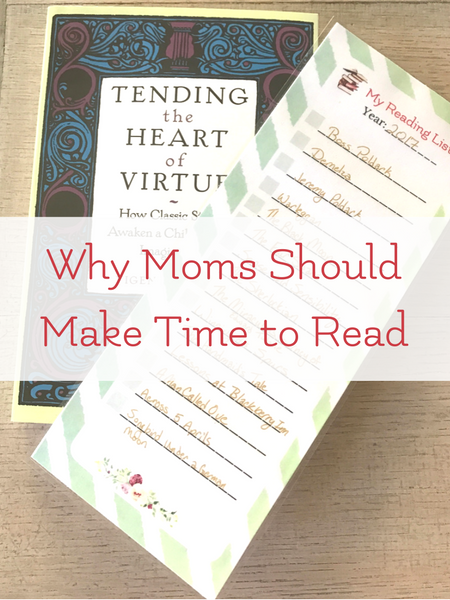 Mama! You need to fill your own tank, too. Reading is a way to learn, to think, to escape, and to grow. And this year, I'm setting lofty goals for my reading time. One of my favorite truths about reading is quoted below.
You will be the same person in five years as you are today except for the people you meet and the books you read. – Charlie Jones
So who do you aspire to be? What do you enjoy? What do you want to learn more about? There are many reading challenges that have already come out for this year, but I tend to stick to the general two category system and find books I'm intrigued by or wish to revisit in those.
Enjoy our printable reading log and bookmark! Simply add to your cart and complete the checkout process.
Keep it simple with Fiction and Non-Fiction if finding books for challenges overwhelms you (like it does me). Below are the books that fit on my reading list bookmark plus a few that didn't but are on my list. Scroll down to get your own copy of the bookmark and my reading log for the books that really stand out for you. I filled out my bookmark and then cut it down and laminated it. I'll use my pretty gold Sharpie to check off the boxes when I finish the books, because who doesn't like checking off things as done. #momlife, right?
Spend some time on growing you. Homeschool is about learning just as much for mom as for the littles. Be intentional and model the importance of lifelong learning for your children.
And my biggest tip for getting in a lot of reading is this: Audible. I have about a quarter of these books on my list either in Audible or on the list to purchase. Why audio books? I can listen while I crochet, paint, or drive on the occasions I get the car to myself. Audible is one of the best investments I've made in my own sanity. It allows me to feed my thirst for knowledge and story while also getting other things done, even those silly dishes that won't wash themselves. And if you try it out through this link, you can get two free books to start!
Fiction Books to Read in 2017
I love historical fiction, so there is quite a lot of that on my list. I also received the entire 12 book Poldark series for Christmas, but you'll see only half of it on the list. That doesn't mean I won't read the whole series, but I wanted to be intentional about the time I spent and read more than just that single series this year.  I'm also revisiting a few old friends in both lists. A good book is one that is able to be read over and over with each reading bringing something new.
My fiction list:
 Ross Poldark

 Demelza

 Jeremy Poldark

 Warleggan

 The Black Moon

 The Four Swans

 Sense and Sensibility

 The Sherlockian

 The Miraculous Journey of Edward Tulane

 Winning His Spurs

 The Handmaid's Tale

 Lessons at Blackberry Inn

 A Man Called Ove

 Across Five Aprils

 Songbird Under a German Moon

 The Mysterious Benedict Society

 The Mysterious Benedict Society and the Perilous Journey

&
Non-Fiction Books to Read This Year
My non-fiction book list is bigger than my fiction this year. It isn't always, but I seem to be drawn more to non-fiction this year. Are you more of a fiction or non-fiction reader?
 Daring Greatly

 Sitting at the Feet of Rabbi Jesus

 Present Over Perfect

 Upside Down Brilliance

 The Recovering Spender

 Living Forward

 The Valley of Vision

 Famous in Heaven and at Home

 Walking on Water

 The Healing Intelligence of Essential Oils

 Crazy Love

 Make it Happen

 Washington's Spies

 The World as I See It

 Different: The Story of an Outside-the-Box Kid and the Mom Who Loved Him

 Tending the Heart of Virtue

 The Power of Vulnerability

 Educating the WholeHearted Child

&
Just add it to your cart and complete the checkout process.  If you already have a list of books to read, share it in the comments below! For the bookmark, I simply printed it, filled it in and then laminated it so it doesn't get decimated this year.