Come take a tour of our Charlotte Mason inspired homeschool room. Homeschool rooms should evolve to meet the needs of the students. I'm sharing how ours has changed over the years and giving you some homeschool room set up ideas.
Charlotte Mason Homeschool Room
A homeschool is not meant to be school at home, so it stands to reason that a homeschool room should be comfortable and welcoming to the individuals who utilize it and not a sterilized environment meant to keep the masses focused. Like curricula, methods, and extracurriculars, the homeschool room grows and evolves to meet the students needs.
I poured over Pinterest for ideas when we first decided to turn the guest room into a small homeschool room. The paint colors and the reading nook have not changed since then, but the room has grown with my boys.
Gone are the duplo's, the board books, the train sets. Time passes with long days and short years, friends. Soak up these moments.
Now, without further sentimentalities, I present pictures of our homeschool classroom. Step this way, please.
This hangs directly outside the door to our Charlotte Mason homeschool room. I need the reminder and so do the boys. We are cultivating their minds and what we put into those minds matters.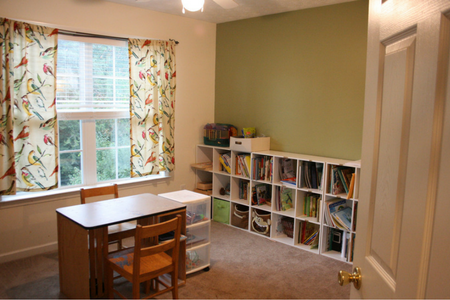 Our Homeschool Desk Setup
Our delightful avian curtains are my favorite curtains in the house. I found the fabric at JoAnn's and had a friend put the seams in them. They provide a great filter for the morning sun. The homeschool room desks Mr. J built is still holding steady, in spite of the boys trying to tear it apart. Yes, that's blue paint on Mr. F's chair, he's artistic like that.
Our little drawer bin next to the desk has our crayons, pencils, erasers, and ruler in the top drawer, Mr. F's I Can Build Uppercase Magnets are in the second drawer and the bottom drawer has the boys smocks for painting and general crafting work. We have a "uniform" this year of simply fantastic solid color polo shirts and cargo pants from Primary.com so we work hard to keep their clothes paint and glue free. Dirt sort of follows them around so we also keep OxyClean on hand.
You can't see the Bouncy Band, but it is on Mr. T's chair and it has made a world of difference in our homeschooling this year!
As the boys have grown and their needs have changed, you can see our adjusted for ADHD school room here!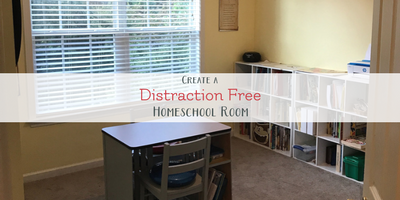 The Learning Wall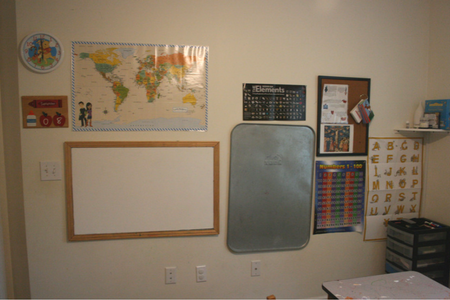 At one point, both walls were covered in posters, timelines, pictures, etc. I learned very quickly that this was too much visual activity for Mr. T no matter how many well designed educational gallery walls I saw on Pinterest. Everything on the walls in the room in what is on this wall. The Elements poster is courtesy of this awesome book, ABC poster is from All About Reading Pre-reading level, the whiteboard Mr. J also built, the calendar was from Target's dollar bin 4 years ago, and the little black set of drawers contains paints, brushes, glue, the boys individual CD players and headphones, and my dry erase marker stash. That little shelf we will get to momentarily.
Almost everything is held in place with Command Strips. They are awesome. The only time the magnet board (the big oil drip pan) has ever come off is when Mr. F was literally hanging from the top with his toes perching on the bottom lip of the pan. He's over the weight limit of the command strips, but they tried to hang on.
Our cork board holds our weekly artist study piece (Giotto, above), our Muscle Mover Cards, and the scriptures we are working on. Periodically we will hang postcards or pictures we find interesting, but these are the three mainstays.
The Shelf of Treasures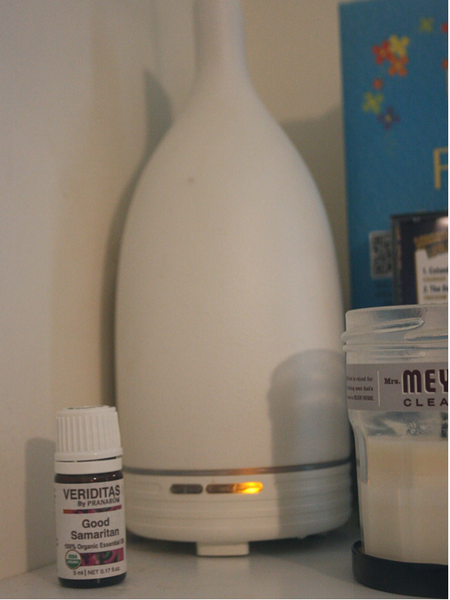 We've been an oily family for a lot longer than it has been mainstream. This diffuser is my favorite. We actually have 2 of this model. It works well and quietly. The USDA organic Good Samaritan blend from Veriditas by Pranarom is diffusing to help with immune boosting right now. We typically use Plant Therapy Calming the Child or A+ Attention to help with focus and to keep the boys' sensory systems calmed.
The Mrs. Myers Lavender candle is what I light when I hang out in the school room to organize books, do planning, or hide relax in the reading nook.
We keep the boys' phonics readers with CD and 1-2 audio dramas/books up here, too. They have free reign over one hour of quiet time. They are usually content to listen to something and build. I get extra coffee. Everybody wins.
What is On Our Shelves
First, notice the white and red bag in the lower right-hand corner? That is our I Can Pound kit. It is phenomenal. Mr. F will sit and do patterns with the colors and peg the pictures and letters for hours. It's helpful for times I need to work with Mr. T alone. Our curriculum choices for this year are all organized on the right side of our shelving system.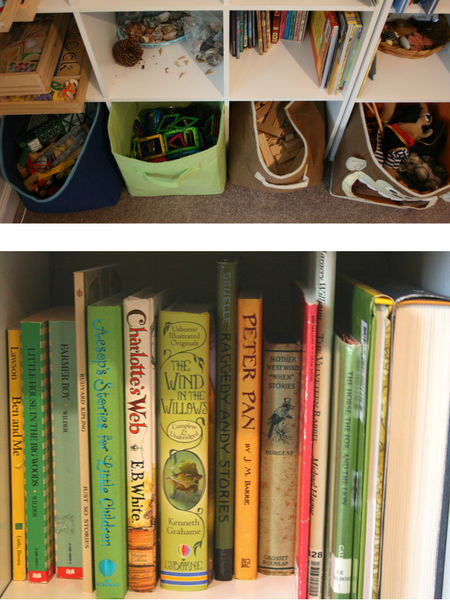 Our bins and shelves on the left side have our logic games like Camelot, Jr. and Tangrams, Melissa and Doug puzzles and pattern boards, nature shelf materials like shark teeth and pinecones and seashells, our model life cycles, fun books like Horrible Histories and Big Book of the Body, Magformers, Keva Blocks, puppets, and more.
Our Read Aloud shelf is full, but rotates. These are on the schedule for this semester, but we are flexible. You never know when a great book will come along, so you must always be prepared to make room for one more.
The Reading Nook
The reading nook used to be a closet. Mr. J built a wall so I'd have a school room closet and the boys would have a nook. We put in a dimmable light, painted, added shelves, and voila!
Mr. T is completely taken with Time Traveler right now, as it covers two of his favorite history periods. Medieval life and Vikings. The stuffed friends are mainly Mr. F's. There are a rather large amount of them under the nook seat along with a hamper full of dress up wear like this knight costume. Every house should have a reading nook, or two if you have room! It's a wonderful place to let the boys have quiet time, decompress, and explore carefully strewn books.
The Delights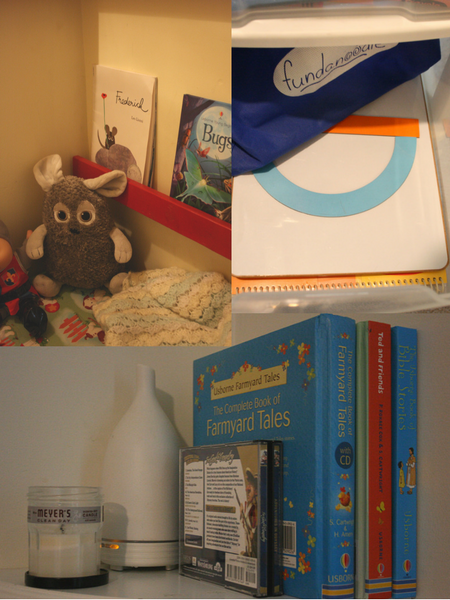 Our school room treasures are just the little things that help keep us going and going well. We keep Frederick the Mouse and his book in the nook. They are Mr. F's favorite and he's always wanting the book read and the mouse to join us in activities.
The Fundanoodle I Can Build Uppercase and Magnetic Dry Erase Board are always at the ready for building letters and whatever other creations the boys come up with.
Our Books with CDs are so helpful for Mr. T who is working on fluency and the challenges of auditory processing disorder and for Mr. F who likes to be read to all. the. time. I have to cook, clean, and have a bit of quiet time each day so having a book that essentially reads itself to him is helpful beyond measure.

The basket of miscellany is on top of the shelf. Peanut's food, Albert, Ben, and Beethoven hang out here. (Yes, we have action figures of non-Marvel heroes). The sandpaper letters, Spot It! game, and some of our OT at home activities live in this bin. Oh, and two harmonicas because I must have done something terrible in my youth that I needed to make amends for. Though I prefer them to tin whistles.
Portrait of Peanut by Mr. T with the big camera. Didn't he do great?! Peanut is our class pet. And he's our buddy. He's a precious little hamster, isn't he.
The Closet – Moment of Truth

Lest you think we have a super neat schoolroom (I absolutely made the boys clean it up before pictures), here is a gander at the closet. Our printer, my beloved laminator, and all. the. supplies. I keep our Shiller Math manipulatives in the closet because I don't want Mr. F to disperse them throughout the house. Our Magic School Bus Science Kits, magnetic letters and numbers, incredibly awesome microscope, and general supplies all live in here, too. The telescope, Squishy Human Body, and other anatomy models, gem collection, and all my (poor unused) scrapbooking supplies reside in the school room closet as well. This is one area where I could do a little better with homeschool room organization.
I hope you found some inspiration and homeschool room setup ideas by the touring our Charlotte Mason inspired homeschool room. Now I have to go clean the rest of the house 😉