Hands-on Elementary History is an excellent way to bring homeschool history to life! Project Passport has helped fit this role for us and makes history simple and fun.
Benefits of Hands-On Activities for History
When we first began toying with the idea of homeschooling, many questions plagued me. One of the most frequent was how to keep a child engaged in "boring" subjects.
Now, I enjoy historical fiction and the occasional documentary, though I only had one teacher who ever tried to bring history alive, and generally thought of dry, boring, tedious textbooks when I tried to think of what homeschool history might be like. Yuck.
Of course, I became familiar with Charlotte Mason methods, with hands-on activities, and with the (not so) novel idea that children learn really well when they are involved in learning with a multi-sensory approach.
Seriously, though, who has time to come up with all those activities? Wouldn't it be awesome if your history program came with everything all laid out: with interesting text, fun writing activities, hands-on learning, and was easy to use?
*Disclosure: I received this product for review purposes and was compensated for my time. All opinions are my own and I was not required to post a positive review. We only recommend products we have used and enjoy and think you will benefit from as well.
Welcome to Project Passport.
Hands-On History for Active Learners
Project Passport is a hands on history curriculum from Home School in the Woods. It is designed to be a 6-12 week study for elementary and middle grade learners.
We have used the Knights Lap Pak mini-study and loved how well done it was, so I was excited to see a full-scale program in action. Lap books and hands-on activities work very well for active learners. I was thrilled to see audios included in this program, too. Hands on history ancient civilizations is hard to top! Ancient Greece is where we headed for this Project Passport unit study adventure.
Confession: I like to know exactly how much work. planning, and paper is involved in these kinds of things so I have actually printed out everything and put together the complete lap book so I could tell you exactly what you need to complete this program that is designed for 6-12 weeks of study. Friend, this is a full scale historical study that will delight, inform, and work your cutting hand out. It may also, possibly, run out the black ink cartridge of your printer.
What you need for a Project Passport Historical Unit Study
You will need your Project Passport of choice: Ancient Egypt, Ancient Greece, The Middle Ages, Renaissance and Reformation, or coming in 2018, Ancient Rome. These are available in CD format or as digital downloads.
You will need around one reem of printer paper.
You need a good printer. This is the one we have.
You will need a lot of adhesive, we prefer the sticky tape pens like these.
You will need a file folder, a pronged folder, and coloredcardstock.
You will need 2 three-ring binders.
Colored pencils, scissors, brad fasteners, and a 3 hole punch.
Lots of patience. (At least if you are dealing with younger learners)
You will use a lot of paper. We prefer to print out all text materials, and this has quite a bit of text and lots of fun things to print out for your learning activities.
How Project Passport Elementary History Unit Study Program Works
Imagine taking your child into a travel agency that promises to take them into history. And then delivers. That is pretty close to how Project Passport works.
First, you will want to print out the "Travel Tips" teacher help section and the "Travel Planner". The "Travel Tips" and "Travel Itinerary" pages tell you what you need for each lesson while the Travel Planner give you a brief overview of the entire program and all the "Stops".
Your lessons are designed in "Stops". Each stop took us between 2-4 days to complete. My learners are 7 and 4 and a half, so we are only doing 1 stop per week. That means this study will last us 25 weeks, or the better part of a year which is perfect for the ages of my children. If your children are older, you should be able to complete each stop in less time, but the program is laid out so that you can take as much or as little time as you need.
On our "Stop" days, the lesson becomes a "mission" for my little adventurers. Mr. T is averse to school sometimes. Making our history into an adventure where he has missions to discover whatever that Stop is about keeps him interested and keeps my gray hair from multiplying as quickly.
Each Stop has lesson text, activities, and many have projects that you may choose to complete. Some stops have multiple projects or projects that are completed through multiple stops, i.e. the lap book or newspaper.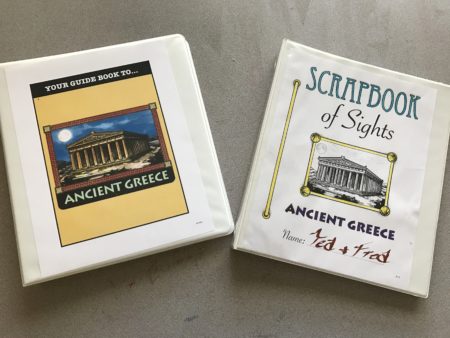 As you go along your journey, your children add to their timeline, maps, postcards, etc. in the Scrapbook of Sites. The boys love the post cards. Below, Mr. T illustrated a card with Agamemnon and the Parthenon.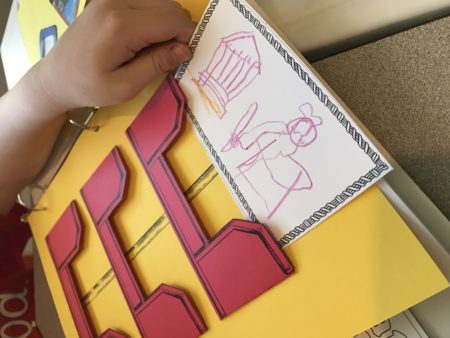 And here you can see one of the first map projects in action. Mr. T is not big on coloring because of his dyspraxia and sensory challenges. He always breaks the crayons and his hand gets tired, so getting him to complete pages like this is a bit difficult. Thankfully this one included lots of battle sites so he wasn't as reluctant as usual.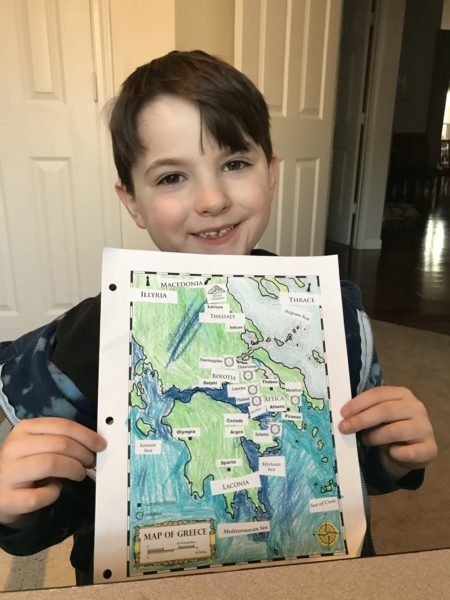 To date, the favorite project has been week 9's Agora, which we finished yesterday. Both boys worked on the coloring and both think it is the most fantastic thing ever. I kind of agree. I'm excited to get to the pottery projects near the end. So here is their Agora marketplace in progress, and a few pictures of the completed lap book.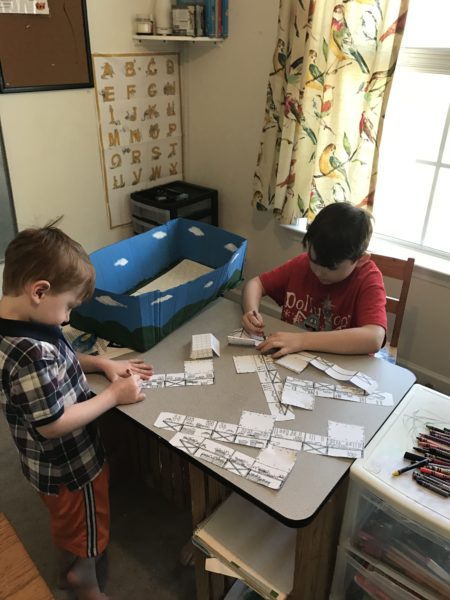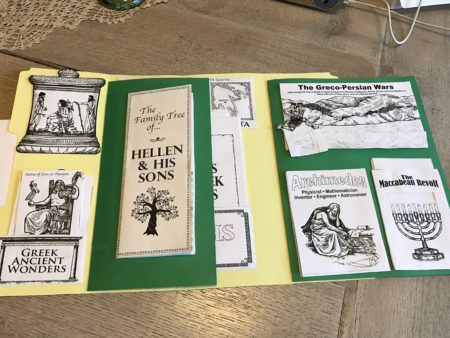 Project Passport Ancient Greece Unit Study Conclusions:
Project Passport is a very well done and thorough program. The additional resources section is great for kids who want to dig deeper.
The initial reaction could easily be one of overwhelm when you insert that disc. Don't worry, read the instructions first and print out your lessons and activities as you go. It's very user friendly and while there is an enormous amount of content overall, each lesson is very manageable on it's own.
Children really get into studying this way. The activities are very engaging and can be made to suit a variety of ages.
While this study is designed to be 6-12 weeks in length, if could easily be stretched out for a full 25 weeks. It can also be used on its own or as enrichment to another course.
The Teacher Keys are awesome. They fill in all the blanks so you are not left guessing, for example, if you put the right battle name on the correct spot on the map. These are very mom friendly.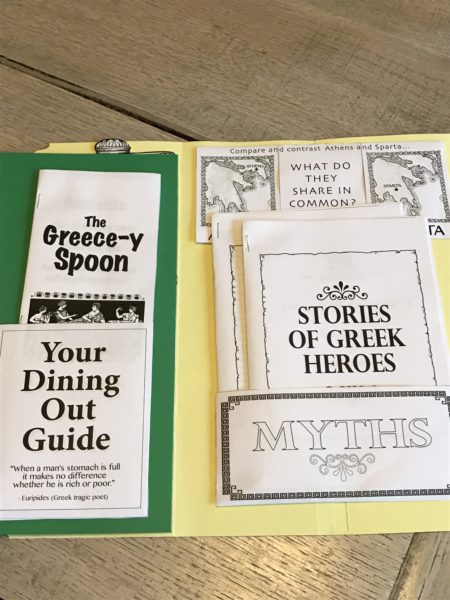 Project Passport is available for: Ancient Egypt, Ancient Greece, The Middle Ages, Renaissance and Reformation, or coming in 2018, Ancient Rome. These are available in CD format or as digital downloads.
Follow Home School in the Woods for more hands-on elementary history adventures:
Sign up for the Home School in the Woods newsletter in the top right corner of their site