Saint Patrick's Day Themed Fun Pack for Preschool and Kindergarten
My favorite little leprechaun has been having a blast with our Saint Patrick's Day activity pack. His favorite, as usual, is the dot marker activity. I don't know what it is about those crazy round markers, but I've never met a kid who doesn't love them!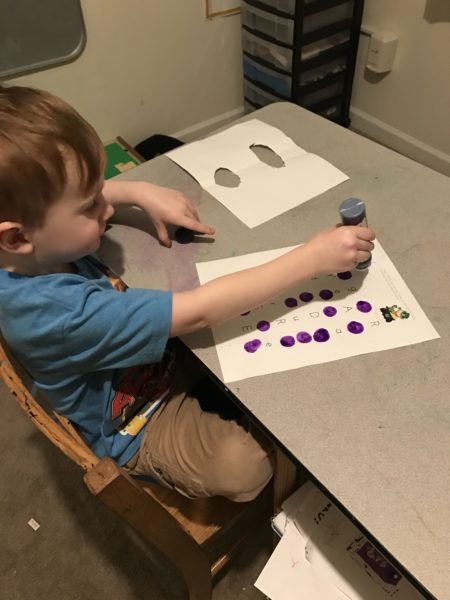 This 7 page printable pack includes:
A coloring sheet of two Irish dancer children
Trace the Letters
Do-a-Dot letter recognition sheet
Label It
Count the Items sheet
Phonics Activity sheet
Maze sheet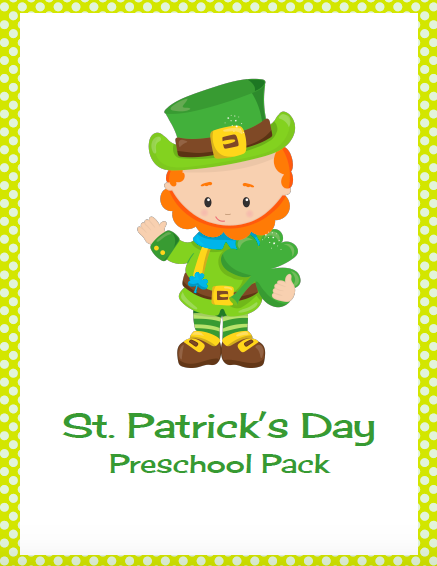 Don't forget to tag your pictures with #everydaygraces so we can see your little learners enjoying this preschool/kindergarten Saint Patrick's Day pack!
To get your free printable pack, just add it to your cart here and complete checkout.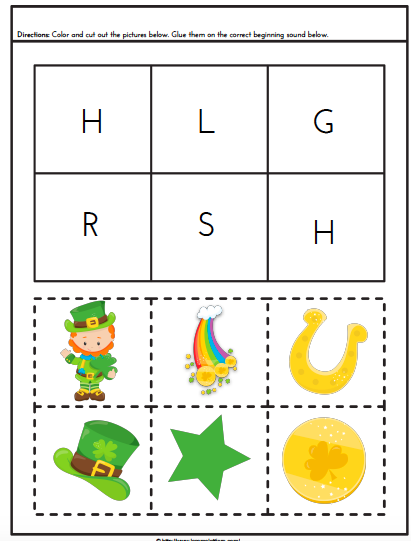 Our Favorite Saint Patrick's Day Books for Little Learners
 St. Patrick's Day

 Happy St. Patrick's Day, Curious George

 The Berenstain Bears' St. Patrick's Day

 Patrick: Patron Saint of Ireland

 Jamie O'Rourke and the Big Potato

 Fin M'Coul: The Giant of Knockmany Hill

Saint Patrick's Day Morning Time Plans
These Ireland morning time plans will make your gentle learning a delight all through the month of March.
Included in your 4-week session are the following:
The 4 week calendar schedule
Copywork selections from Saint Patrick and Tara in primary, elementary, cursive, and on a notebook sheet for moms and older students
2 poetry selections – The Lake Isle of Innisfree and The Wild Swans at Coole
The hymn Be Thou My Vision and the folksong Cockles and Mussels (both the sheet music and a musical track to sing with are included)
2 Teatimes – Chocolate Chip Scones (to work on hospitality and kitchen skills) and Saint Patrick history tea time
Artist history and 4 art selections from The Book of Kells
Composer biography of John Field and four music selections – Music tracks are included for listening
Handicraft – Shamrock tea towel
Art lesson – Irish Blessing watercolor
Nature Study – Flora and Fauna of Ireland
Geography – Seabird by Holling C. Holling (Chapters 7-12)
Shakespeare – The Tempest
Memory work – Peace prayer from Saint Francis, scripture memory and poetry memory work
Recommended reading list for further learning
Optional STEM activity
Grab your Ireland Morning Time Plans here! 
Saint Patrick's Day Fun from our Homeschool Friends!
The middle of February is just around the corner, which means March is quickly approaching. If your kids are like mine, they love the "green" holiday and learning about the history behind St. Patrick's Day.
This week, I'm teaming up with some of my fellow homeschool bloggers to bring you some fantastic St. Patrick's Day themed tips and resources. Be sure to check them all out below!
St. Patrick's Day Homeschool Activities from In All You Do
Free 15-Minute Music Lesson About the Celtic Harp from Music in Our Homeschool
How to Make a Shamrock Salt Painting from I Choose Joy
30 Best Preschool Leprechaun Books from Homeschooling 4 Him
St. Patrick's Day Unit Study for Homeschooling Families from Whole Child Homeschool
St. Patrick's Day Notebooking from Homeschool Helper Online
15 Shamrock Crafts for Kids from Thrive at Home
St. Patrick's Day STEM Activities from Hess UnAcademy
The History Behind St. Patrick's Day Traditions from Homeschool On the Range
Awesome Ideas for Celebrating St. Patrick's Day in Your Homeschool from Some Call It Destiny
Little Blue and Little Yellow: An Easy, Fun and Tasty Activity from The WOLFe Pack
Easy Homeschool Holiday Activities for Elementary Students from Homeschool with Moxie
We've been invaded by leprechauns from Our Crazy Adventures In Autismland
St. Patrick's Day Resources For Your Classroom from Geez, Gwen!
Free Saint Patrick's Day Preschool/Kindergarten Fun Pack from Everyday Graces Homeschool
History of St. Patrick's Day: Unit Study from Orison Orchards
The Best St. Patrick's Day Books for Kids from Heart and Soul Homeschooling
St. Patrick's Day Lesson Plans and Activities for Preschool and Kindergarten from Simple Living Mama
Best St. Patrick's Day Printables and Activities for Kids from Blessed Homeschool