What is Integrated Listening?
We covered the basics, the science, and the why in my first post here. If you're looking for information on what iLs is, read this first. If you are already familiar with listening therapy and want to know more about the possible results, keep reading!
Disclosure: We received a complimentary system and I was compensated for my time. I was not required to post a positive review and all opinions are my own.
We've been using this system since April. We use it 3-5 times a week for an hour each time. We aim for 5 times but are happy at 3. We've seen firsthand how that whole neuroplasticity thing works. Our results to date have been a compounding of small differences that have created a significant change.
Mr. T has been the primary user of our Integrated Listening Systems therapy. Because his challenges are diverse, I was not sure what to expect. Having our Coach Sharon only a phone call or email away, as well as the support of our occupational therapist, I have been very confident in feeling like we are using the program as intended. Some areas I have very specific measures of how he's improved because of the records we keep for services, some areas we don't have to keep records for so those are less specific.
After the first 4 weeks, Mr. T had a 7% reduction in the times he would flip letters or words. In only a month's time, that is a significant difference.
Currently at 8 weeks of treatment, Mr. T is able to focus on single tasks for 30% longer than before. I can actually leave him unattended with a puzzle, coloring sheet, or activity to do laundry, dishes, etc. and when I return he is still on task.
His ability to balance has improved. His OT even noted how well he was doing this week.
His reading fluency and ability to narrate back what he heard has improved.
He is following 2 and 3 step directions with more accuracy.
His articulation errors are reducing more quickly that before we began iLs, but I don't know if that is directly related. Apraxia has a whole set of nuances all its own.
Most days he enjoys the music and exercises.
We have had occasional spurts of sensory regression, meltdowns/outbursts, and a few days where he was very irritable. They have not lasted more than 2-3 consecutive days.
Mr. F has been doing the program on and off. He usually only lasts 30-45 minutes and has been asking to do his listening 1-2 days a week. I don't push him with it because he's 3 and there's no sense in adding extra battles. He does seem to enjoy it while he uses it. For him, the activities he enjoyed most were the bean bag activities and the balance board. He almost always asks for one of his Fundanoodle activity books or the pounding board to use while he listens.
I don't think his irregular use is completely without benefit, but I think it will take a much longer time to see similar results to Mr. T, and Mr. F's challenges are mainly sensory based.
See how much fun listening can be!
Notes about how we use iLs:
I do not make the boys do the exercises every single time. We follow the no screen rule, but Mr. T  gets a one day a week pass on the exercises. I want him to enjoy the experience, I don't want it to become a battle.
You want to remember to charge your units once a week for a single user. If multiple members of your household are using the system then you want to make sure you plug it in twice a week.
Some of our favorite activities after the exercises, which only take about half the time, are SoyYer Dough, art, LEGO, and Fundanoodle.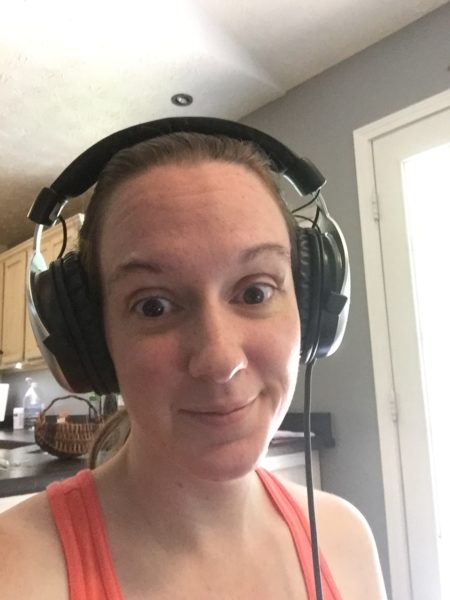 The results for Mr. T, small but significant, made me itch to try the adult focus program. So our wonderful Coach Sharon set me up with my own program. I'm not saying that finding an hour a day is easy, but I'm hopeful that some of my "mommy brain" and hypothyroidism brain fog will be corrected. Making the sacrifice to get up early(er) is well worth it!
My personal experience having recently begun Integrated Listening Systems is this:
The bone conductor turned all the way up tickles my head. I don't know how else to describe it. It isn't uncomfortable or unpleasant, it is just a bit odd.
The hour passes quickly with the aid of the music.
I have noticed my ears seem to be more sensitive. I've never handled loud noises well but even some medium noises now startle me or grate on my nerves. I'm assuming this happens when each new program is started since each set of music is treated to help with a different challenge.
Listening when the boys are asleep or under someone else's supervision is required. They take advantage of mommy's hearing being lessened otherwise.
The exercises are easy and calming, and the remainder of the time is awesome for Bible Journaling, art, or stitching up the many holes the boys put in their clothes.
After listening, I feel more energized and alert for about 2 hours. This time block has become a great time for me to get writing or housework done.
And the balance board? Fun! I love the exercises that you can add to the balance board standing. I've struggled with balance in the past and being able to do these exercises is awesome.