I can still remember when my grandmother would remind me to sit up straight. I always found myself fighting the urge to roll my eyes. Thankfully my years have come with a little wisdom, and I can now openly, and even adamantly, admit that my grandma was on to something.
Good posture is about so much more than looking a little taller, a little thinner, and maybe a little more confident. It has very real physical impacts that should motivate us to make it a priority.
Our kids are living in a day in age when physical activity is at an all-time low and slouching is at an all-time high. Their core muscles are typically not getting the kind of strength building they need while they're spending a whole lot more time sitting in front of screens than we did a few years ago.
Online education and homeschool programs that require a significant amount of time in front of a computer or on a tablet can cause notable damage to our students' posture and thus hinder their education. How can we stop this trend of poor posture and why do we need to?
Here's why good posture is a must for your student:
Good posture helps avoid fatigue.
If your student is having a hard time keeping her eyes open during her online lessons, a simple adjustment in posture could make all the difference. But poor posture can actually cause chronic fatigue because of the strain on the muscles. Making good posture a regular habit is essential to fighting off the fatigue.
Good posture encourages a better mood.
There are studies out there that have found that students who are slouched will tend to think more negativity while students who stand up tall have an easier time thinking positively. Homeschooling is challenging enough. No need to add negativity because of poor posture!
Good posture reduces head, neck, and back pain.
This is one of the more obvious benefits of good posture because most of us have experienced some sort of pain as a result of poor posture. If your student is spending most of his days slouched at a computer desk, he could begin suffering from a stiff neck or sore back. This will affect his sleep and his focus and, as mentioned before, his overall mood. If your child starts to complain of headaches, check his posture! And consider limiting the time spent in front of a screen.
Good posture allows organs to function optimally.
Slouching restricts your student's lung capacity. The rib cage collapses just enough with slouching that her lungs cannot expand well enough to allow for quality breathing. The lungs aren't the only organ impacted. Poor posture can slow movement in your student's intestines, causing constipation and gas pain. And what about her brain? Consider the fact that our brains use about 25% of all the oxygen in our bodies. It stands to reason that if we're restricting our breathing because of poor posture, we're probably hindering our brain from functioning optimally.
Good posture improves learning and memory.
Not only is your child getting the oxygen his brain needs when using good posture, he's improving his concentration, mental performance, and memory. It's concerning to have our children in front of a screen trying to learn when they're likely struggling to retain what they're learning because of the resulting poor posture, in addition to lack of movement. (One study found that toddlers were able to remember the names of objects through movement.) The whole purpose of educating our children is to help them learn. Don't let poor posture hinder your objective!
So we know our kids aren't going to be up to wearing a back brace for correcting posture, right? Did you know that there's a great new back posture corrector device that your kids will want to use?
Using Upright GO Posture Corrector in Your Homeschool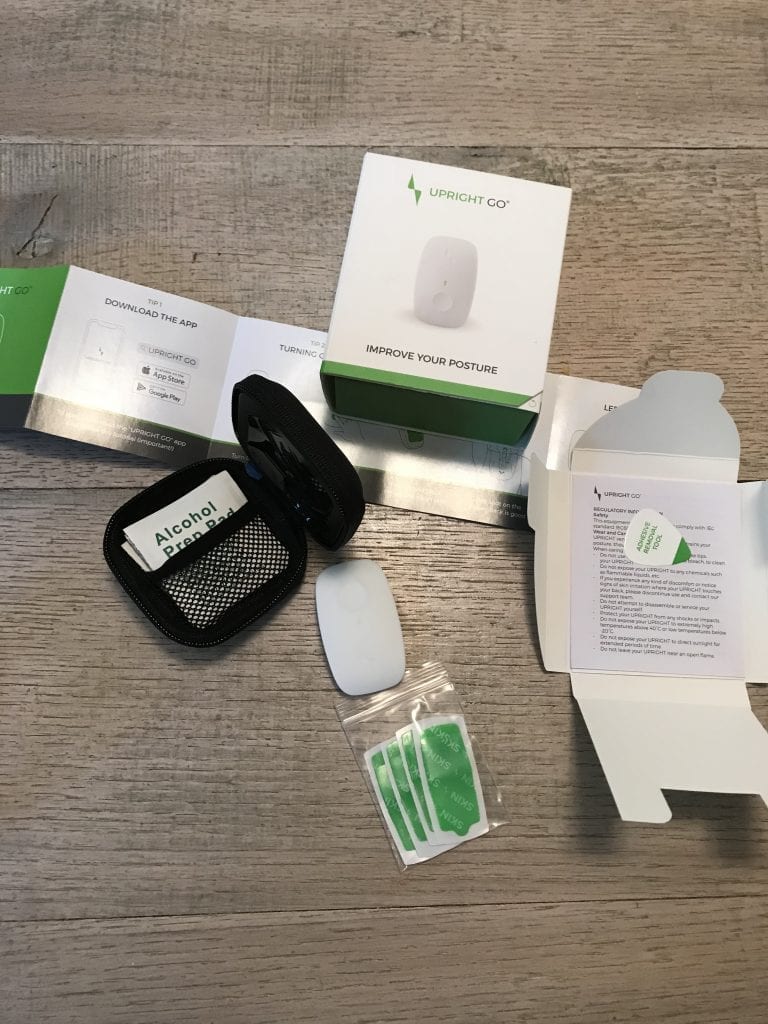 Disclosure: I received the UPRIGHT GO for review purposes. I was not required to post a positive review. As always, we only recommend products we love and benefit from and think you will, too. 
The UPRIGHT GO is small. It's wearable technology. It has sticky stuff on it. All these attributes made it immediately irresistible to my kids. Then I stuck it on Mr. T's back.
When you set it, it vibrates. He thought that was really funny and tickled. After 2 days of using it, the giggles had worn off but not the effectiveness. I'll be honest, I think I probably need one due to computer work and my affinity for reading and embroidery. It's really cool!
 You can see in the video that he straightens as soon as he gets zapped by the
UPRIGHT GO
. In all honesty, I leave it on the training mode for him right now. Because he still has mild
dyspraxia
I really love how it's helping him be more aware of his core. And because we are utilizing a few
computer based learning programs this year
, I really want him to practice good posture because it's so important to health.
The UPRIGHT GO posture corrector is a very simple device and after 10 days of use, he's already slouching less! It's easy to charge through your USB port. We plug it up at night on his Chromebook and when it's time to start working on our homeschool in the morning it's right there so we don't forget. Easy peasy.
UPRIGHT is having aback to school sale you should definitely take advantage of. AND there are options to get even more discounts if you buy the family packs. (I definitely think everyone can benefit from this simple and effective device.
FAQs about Upright Go Posture Corrector
How do the UPRIGHT devices work?
Our posture trainers are placed directly onto your back (either lower or upper depending on the device) with an adhesives. Once you calibrate your proper posture, the device will vibrate whenever it senses that you are no longer sitting, standing, or walking upright. The gentle vibration serves to remind you to be upright.
How does it help build long term good habits?
The UPRIGHT GO come with a customized and personal training plan in the mobile app. The training plan is based on your age, weight, and back pain. Each day the amount of time you train your posture builds so that proper posture becomes instinctive.
How do they stick onto my back?
The UPRIGHT GO comes with 5 reusable hypoallergenic adhesives that last up to 10 days.
Is the UPRIGHT device noticeable?
UPRIGHT devices are to be worn directly on the spine, so they are discrete. No one has to know your training to be posture perfect. It's just between you and your upright.
You're convinced good posture is essential to your homeschool, but now what? We definitely recommend giving UPRIGHT GO a try!
Here are some additional simple ways to encourage good posture every day:
Have your child sit on an exercise ball or some form of ergonomically friendly furniture.
Be sure to have your students take breaks to move. 20-30 minute lessons with structured breaks between works well for us.
Limit the amount of time spent on a device. Because we use devices for school, we do not allow "free time" to be spent on a screen. There are a ver few games we allow during our break weeks but even then we don't allow more than an hour a day.
Encourage them to be active on a regular basis.
Be a good example. Yes! You need to sit up straight, too!
Your kids may want to roll their eyes at you when you remind them to sit up straight, but don't let that bother you. Someday they'll realize that you were on to something good!