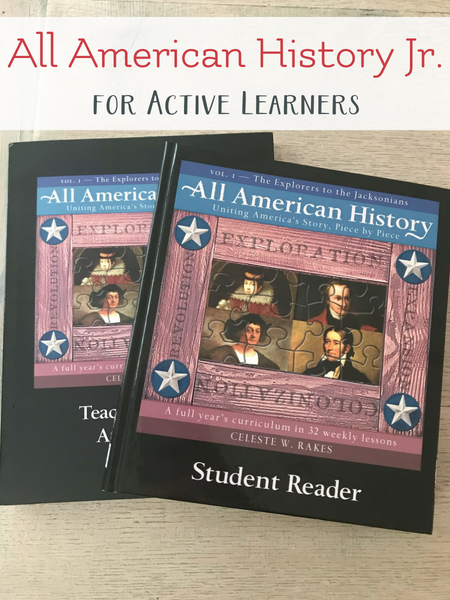 Do you have an active learner in your homeschool? You know — the kid who can't sit still, bounces in their seat, chews on pencil tops, taps on the tables, can't remember what they started talking about because they took too many bunny trails during their ramblings, etc.
I have two. Send coffee.
That means that some subjects are more challenging to hold their attention than others. Basically any subject other than PE or nature walks.
This is how we tackle American History in our homeschool with gusto, with joy, and with hands-on learning and outsmart that booger known as ADHD. Ready to jump into history with us? Awesome!
Disclosure: All American History Jr. was provided to us by Bright Ideas Press for review purposes and I was compensated for my time.  I was not required to post a positive review. As always, we only recommend products we enjoy and think will benefit you as well.
All American History Jr.
I mentioned in our curriculum choices post this year that I opted to interrupt our 4 year cycle of The Mystery of History because of a few reasons including the boys' interests and field trip opportunities. This meant I had to find an American history curriculum that would keep the boys' attention, would work within our 20-30 minute lesson blocks, and had multi-sensory learning included.
Now, you can tweak any curriculum or even build your own, but I run a business, homeschool, run our household, and support my husband in his business. I prefer to find something that is a good fit for the boys that I can open and go. Ease of use is a big factor for me in choosing curriculum.
Knowing that Bright Ideas Press had worked well for us already, I immediately went to look at the American history homeschool curriculum offerings.
All American History textbook is geared for 6-12th grades (there's also a student activity guide for the older grades) but history is a wonderful subject to have the entire family learn together so they created the Junior version that uses the same text so everyone can do history at the same time. I was delighted when I saw they had a Junior version of All American History already put together!
One of the things active learners need is short lessons. Lessons that take more than 20 minutes can cause fatigue for young students, especially those who need to move a lot. All of our lessons so far in All American History Jr. have been the perfect length.
The lessons are set on a 4 day a week schedule. Each day has a simple setup that makes my job easy. I can sit down on my planning day for the week (usually Sunday night), glance over the teacher's guide, and print whatever we need for the week in under 10 minutes. The setup of the digital guide, maps, timeline figures, etc. is very simple to navigate.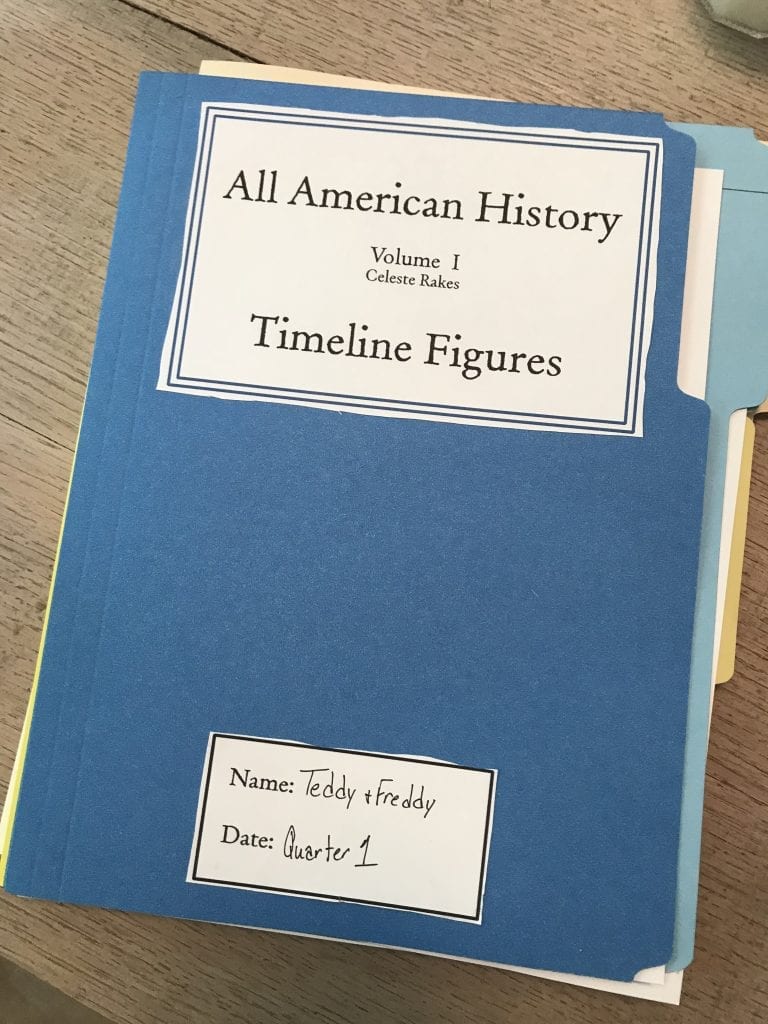 The inclusion of geography, maps, and activities makes All American History Jr. an excellent program for my bouncing boys. They love explorers, learning about their lives, and the interesting things they saw. There are included literature guides for supplemental books like Explorers Who Got Lost. These allow a deeper dive into the materials.
We often have afternoons filled with pretend play. The spyglass comes out, maps are drawn, and incredible adventures are had. As soon as we learned about Marco Polo our home was littered with pictures and maps of discoveries along the Silk Road. Allowing your children to have free time after engaging lessons is a beautiful way to reinforce what they learned!
When you have a child with high school comprehension but short attention span, being able to go deeper into their interests in short bursts is a fantastic way to keep their interest but not fatigue them (or you). We have found that working within certain boundaries have made homeschooling with ADHD much more fun for all of us.
Because we're in the process of relocating, we opted to make our timeline a folder book. The timeline figures are made to fold over a string against the wall. Hopefully by the time our January semester rolls around, we'll have a new wall to attach that quarter's timeline to. In the meantime, our All American History timeline is portable and easy for the boys to review when we need to.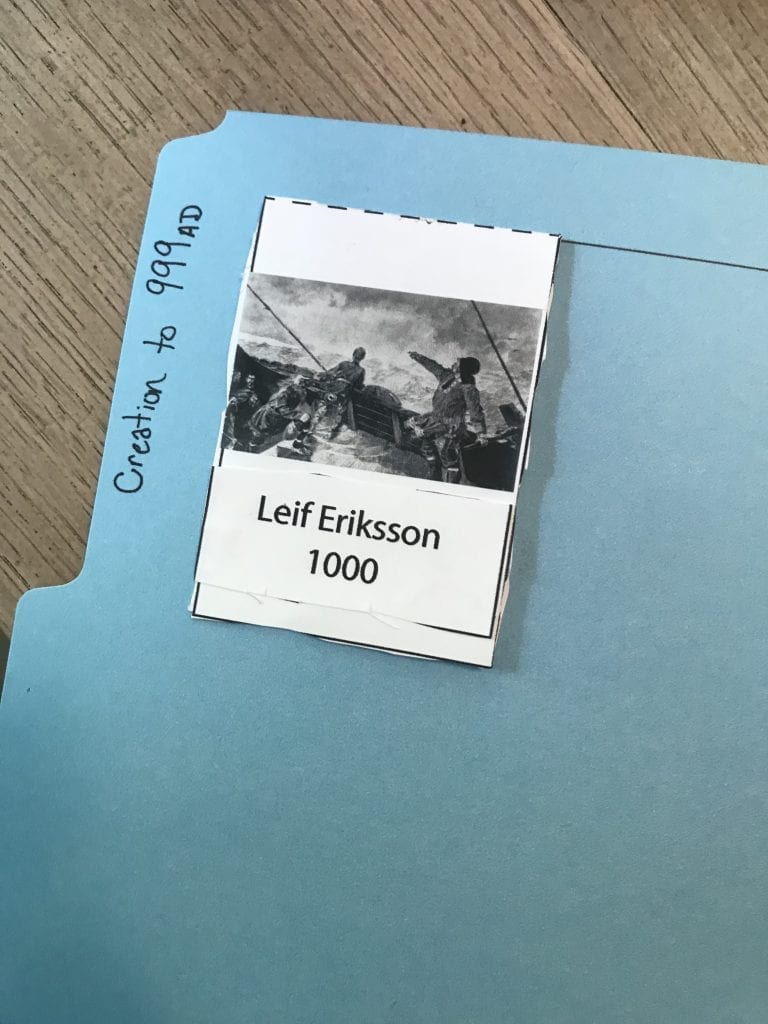 Reviewing in short bursts is an excellent tool for helping children with ADHD and dyslexia to retain the information better. Each day's lessons go back over the actual history learned from the text. Activities reinforce the learning. They keep the students engaged. They make it hands-on, interactive, and fun. What's not to love about a program that so thoroughly engages your children?
As I shared over on our Instagram stories, since we're doing the folder book timeline I am having each boy give me one thing they remember from that week's lesson to write on the inner part of the timeline card. This one from the end of our first week of lessons was quite funny.
I am over the moon excited about how the boys are diving into All American History Jr. this year. It has truly made my active learners happy and that makes me happy, too.
What do you utilize to help your active learners in their history studies?