Getting Active Learners to Love Math
Active learners don't like to sit still. They aren't fond of work books. Often they don't like "doing school", especially if it isn't about something they love or want to do. And math? Forget about it. Or, just try out a few of these secrets and see if your active learner begins to like, or even love, math.
I received these products for free from Rainbowresource.com. I was compensated for my time.​ All opinions are honest, and I was not required to post a positive review.
What you see above are tools. The first secret to getting active learners to love math is to utilize all tools at your disposal. Rainbowresource.com has a smorgasbord of learning tools for all ages. Since my boys are a 5 year old 2E (gifted with learning challenges) and a 3 year old number loving preschooler, my tools may look different than the tools you need for your 7 and 10 year olds. Just remember that they are tools, not toys.
Here's a quick list for reference:
Teaching Cash Register (it has a coin identifier, a coupon card, debit card, talks to you about totals, which coin is which, etc.)
Castle Logix logic puzzle
Cutting Food Box (this is awesome for fractions! See the Fraction Soup video below)
Life of Fred Elementary Series
Sir Cumference Series (incredible living books that revolve around a knight) and Round Table Geometry, the companion guide full of classroom activities to coordinate with the Sir Cumference books.
The second secret to getting active learners to love math is to decide which skills you want to improve and to select the tools you need accordingly.
We are working on money skills, processing, memory, logic, beginning math, and learning how to focus. Select the appropriate tools to add to your toolbox. The Castle Logix logic puzzle was a hit from the moment it appeared out of the Rainbowresource.com box. Both boys love it! Mr. T worked all the way up to the Master level puzzles in the book before he needed any assistance. And as you see above, it's out all the time.
To choose tools your child will be intrigued by, because the foundation of a deep love of learning is inspired curiosity, you need to consider:
what your child is interested in right now. Mr. T loves knights, castles, dragons, heroes, etc.
is it age appropriate but challenging enough to catch your active learners attention for any length of time?
does it appeal to the way your active learner actually learns?
will it make your child ponder and dig deeper into the concept it addresses?
is it a tool you are willing to deal with? I don't like gadgets that talk. Both boys do very well with multi-sensory learning like the Teaching Cash Register, which talks. My solution is that we only have one talking tool at a time. If you hate having bruised feet, LEGO as a math manipulative may not be a good idea in your home.
If it passes all the above tests, then you have found a great tool. Your goal is to inspire your child to want to figure something out, to find out more, to become inquisitive and dive in.
An Invitation to Play – Math is Fun
The third secret it to create an invitation to play. To work with our Teaching Cash Register, I will sometimes set it out along with groceries and/or the Learning Resources Teaching Cash Register Activity Book after bedtime. Then it's right there for when my (really) early riser gets up and heads straight to our school room. If it is already set up and that is the first thing he sees, he is automatically drawn to that rather than shuffling around for something "to do".
Like most children, they love to play store. The Teaching Cash Register is really neat because it allows them to learn about the coins, addition, subtraction, using coupons, that debit cards are associated with money, etc. Mr. T, even at 5, will also work the activity book, generally one page at a time, without me having to hover or guide and redirect him. Store is also a great 5-10 minute structured brain break for when we need to break up other lessons like reading. Again, these are tools, not toys.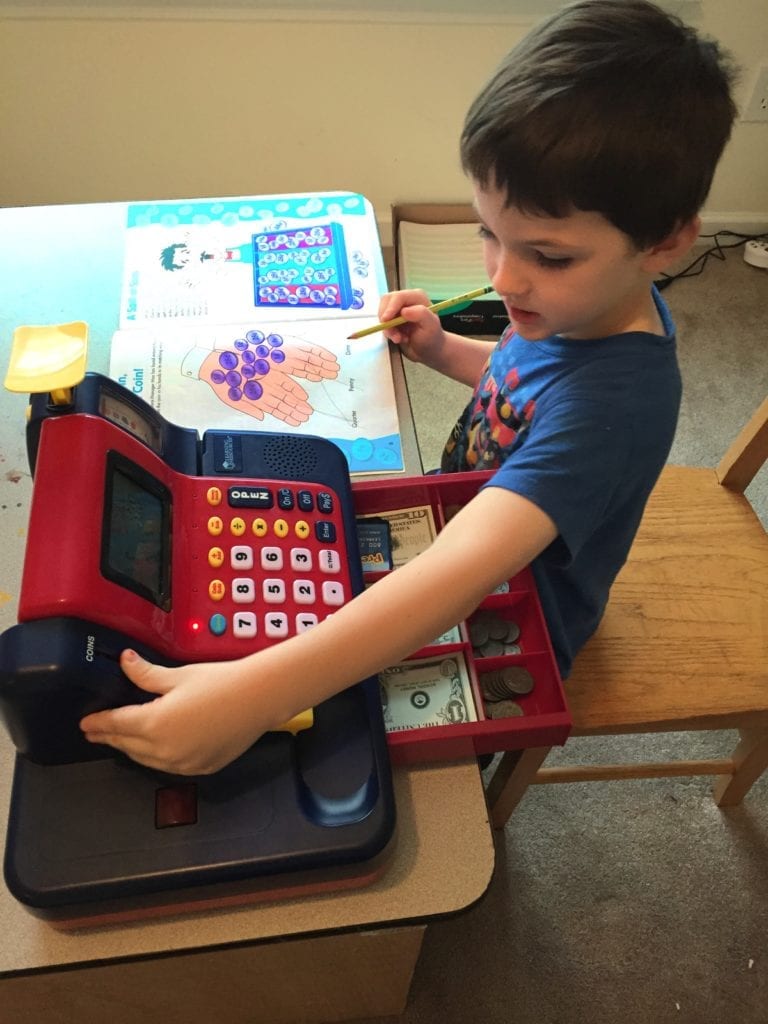 Utilize games such as Sum Swamp, Uno, and Tangrams. Whatever level your child is at, rest assured there are fun ways to learn math skills that should at least cut down on your stress level.
Make Math an Adventure
Oh, Sir Cumference, how I love thee! Mr. T often requests Sir Cumference stories before bed time. This series is what we consider living books. Simply Charlotte Mason says, "Living books are usually written by one person who has a passion for the subject and writes in conversational or narrative style. The books pull you into the subject and involve your emotions, so it's easy to remember the events and facts. Living books make the subject "come alive."
The fourth secret is to utilize adventure through living math books, math games, war and strategy games like No Stress Chess and Battleship and Risk (Risk is for older ages). Capture your active learners imagination and let it run!
Sir Cumference is a knight, married to Lady Di of Ameter, with a son called Radius. I'm sure you can already tell that these are delightful read alouds, and read alones for slightly more accomplished readers. Above, Daddy took a few minutes to read with Mr. T, we did the activity from Roundtable Geometry of naming all the castle parts while Mr. T built a castle with our Castle Storyblock set, and Sir Cumference himself made an appearance (the knight suit gets much use) to play some No Stress Chess. Below you can see some of the activities that occur during read aloud time. Tea, anyone? Lady Di would approve.
Sir Cumference has many adventures including:
And Roundtable Geometry brings them all together with awesome activities like Story Maps and making Castle animals from Tangrams, shown below. Mr. T loves puzzles that really make him think so our Tangram set is usually out at least a few times a week. If you don't have your own, just copy the page from the book and cut out the one that's provided there.

Life of Fred series is another awesome living math book set. Mr. T thinks Fred is funny. I'd have to agree. The elementary series we are working with right now includes Apples, Butterflies, Cats, and Dogs. There are short written exercises but we usually just do them aloud. In the stories your student is presented with Fred and his doll Kingie. The first story in Apples introduces telling time, dawn is variable depending on the season, what an equals sign means, and even a bit of pre-algebra. It is remarkable how much information is retained through stories when children are interested in the character.
The fifth secret, my dear parent, is for you to have fun, too. If you learn to love the fun that can be had with numbers, puzzles, and finding new ways to see old "lessons", your active student will bloom under your tutelage. You might even find yourself enjoying a big bowl of fraction soup. Mr. T's very own made up game with our Cutting Food Box. Mr. F thinks the cutting food box is his and only his. Apparently dividing isn't his thing.
 I hope these tips help you navigate the waters of teaching active learners! What is your favorite math method?
For more great tools, visit RainbowResource.com online: