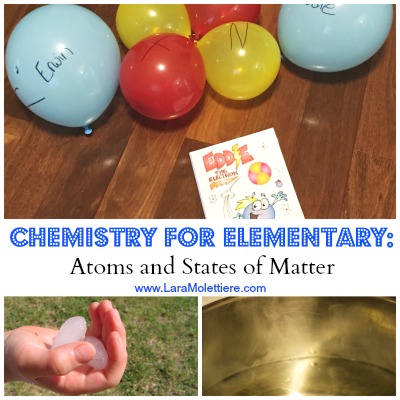 STEM Chemistry for Elementary Kids
Science is fun! But I often see mom's of young learners shying away from it or trying to make it overly simple. With a little creativity, and the occasional mess, early elementary and even Kindergarten ages can begin to grasp and dig deeper into the wonderful world of science!
I decided that since Mr. T is so inquisitive that we have to investigate every single thing now, it would be a great time to get in some in depth science without him feeling like it's "school". He loves building blocks, so what better place to begin than with atoms and states of matter.
*I received Eddie the Electron for free from Amberjack Publishing for review purposes and was compensated for my time. All opinions are my own and I was not required to post a positive review.*
We began by watching this video about atoms: 
We also enjoyed
The Magic School Bus Meets Molly Cule
. The Magic School Bus is one of Mr. T's favorite science resources.
Next we read Eddie the Electron. Such a cute book! Mr. T loved Eddie and how silly he was, I loved that Mr. T seemed engaged enough to remember details and kept asking to read about the 'lectron again.
The concepts are presented in a fun way but they are not "dumbed down". They are explained in age-appropriate depth from a first person perspective. I just love how well thought out the presentation is. The author, Melissa Rooney, Ph.D, said this:
Several years after earning her Ph.D. in Chemistry, Melissa Rooney decided she did not want to be a career­ Chemist. As she has always loved and collected children's books, Melissa decided to utilize her Ph.D. and write her own children's book, which transformed into Eddie the Electron.
Melissa has said, "I am confident that, by presenting these scientific concepts to children at an early age, Eddie would increase the likelihood that they would be comfortable and interested in such 'complicated' ideas."
I think she has done exactly that! It was easy to come up with activities to make atoms hands on, too. Mr. T is asking all sorts of great questions about matter and atoms and molecules. I foresee us diving into our visual Elements book soon. He's 5 and has a better grasp on this now than many 3rd and 4th graders. I think having a simple but thorough explanation and adding in hands on activities is the most effective way to teach active and gifted young learners.
Eddie covers these topics:
The size of an electron
The speed of an electron and fluorescence
The proton and electron ratio
Helium as a Noble Gas
terms like proton, neutron, electron, etc.
STEM Hands On Atom Activities
The video below shows all our activities more in depth, complete with sound effects. Mr. T's Apraxia does effect his ability to say the parts of an atom, but he definitely understands it!
We decided we should get some balloons and make an Helium atom. The boys got to be the electrons in an atom demonstration.
Mr. T identified the protons, neutrons, and electrons, as well as how they move.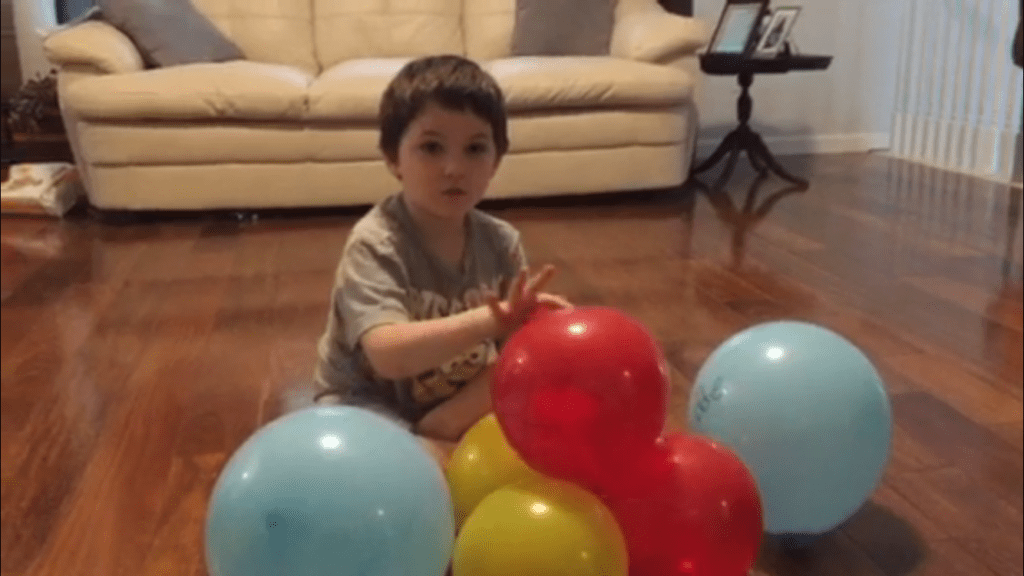 We discussed matter having 3 states of solid (ice), liquid (water), and steam (gas). Then we created Carbon Dioxide gas with classic kitchen chemistry! Baking soda, vinegar, and a balloon to catch the gas. Discussions about Eddie the Electron being part of a Helium atom and being a noble gas ensued. Helium is perfect for our balloon demonstration because of it's small number!

 Additional Resources for Chemistry Study:
Our Chemistry for Early Elementary Pinterest board has some great stuff!
Amberjack, the publishers of Eddie the Electron, also have lots of great resources on their social media channels! They are also offering a discount: 10% off total purchase of books through Amberjack's website (not Amazon) with coupon ihomeschool10. ​Expires October 31st, 2015 and does not include author services.