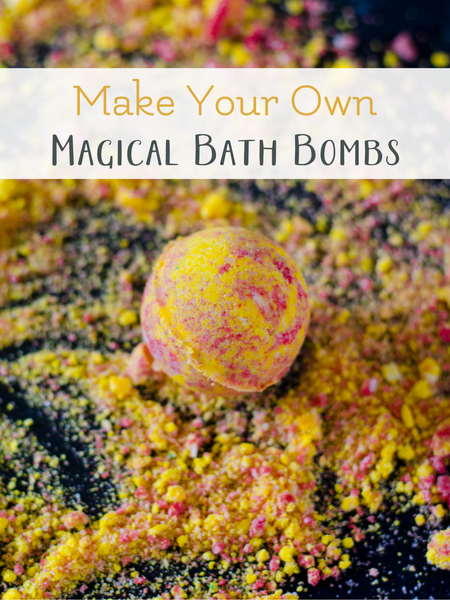 These awesome bath bombs add a fun fizz to bath time and allow for a great lesson in chemistry! They also make great gifts and party favors so stock up on lots of supplies.
This fun bath bomb will have your little learners excited for bath time and if you're lucky- your slightly older and sometimes bath resistant learners, too.  
The Chemistry of Bath Bombs
Here are your fun facts about bath bombs. Bath bombs are made from citric acid and sodium bicarbonate (baking soda). Just like a very common antacid. The magic happens when the two chemicals combine with water.
When the two chemicals begin to dissolve in the water they make sodium citrate (which is harmless and doesn't do anything) and carbon dioxide. That's where the bubbles come from! Those fizzy little bubbles break up the bath bomb and allow the oils, glitter, inner colors, and moisturizers to get into the water.
Pretty neat, huh?
How to Make Homemade Bath Bombs
Bath Bomb Recipe
Ingredients:
*Note: please make sure your gel food coloring is soap safe! Your tub may never be the same if it is not.*
In a bowl, add in corn starch, citric acid, and baking soda stir well. Add in coconut oil and stir with a fork to keep light and fluffy. Separate into two dishes. Add in fragrance and yellow coloring to one bowl and red coloring to another bowl. Stir well.
Using the mold, mix yellow and red then pack both sides of mold then press together. Once you press together leave in mold for about a minute then remove and place on a tray to dry (harden) overnight.
For gift giving, place your bath bombs in clear plastic bags and tie them up with matching ribbon.
To change the bath bomb colors, all you have to do is change the gel food coloring.