Description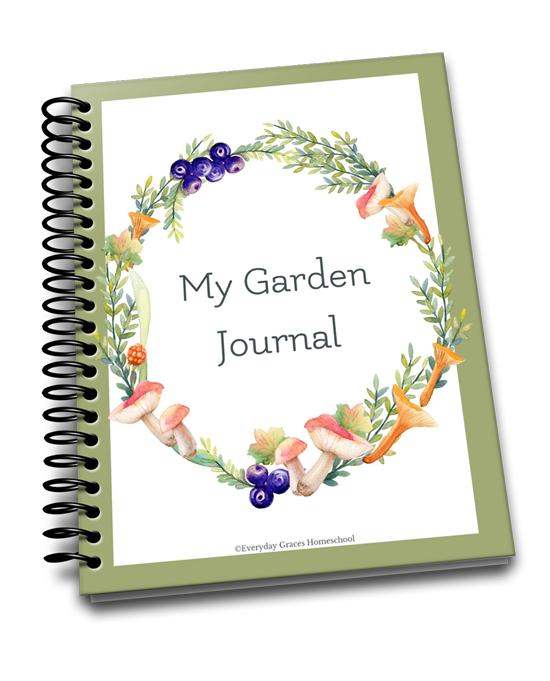 You want to make gardening educational and fun, but you don't know where to begin?
Delight in the discoveries of gardening with your family and document your nature study with ease. We'll show you how with My Garden Journal. The perfect way to record many different observations and to guide young scholars from PreK – 6th grade through the wonderful world of tending to their own plot of land whether it's an actual garden or a container for fairies and gnomes.
Be sure to visit our Garden Unit Nature Study post for tips and ideas on gardening!
My Garden Journal PDF printable gardening notebook includes:
3 poems related to gardening
1 folk song
Primary and regular lined pages for recording garden planting and growth observations
Soil assessment
Chart for seeds planted
Graphing page for plotting out the garden
Printable calendar of firsts for the garden
Garden planner page
Harvest record page
Garden pest and garden helper page
This is a downloadable garden journal notebook that you print yourself. These are tips and tricks from printing our own.
There is a limit of 3 download attempts. If for some reason you cannot get the download to work, please email [email protected] and we will get it sorted out.
Print out your journal pages a few at a time. Things will grow quickly at first and again in the peak of the season so it's best to have a few pages at the ready.
60 pound paper prints well and binds well for the cover page and poetry/song selections. For the planning/picture journaling pages, I prefer 90 pound watercolor paper  that I cut down to make 8.5 x 11″ so the paper allows the boys to journal with their watercolors. If you use this kind of paper, you need to make sure to print with a laser printer so the ink doesn't bleed into your drawings.
Have your finished garden journal bound at an office supply store, or get a 3 ring binder to hold it. I prefer keeping it in a 3 ring binder until the end of the garden season and then having it bound as a keepsake and for review purposes for the next gardening season.
This is a digital product so we are unable to accommodate refund requests.