Free Printable Medieval Knights, Castles, and Dragons Fun Pack
I've been having fun making Friday's all about interest led learning and fun activities. It's our reward for doing work well the other four days of the week. When there is little complaining, bickering, and attitude then we all get to have more fun on Fridays. Yay!
So I'm sharing this precious little pack with you.
How we used the Knights and Castles Pack:
The pack includes a Do-a-Dot sheet with 9 spaces. If you allow your children to color in one dot per activity sheet, they will color in 8 of the 9 dots leaving the final dot as the "I finished this pack!" reward. Or if you have littler learners like Mr. F who aren't quite up to a word search or mad lib, they can just color the dots.
Mr. F has to show me he isn't going to cut hair or clothes before he can use the "real" scissors now. His hair is still growing back from the last time and I'm tired of sewing up holes. So he uses our Fundanoodle scissors that only cut paper for most activities. Those scissors are just awesome!
The Medieval Fun Pack includes:
1 Do-a-Dot sheet
1 Scripture Sheet
1 Tracing pre-writing sheet
1 tracing/cutting sheet
1 word search
1 phonic sheet for short o sounds
1 counting sheet
1 pre-K/K level math sheet
1 Mad Lib style activity sheet
1 set of 6 story prompt characters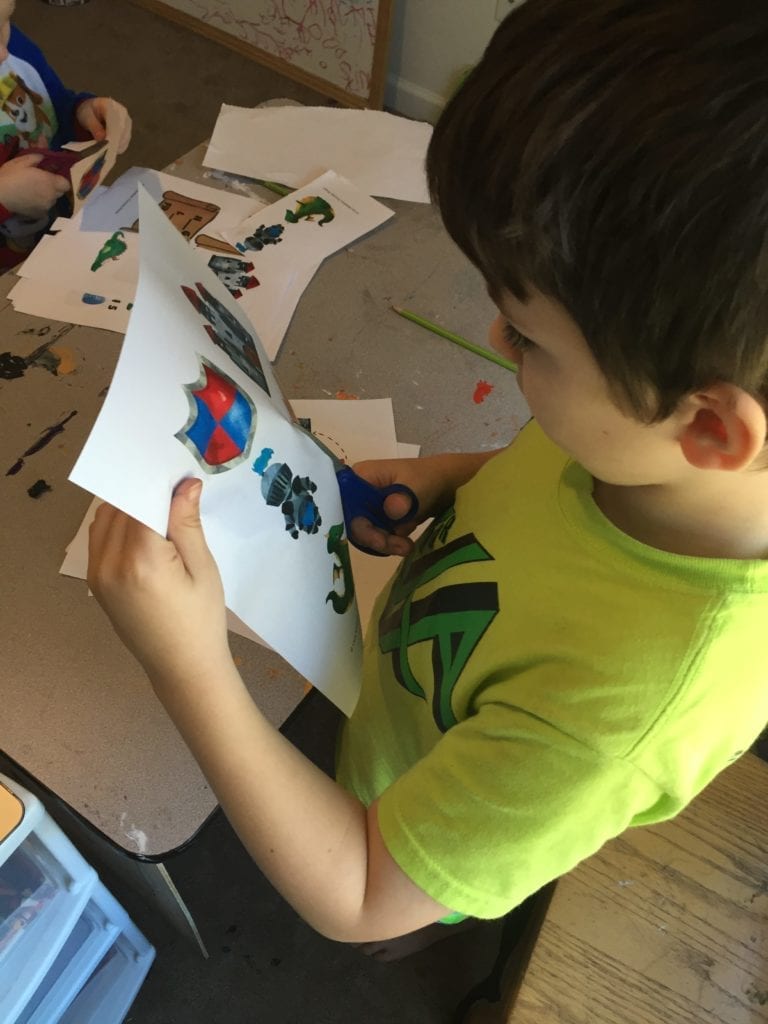 The boys loved the story prompt sheets. They both imagined a completely different but equally amusing story about the dragon, castle, knight, etc. Story prompts are a favorite activity here, as I think it primes their imagination for writing prompts later on. You can also see Mr. F earned the "real" scissors by the time we got to this activity.
Go ahead and sign up to get your Medieval Fun Pack below!
Get your free Medieval Fun Pack here
Click here and complete check out to receive your free printable pack.
Resources for Further Study
Resources for Your Knights and Castles Learning Fun!
&
 Look Inside a Castle Little Children's Knights and Castles Activity Book T.S. Shure Archiquest Wooden Castle Blocks Playset and Storybook Melissa & Doug Medieval Castle 3D Puzzle Knight Castle Prince House Kids Play Tent LEGO Castle The Gatehouse Raid Castle Logix Game Medieval LEGO
&