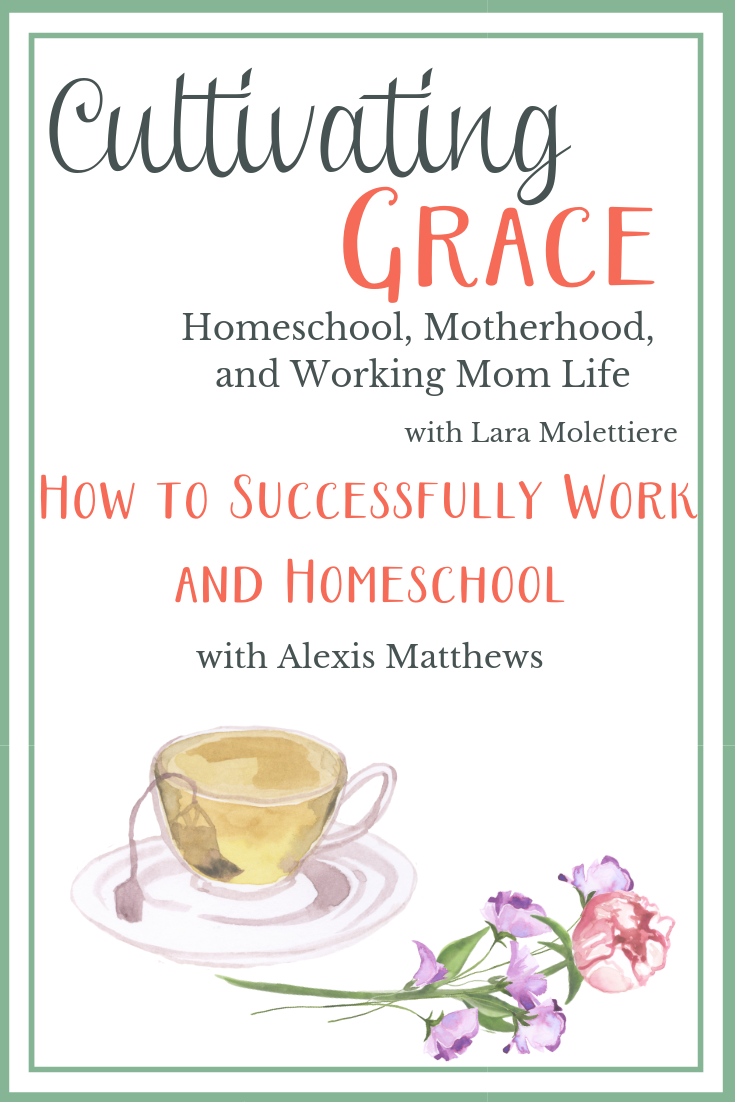 Today's episode of Cultivating Grace is sponsored by:
Listen here:
How to Work from Home and Homeschool
Are you a homeschooling mom who would like to earn an income, but still enjoy the freedom of homeschooling your children? Hello, my name is Alexis Matthews from Virtual Assistants Making Money. I'm a mother of six and homeschool veteran of 10 years. It's so incredible to believe that it's been that long already.
Seven years ago I prayed for an opportunity to earn extra income from home so that I could still homeschool my children. See, my husband and I had just welcomed our sixth child into our family. Not only was he our sixth, but we had twins less than a year earlier, which made him the youngest and an Irish triplet. I was a busy mom with lots of littles and just didn't have the time or energy to do much else other than managing my home. While I enjoyed homeschooling and knew it was the right fit for our family, I missed the days of adult conversation and mentally challenging work.
And my prayers were answered when I was introduced to the virtual assistant industry. As a blogger I knew my way around a website, but hadn't had the time to touch my blog in quite some time. A dear friend offered me a job helping her with her website, managing her content and her social media marketing. As they say, the rest is history, but you certainly don't need a website or a blog to start a virtual assistant business.
As a VA, I own my own business, make my own hours, set my hourly rate, and decide which clients I want to work with. Over the past seven years I have grown my business from a few hundred dollars a month to a full time income with part time hours. The flexibility of this industry is second to none as a homeschooler. When my children were younger I would work in the early morning hours, at nap time, or in the evenings aware everyone was tucked in bed.
Balancing Work and Homeschool
Now that my children are older I have more flexibility with my work hours. A typical day in our home includes breakfast with my younger three while the older three make what they want. Then after we get everything cleaned up I spend the next few hours teaching first and second grade to our youngest children, and supervise lessons and assignments for the older three who are in sixth, ninth, and twelfth grades.
I'm strict about not letting anything interfere with our morning studies, but on the off chance I have a client who absolutely needs to meet with me during our usual school hours, then I have the flexibility to adjust our lessons, and I so appreciate that flexibility. After lessons are complete for the day, and if the weather's accommodating, my children head outside for some nature study and opportunity for pretend play.
We've been fortunate that my VA business has grown to a point where we were able to move out of state and buy a house in the country this past year. I now get to enjoy a view of the mountains and wildlife from my office window while I work. Almost two years ago I launched a course to help moms like yourself launch their own VA business from this comfort of their home.
Over and over I heard how as stay at home moms, these students didn't think they had any skills to offer clients and their businesses. I adamantly disagree that moms who've been at home with their children have nothing to offer online business owners. As stay at home moms we know how to manage time, a household, budgets, work with a variety of personalities, and project management with the greatest of ease. If you've also worked outside of the home before becoming a stay at home mom, those skills that you acquired very much apply to your skillset and service offerings of the virtual assistant.
Jobs for Homeschooling Moms
Online business owners are outsourcing marketing, content writing, and a long list of other projects to virtual assistants more and more every day. VAs are in high demand. Almost every aspect of an online business can be outsourced. With the growth of online business, virtual assistants in the perfect position to take advantage of this unique earning opportunity. As a stay at home mom, you have the skills and flexibility that business owners are looking for.
My passion is to equip and educate homeschool moms like yourself that need to earn an income, but also want to continue homeschooling their children, because I was in the same position not too long ago. I know the frustration of having to do without because at the end of the month ends just didn't meet. Starting a virtual assistant business isn't difficult, it just takes determination, perseverance, and belief in yourself.
No matter where your passion lies, there's an online business to meet that interest. Do you enjoy cooking and reading food blogs? Or perhaps you have a back burner interest in real estate? What about writing? High quality content writing is in high demand. No matter what you enjoy doing there's an online business, an online business owner that would love to contract and outsource some of the projects currently on their plate.
As a virtual assistant, otherwise known as a freelancer, we're independent contractors. We're not employees of our clients, but rather contractors with independent businesses. Online payment gateways such as PayPal or other online invoicing software makes sending invoices and getting paid by clients super easy. Protecting yourself legally is also important as a virtual assistant business owner.
In my free virtual assistants business community Facebook group, I walk group members through all the aspects of protecting you and your business from tough clients. Proposals and signed contract are just one way that as VAs we can protect ourselves legally and financially. It breaks my heart when I hear of homeschool moms who have to return to work out of necessity, even when they'd rather stay at home.
If you need to bring in some extra income to help with the monthly budget, but want to stay home because of homeschooling, special needs, or your own personal health, the virtual assistant industry is thriving, and a real solution for your current needs. If you're interested in a legitimate work from home opportunity, I'd like to invite you to head over to virtualassistantsmakingmoney.com where you'll learn everything you need to start your virtual assistant business today for free. Be sure to grab the free Business Start Guide so you can be on your way to building your VA business and bringing in an income which will make staying at home with your children financially easier.
About Alexis
Alexis Mathews is a veteran homeschool Mom of 6 enjoying life and her country home in Middle TN. She enjoys encouraging other homeschool Moms to stay at home with their children while still earning a reliable source of income through her Virtual Assistants Making Money blog, courses, coaching community, and free Facebook group.