Homeschool planning got you down? Use our Charlotte Mason homeschool planner and quarterly planning system to take the stress out of planning your homeschool.
Honey, you don't have time to be stressed about planning your homeschool year. 
At least that's what I've always told myself just after flipping my lid.
How does one plan out a whole year when their child is constantly changing and challenging them? The short answer is . . .
They don't. Or at least they don't after they try once (or twice) and realizing that a whole year is a very long time in the land of learning. Especially when dealing with asychrony.
Why quarterly planning is the best method to plan your homeschool
Now, I'm not pretending I've got this all figured out. This may not be the best plan for everyone, but if you are a perfectionist, a recovering type-A homeschool parent, parent to a gifted or 2E child, or not necessarily gifted with the ability to plan out an entire year without losing your mind, then quarterly planning can be a sanity and homeschool saver.
Why is quarterly so great?
You take the year, subjects, planning, and resource gathering in chunks instead of one overly large bite that can cause overwhelm, intimidation, and choking on your freshly microwaved coffee.
You can do year-round quarters, 9 week quarters, 6 week quarters, or whatever style of quarters fits your homeschool best.
The pressure of trying to conquer and entire curricula is eliminated.
You have wiggle room to move ahead or review concepts as needed in your next quarter after reviewing what was accomplished in the quarter you are wrapping up. This allows for you to keep each subject aligned with each child's specific needs without the pressure of feeling "behind" or the worry of getting "too far ahead".
If you like unit studies (we do!), you can structure each quarter around a unit or make sure to include a week of unit study into each quarter.
Our Homeschool Schedule
We school year round. I know, it sounds just awful doesn't it? Actually, we do "school" 9 weeks out of every 3 month quarter. They may be the first 9 weeks, the last 9 weeks, or a few weeks here, a week off, then a few weeks more. This allows us to travel, to take time off when we need a break, to have more fun playing around the holidays, and to explore local attractions when public schools are in session and the crowds are less.
Because we are Charlotte Mason inspired, I wanted a fantastic CM homeschool planner for this year and I couldn't find exactly what I was looking for, so I designed this little gem. When my 32-pound paper arrives this week, I'll be reprinting this quarter and then printing out the remaining 3 sections to have spiral bound along with 9 weekly sheets for each child and the 3 calendar pages per quarter because I just prefer that layout.
These work great in my 3-ring binder right now where I keep my Power Sheets and meal plans from Eat This Much, but I like to have my planner at hand when I sit down on Sunday to write out the week without having all the other things there, otherwise I get distracted writing tending lists, downloading, or dreaming about bacon wrapped pears for breakfast. Yum. See, you'd be distracted, too, right? I digress.

You get a delightful Cover Sheet and weekly sheets for each child. Now, we don't do every subject every single day. I'll be showing you more about our curricula for this year next week so be sure to keep an eye out!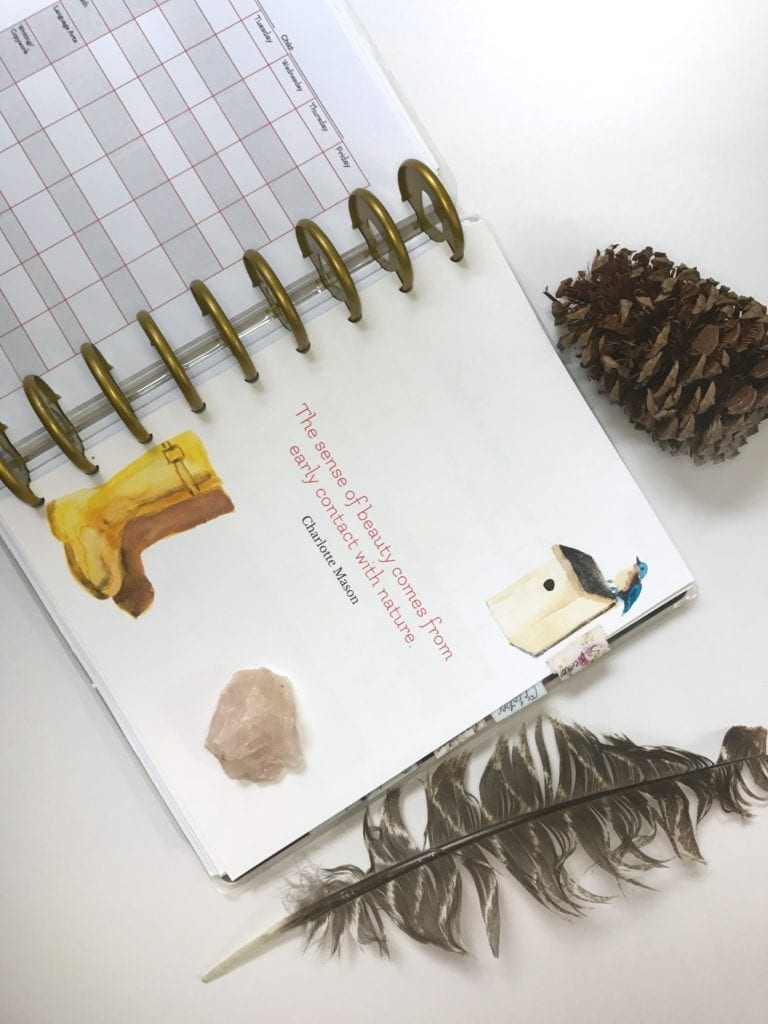 Your Quarterly Planner has quarterly sections for planning and for review. I write out selections in the planning area and notes in the review sheets. I find reviewing toward the end of the last week of study to be very beneficial for both myself and the boys. Mr. T is getting old enough to start assisting me with reviewing his accomplishments and areas that may need additional attention. I hope to instill a habit of excellence in the boys by helping them learn accountability for their work from the beginning.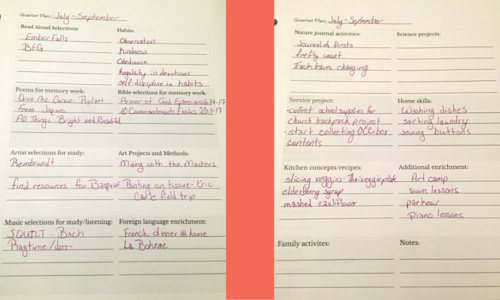 There is a comprehensive list of Charlotte Mason's habits to help you identify areas to focus on with further recommended reading in
Laying Down the Rails
and Habits:
The Mother's Secret to Success
. A field trip record guide for your students is included.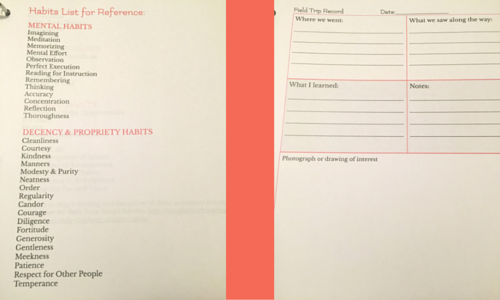 And last but not least, there are note booking pages for primary and elementary students and a lovely blank page for mother's journaling.