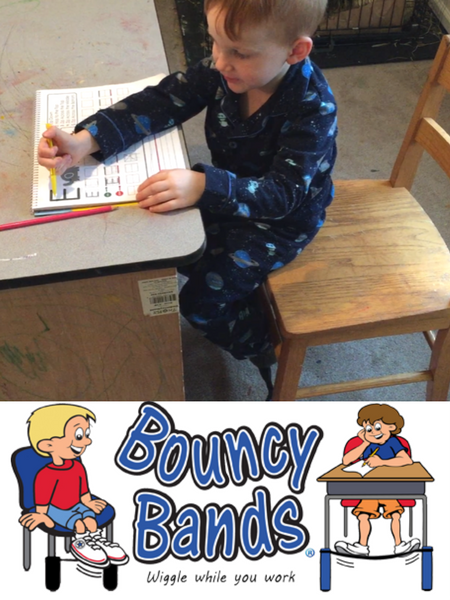 We have a lot of fun with our schooling. We have snuggly reading time, hands-on math with Shiller Math, games galore, and as much movement as we can. However, there are times we must sit. There are times we must remain seated. And there are times when it pushes my active learners to their very brink to do so.
I'm always on the lookout for things to make seated work more tolerable for the  boys. When we got the opportunity to partner with Bouncy Bands, I was ecstatic!
*Disclosure: We received Bouncy Bands for review purposes and were compensated for time. All opinions are my own and I was not required to post a positive review.*
What are Bouncy Bands?
These fun little innovations are a wonderful way to allow children to move without having them up and running all over the place. They are popular with schools, parents, homeschools, and more importantly the children for whom they are designed enjoy and benefit from them.  In fact, of 686 K-12 students surveyed, 87% said their
Bouncy Bands
helped them feel calmer during a test. How cool is that?
Since I'm a fidgeter and foot tapper, I understand how important it is for my own little movers to be able to move even during desk time. Bouncy Bands allow them to stretch, bounce, push, and get some awesome sensory integration right from their seat. Bouncy bands are easy to install and they are available for chairs, for regular desks, for specialty desks, and for wide desks.
Bouncy Bands are quiet. The latex-free rubber doesn't make noise. It is much quieter than foot tapping, pencil drumming, desk wiggling, etc. I really like how quiet they are. They are also super sturdy. That's important around here.
How Bouncy Bands Work
 Our
Bouncy Band
goes back and forth between the boys. You can see a bit of how they use it in the above video. Mr. T is always sitting on the edge of his seat with his feet poised to propel him off to a run in no time flat. It isn't very conducive to actually getting work done. As he has adjusted to having the band there on his chair, he has become more and more comfortable resting his feet on the band and needing to bounce less and less.
Mr. F, who I never did catch on video doing his bouncy band dance, does a hysterical thing that looks like the lower half of his body is on a trampoline during a tornado. He has also become more accustomed to the Bouncy Band, though, and likes to rest his feet on it now, too.
We are very please with how well the Bouncy Band has helped give the boys a way to move and still get our school work completed.  And even though our particular chairs aren't the kind the Bouncy Band is designed for, they still work great! If you have an active learner(s), Bouncy Bands is a tool you should have in your homeschool!
Bouncy Bands are a wonderful tool for:
Active learners
Students with test anxiety
Students with special needs and learning challenges
Autism
SPD
Restless Leg Syndrome
Children who need movement and not to be sedentary all day
Bouncy Bands also has bulk order options and forms for teachers to help get funding for a classroom full of Bouncy Bands!
Connect with Bouncy Bands on Facebook, Pinterest, and Twitter.