"Are you going to homeschool through high school?"
If I had a dollar for every time that question comes up! Parents are generally fearful of homeschooling high school, understandably. Include the fact that we follow Charlotte Mason inspired curriculum for high school, and we often leave people baffled.
Why is that, you ask? It is hard for many homeschoolers to comprehend how a Charlotte Mason style curriculum can work within high school's perimeter.
I want to encourage you today that you can homeschool your high school student, and it can truly be a beautiful experience.
In addition to a little encouragement when it comes to homeschooling high school Charlotte Mason style, I want to give you a glimpse into how Everyday Graces Morning Time can help make it an effortless endeavor on your part.
Why We Chose Everyday Graces Morning Time For High School
At one point in our homeschool, I split up subjects such as fine arts, art, nature study, history, and scripture memorization. Not to mention, we were including morning time with Everyday Graces Morning Time – family-style. But, I recently realized I could and should simplify for my high school student.
There was no real reason I needed a separate curriculum or lesson plan for each one of those subjects. Other than, we are conditioned to think that if we are homeschooling high school, it should take all day and be rigorous.
I believe it should be meaty in content, meaning a full buffet of ideas, information, following the necessary and often not so necessary rabbit trails. If you have homeschooled for any amount of time, you will get my humor about the rabbit trails there.
Everyday Graces Morning Time provides a simple framework that allows me to offer a full buffet of truth, goodness, and beauty in our homeschool.
So, I ditched a few different resources and relied only on morning time for those subjects, and we haven't looked back. Simplifying by combining those subjects like fine arts, art, nature study, history, and scripture memorization – has helped cut down our homeschool day entirely.
We are covering more in less time. Simplifying high school has been delightful for us! We even include more read alouds now too!
My intention, like many fellow homeschool parents – we want to raise intelligent, independent, confident, self-thinking Christian adults. I believe that Everyday Graces Morning Time aligns with our Christian family values. For that reason, I feel good about using their curriculum with all of my children at all ages.
That is our why. Now, more about how we use it in our homeschool.
How We Use Morning Time For High School
As I have mentioned above, if you use Everyday Graces Morning Time for high school, you can combine many subjects and do more in less time.
Each set of plans has a theme and plan for each day. Your family will cover history, nature study, read alouds, hands-on activities (think baking and handicrafts), poetry tea time, life skills, Shakespeare, music, hymns, art study, artist biography, and a musician biography – over these four to six weeks.
Included in each session is your daily lesson plan. Homeschool planning for high school has never been so easy. Your kids will love this plan also; it never gets boring! My daughter just told me how much she prefers this curriculum because we are doing something different each day while still studying one central theme.
We have homeschooled for 12 years now, and she has been my guinea pig for a lot of different curricula over the years, so that speaks volumes to me.
You will also receive a recommended reading list each session for your older students. The reading list is one of my favorite resources because I can trust that these are quality living books. That saves me so much time planning and pre-reading books for appropriate content.
Other fantastic resources worth mentioning for your older students included in Everyday Graces Morning Time are book studies, a tea time budget planner, and Cornell notes. More on how we use those in a bit!
Let's cover some of those subjects you can combine in high school to save time and educate more.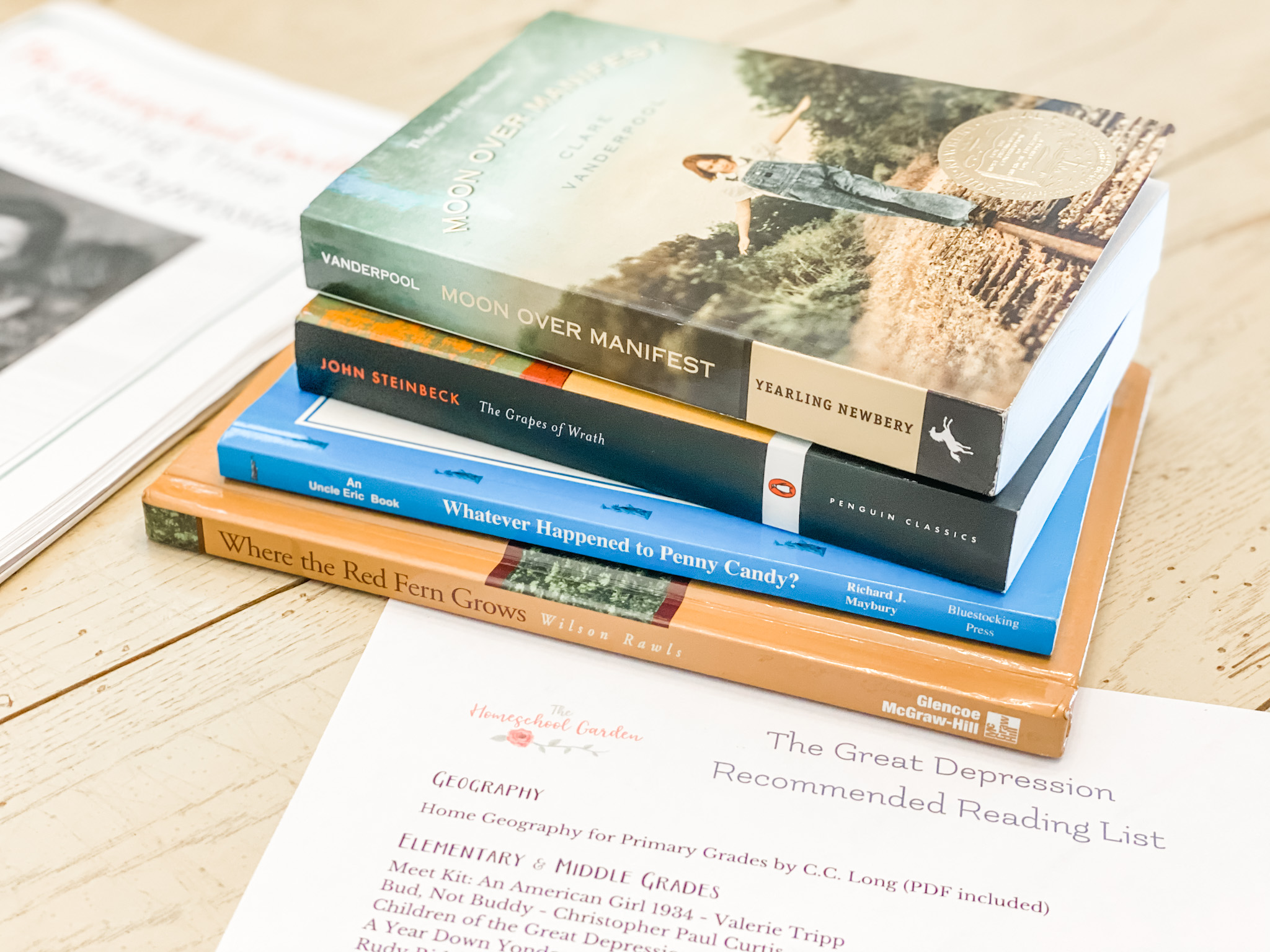 History
We had been using a popular open-and-go history curriculum that skipped around a lot. That bothered me that we never got the opportunity to dive too deep into a period or event. By the time we flipped to the next day's lesson, we had moved on to another part of the history timeline.
For that reason, I thought I would exclusively use The Homeschool Garden for history. History, more than ever, is essential for our children to learn. With The Homeschool Garden, we get to spend a full 6-weeks in one spot. That gives us ample time to incorporate multiple read alouds, explore those rabbit trails, and delve into a period or historical event.
Fine Arts
We had been using an entirely separate course for fine arts. We enjoyed it, and there was nothing wrong with it other than it is another subject that you can easily cover inside Everyday Graces Morning Time.
With art studies, artist biographies, music study, and musician biographies all included in Everyday Graces Morning Time – we didn't need another subject or class to cover. And the best part, I love that we are studying art and music from the same time period. It helps keep all of our studies cohesive.
Nature Study
I appreciate that we study nature inside Everyday Graces Morning Time relative to that same time period we are covering as well. This may not be the case for every session, but when she can, Lara ties the significance of nature into the session. That is so helpful to study a theme, and every aspect you explore is seamlessly planned in. I don't have the time to plan this well, which is just another reason I love Everyday Graces Morning Time.
The Great Depression Session For Older Students
The session we are currently using is The Great Depression. We have thoroughly enjoyed learning all about that period, and it has brought up some fantastic areas to investigate naturally.
As we begin to dive into a new session, we use the Cornell Notes provided in the membership area. Cornell Notes are a useful tool for your older students to get familiar with; they help your children learn how to take quality notes, which will come in handy later in life. Once we decide what we are studying, for example – The Great Depression, I have my daughter jot down questions that pop up as we go through the session.
Naturally, she was curious about depression glass, why they called it depression cake, and what supplies were in shortage during the depression. We can go through her notes and find all of the answers to these questions too. I think this part of home educating is so much fun!
We got to experience making depression cake for tea time. To expand our life skills, we decided to use the tea time budget planner I mentioned earlier. The tea time budget planner is a wonderful way to get your teens involved in making a budget, shopping, and planning for your family. Homemaking skills are fundamental in our family, and I find that The Homeschool Garden also fosters that.
Tea Time is already pre-planned for you, complete with the recipe for each session. So we got to spend our time baking together and sipping tea while reading poetry. These are not just homeschool lessons; poetry tea time is a tradition, and we make memories in our home. I genuinely believe that this is home educating at it's finest.
With The Homeschool Garden, you go on a different journey through each session with the highest quality curriculum and minimal effort on your part as a parent. I get the privilege of experiencing all of it right alongside my children. I am still blown away by that every time I think about it.
We also enjoy our current read alouds during poetry tea time, and with the recommended book list I mentioned above, you can also include your teens in choosing which books you will read. We are southern, and Moon Over Manifest leaves plenty of room for emphasizing accents if you enjoy reading aloud in character. I know I do!
We also watched a fascinating documentary about the dust bowl recommended inside The Great Depression Session. Through this one session, we learned so much. I remember covering The Great Depression in public school as a child, and I know we didn't cover it extensively, like this.
Another incredible opportunity we got to take advantage of was a little woodworking. The handcraft for this session was to make a flower press. We adore nature study around here and have pressed our fair share of flowers in our thickest books over the years. So this was right up our alley; we got to make a flower press for our home that will be proudly displayed and used often.
If you have reservations about homeschooling your teen all the way through, I hope I have encouraged you to savor that extra time with them. The homeschool journey has only gotten better the further along we have come. I will cherish these homeschool days with my oldest forever.
Using Everyday Graces Morning Time will not only deliver the quality education your teen needs, but you will get more time to enjoy it with them!
About Courtney
Courtney is a Jesus-pursuing, native Texan, homeschool mom of three, and she believes homeschooling can be a peaceful and productive rhythm. At Grace, Grow & Edify she helps families create peaceful homeschooling atmospheres through faith, organizational strategies, and cultivating strong roots at home. She is also the founder of Homeschool Mastery Academy.