Kids in the Kitchen: Paleo Pop Tarts
Chef Teddy is back with Paleo Pop Tarts! And boy, are they good!
To be honest, they are a decent bit of work, and are the paleo equivalent to junk food, but an occasional treat is a big deal for food allergy kids and these are no exception! This food allergy mom is a big fan (which is why they don't get made often).
Chef Teddy's Paleo Pop Tart Recipe
Makes: 4
Crust
Filling (or paleo jam)
1 cup of Raspberries or Strawberries, preferably fresh
1 teaspoon of Arrowroot Flour(to thicken)
2 tablespoons of Water
2 tablespoon of Maple Syrup or Honey (or more depending on the sweetness of the fruit)
Glaze
¼ cup of Coconut Cream
1 tablespoon of Raspberry/Strawberry Filling
Instructions
In a medium sauce pan, add the raspberries, water, maple syrup, arrowroot powder and cook on medium heat for 20 to 25 minutes, till it becomes a thick sauce. Keep aside to cool.
Combine the almond flour, arrowroot flour, maple syrup, coconut oil, a pinch of salt and the egg white in a food processor or the bowl of a stand mixer. Process or mix till everything clumps together in a dough.
Remove the dough from the processor or the mixer and knead for a minute, till it becomes a smooth. Roll it into ball or disk and cover with a cling wrap or place it in a Ziploc bag and let it chill in the freezer for an hour. I usually like to divide it into two disk and chill.
Preheat the oven to 350 degrees and line a baking sheet with parchment paper or silicone liner.
Now this is the tough part. Take one disk and roll out the disk between two pieces of parchment paper until it is about ¼ inch thick. Using a paring knife or a pizza cuter, cut into 4 even rectangles.
Spoon about 2 teaspoons of the raspberry filling on two of the rectangles. Cover them with the other two rectangles and crimp the edges with fork to seal.
Repeat with the other ball of dough. You will have 4 tarts now.
Bake the pop tarts for 15 to 18 minutes, or till the edges are barely golden.
Let them cool in the pan for 5 minutes before transferring to a wire rack to cool completely.
While the pop tart cool, make a quick glaze. Mix the chilled coconut cream with bit of the raspberry filling.
Once the pop tarts have cooked, spoon the glaze over the pop tarts.
Notes
If using frozen berries, thaw them completely and then drain any excess liquid they might have.
If using strawberries instead of raspberries, you might need to cook it for a little longer for the berries to disintegrate.
While rolling out the dough, it is fine if it cracks you can pinch it together. Or just leave it as is and cover-up with the glaze.
Do not over fill the pop tarts.
There will be some scrap dough left. Form then into little balls and bake cookies out of them. They will make excellent Thumbprint cookies along with the raspberry filling.
Cooking with Chef Teddy: Paleo Pop Tarts
Paleo Strawberry Jam Filling
Friends, I am a concoctor of things. I don't have exact measurements because I do this so often in the summer, I gauge it all by sight.
This time, we picked 10 pounds of fresh strawberries from our local no-spray, organic farm. 6 pounds were used to make the jam.
Cut your berries in half and let them sit in the fridge overnight.
Add them to a large stock pot along with 1/4-1/2 cup of organic lemon juice, mush it with a potato masher and let it cook down over medium heat.
When it resembles a puree and is bubbling well, add 1/4 to 3/4 cup maple syrup. We gauge by how sweet our strawberries are.
We like a smoother jam, so we use an immersion blender to blend in the grass fed beef gelatin, 2-4 TBS depending on your quantity of strawberries. The desired result is a spreadable consistency that is NOT jello. It took a few tries to find our perfect amount.
We portion ours out, let it cool overnight in the refrigerator, and then freeze all but one container. It lasts 2-3 weeks kept in the fridge.
This makes a great pop tart filling, goes beautifully on paleo compliant Simple Mills muffins, and your non-paleo spouse will still love it on toast.
Get your Kids in the Kitchen Recipe Binder! (Just because we think you're awesome)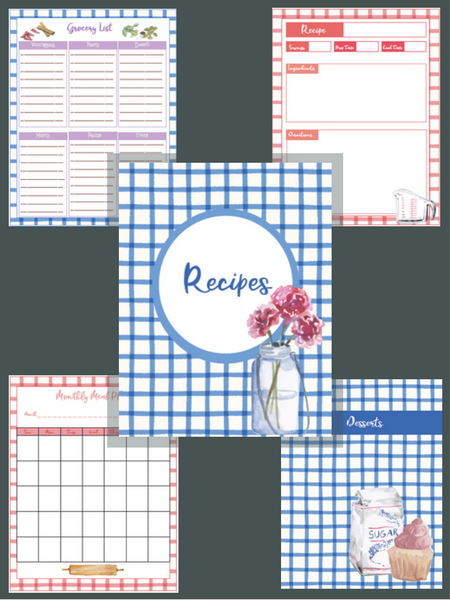 It's already in your cart so just complete checkout! (No catch, no cost) Share your kids in the kitchen creations with the hashtag #everydaygraces so we can see what your little chefs are making!