Welcome to Day 4 of our 5 Days of Harry Potter post series! You can click the image below to see all the other posts. 
Harry Potter has been inspiring the imaginations of children and adults alike for many years now. I remember being swept along on the very first broom ride by the imaginative prose of J.K. Rowling. Meeting Hagrid, Ron, Hermione, and Malfoy. Being just as amazed as Harry at all the wizarding world had to offer. And feeling the kinship between Harry and Dumbledore. It was truly magical. Books like that don't come along often, and rarely in a series so well thought out as this one.
Raising our children on meaty books, full of vivid vocabulary and the delights of good versus evil, is one way to help them develop a love of reading and of learning. I hope these pages inspire your littlest learners to tackle some adventures of their very own.
Today, we are making the wizarding world fun for the youngest scholars with a printable pack inspired by the Harry Potter series.
This pack is full of awesome activities and fun learning games.
What is in the Wizard Learning Pack:
This 15 page printable pack includes:
ABC ordering
phonics
I Spy
Maze
rounding to the nearest 1001
Word search
board game
adjective sheet
and more!
To get your wizarding fun learning pack, simply add it to your cart here and check out!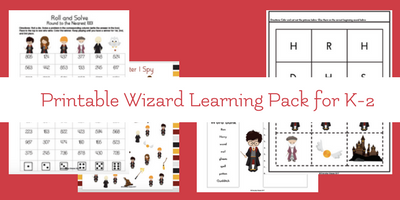 Some of our Favorite Harry Potter Things!
 Harry Potter and the Sorcerer's Stone: The Illustrated Edition Guittard Butterscotch Chips Stuffed Snowy Owl Sorting Hat Harry Potter Triwizard Maze Game The Unofficial Harry Potter Cookbook: From Cauldron Cakes to Knickerbocker Glory Chocolate Frog Mold "Obliviate" & "Stupefy" Spells Tea Cup Set Harry Potter: Collectible Quidditch Set