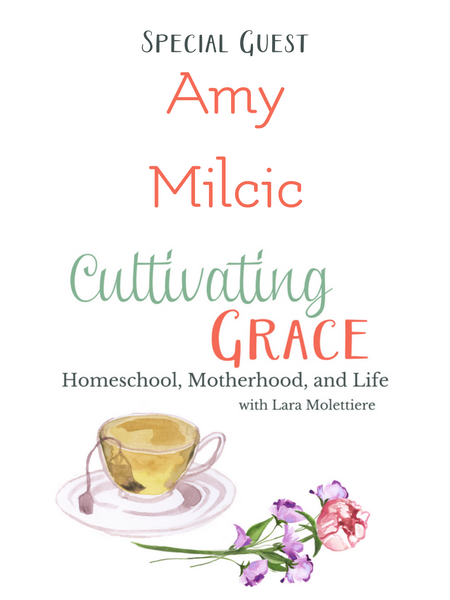 Join us today as Amy encourages us with ways to get the sparkle back into our homeschool.
Listen to the podcast here:
This podcast is sponsored by:
Transcription:
Hello, Homeschool Momma. My name is Amy Milcic and I am a homeschool soccer mom to five boys. Yes, you heard that right. Five boys, ages two, five, eight, 11, and 14. Toddler to teen. I blog over at Rock Your Homeschool, a site dedicated to helping families add sparkle to learning fun. I am passionate about sharing homeschool encouragement, tips, and resources. I know what it's like to be in the homeschool trenches, and how a positive and creative approach can make a world of difference.
One of my favorite ways to connect with other homeschoolers is via Facebook Live. Getting pumped up for your homeschool day can seem daunting. I like to help you jazz it up and get excited for learning at home with my weekday morning homeschool pep talk, around 9 a.m. Eastern. In five- to ten-minute chats, I share homeschool encouragement, tips, resources, and humor. Plus, I hope you connect with other homeschool moms and bloggers, sharing their nuggets of knowledge. I would love to have you join my live or tune in any time of day that you need a homeschool pep talk.
I'm so excited to be chatting with you here today. One of the things I find myself frequently repeating is that homeschool is a blessing but can be so tough. Community and support from other homeschoolers can lift you up and help you navigate the bumpy path of homeschooling. I'm so grateful for podcasts like this one that bring us together and get these morsels of delight to keep us going.
Are you still stuck on the fact that I'm a homeschool mom to five boys? Yeah, I get that a lot. Wonder how I make our homeschool magic happen? Well I'm not going to sugarcoat it and say every day is easy. I'm very blessed with two older boys, who are independent enough to do a majority of their work on their own and help me with their younger brothers. But even that scenario doesn't always play itself out nicely. BB—before boys—I worked as a mental health therapist doing individual, group, and family therapy. I swore that I would work hard to help my future family, God willing, have a strong foundation, a faith, and positive relationships.
One of the ways I strive to achieve balance, and make sure we at least complete some work each day, is our morning gathering, otherwise known as morning basket, morning time, whatchamacallits. This special time of prayer, readalouds, and group work help set the stage for better homeschool interactions throughout our day.
The most looked-forward-to and unifying experience of our homeschool week is our poetry tea time. Yep, you heard that right. We have a weekly poetry tea time with five boys. Through poetry tea time, my boys and I have been introduced to a whole new world of thinking and imagination. We have learned and practiced proper etiquette and even how to set a proper tea table. Most importantly, my boys and I have a positive practice to look forward to, plan for, and think about each week. How does one have a successful poetry tea time with boys? Well, for our family, flexibility is key. Although we strive for proper manners at the table, it is not uncommon for one of my boys to be upside-down on their chair, looking at the world from a new angle, or hopping on one foot as they work out the patterns in a poem. We often start off well enough, but erupt into observations, comments, performances, maybe all at the same time.
If you have boys and want to do a poetry tea time, give it a go, and don't limit yourself to just poems filled with adventure of boyish humor. Branch out. Try a poem about nature—or even romance!—and you just never know what will touch their hearts and stick with them forever. As much as I sometimes dream of a quiet poetry tea time with dainty delights, I wouldn't have it any other way. My boys have learned to appreciate poetry and actually get excited about it, an activity that I never dreamed possible with having all boys. I am now able to find and share delight, albeit in a more masculine way.
Thank you so much for sharing a part of your day with me. If you have more questions about homeschooling boys or poetry tea time with different ages, I would love to chat with you at [email protected]. Thank you so much for having me here today, and rock your homeschool!
About Amy
Amy Milcic