We visited Chuck E. Cheese's in Fayetteville, Georgia, to check out their new look. Y'all, it was awesome!
Now, before I go into the details, I know many people who associate this restaurant with kids birthday parties and only for that. It's even better for awesome birthday parties now, but there's so much more you can do! I need to tell you that we're going to be making several trips here over the next few months while it's cold so the boys can play while I work.
Yes, I said work. Not only have they updated the exterior, the interior is awesome. There's free Wi-Fi, outlets and charging stations at the booths, and the updated design keeps the majority of the noise contained within the game area and the dance floor during the hourly shows. Plus, with All You Can Play, a new way to play at Chuck E. Cheese's that allows kids to play more games and win more tickets, the kiddos are totally occupied and you don't get interrupted to buy more tokens! If you're a working homeschool mom or any mom who works from home, this is a fantastic update.
The game area is sectioned off with 2 entrances, one about a third of the way into the restaurant, and the other next to the dance floor. It's easy to keep track of your children while you enjoy your fresh meal and uninterrupted work time while they play securely. There is also a stamper at the door who stamps you and your children so you match and they check those stamps at the exit. I was very impressed with all the safety checks they have in place.
Fresh and Delicious Food
Not only have they updated the look, streamlined the graphics, and made the play area more awesome, but the food is wonderful! Made fresh daily, and with the remodeled open concept kitchen that allows you a view into their pizza making process, the entire menu is delightful. Above you can see Mr. F enjoying his gluten free pepperoni pizza. I might have snuck a piece while he was playing and it was yummy. Below you can see the new menu and setup.
Now, I am a big veggie eater so a small slice of pizza is usually all I want to go with a good salad bar. I was over the moon with the offerings at the salad bar. They even had spinach, sunflower seeds, and cottage cheese (three of my favorites). Plus, it's an all you can eat salad bar. That is happiness. Everything on the bar was fresh, crisp, clean, and well cared for over the three (yes, three) hours we enjoyed playing inside the new Chuck E. Cheese's.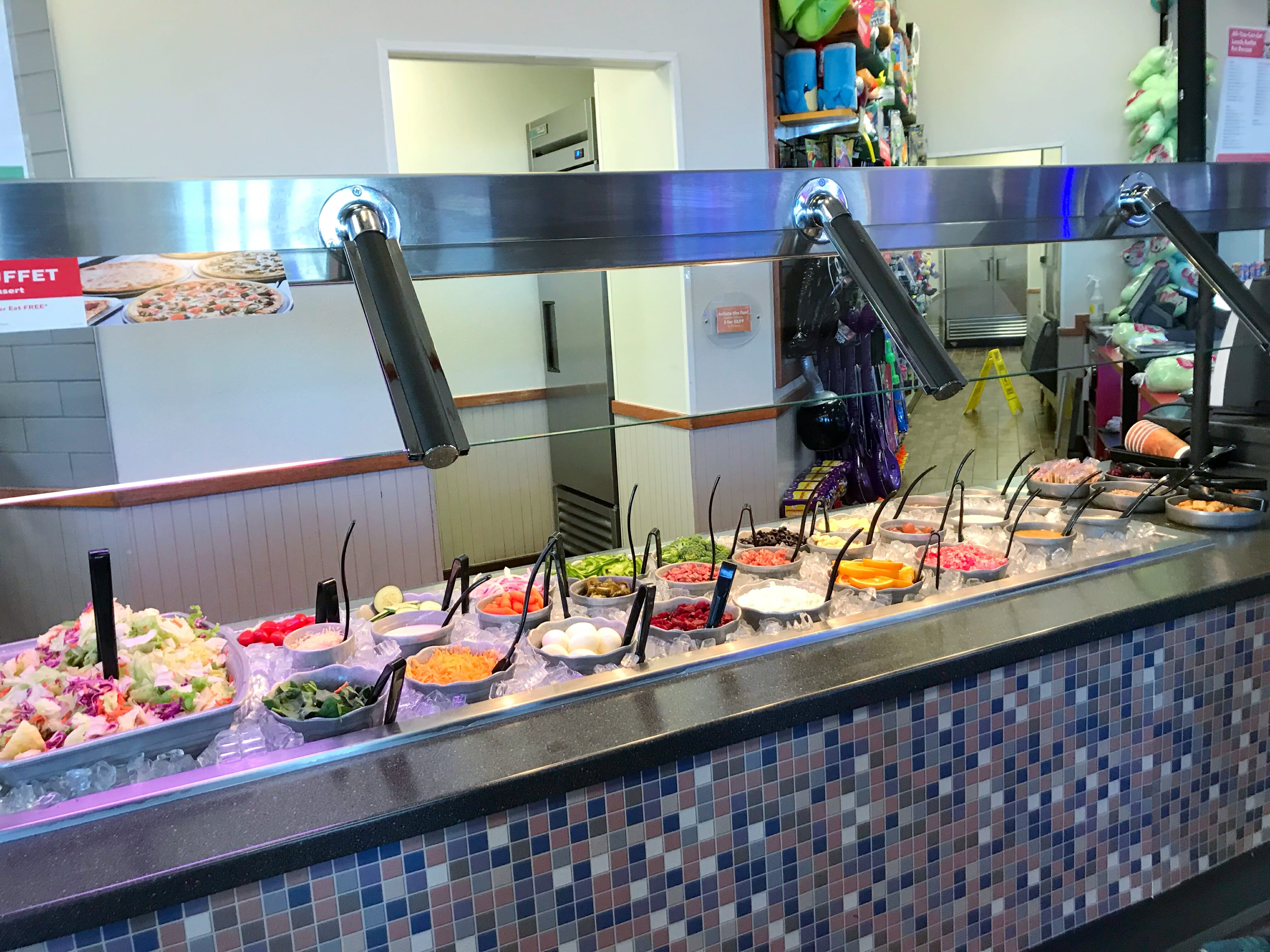 Fun for the Whole Family
Back to that play pass I mentioned, you know how the kids love to rack up the tickets? Well my boys are no exception to that. They were having a blast, but the ribbon cutting with Chuck E. Cheese and the Mayor was about to happen and they really wanted to see it. So we walked right up to the play pass kiosk, pushed a few buttons, and paused their play time. How cool is that?! They didn't lose out on any of their time to earn more tickets.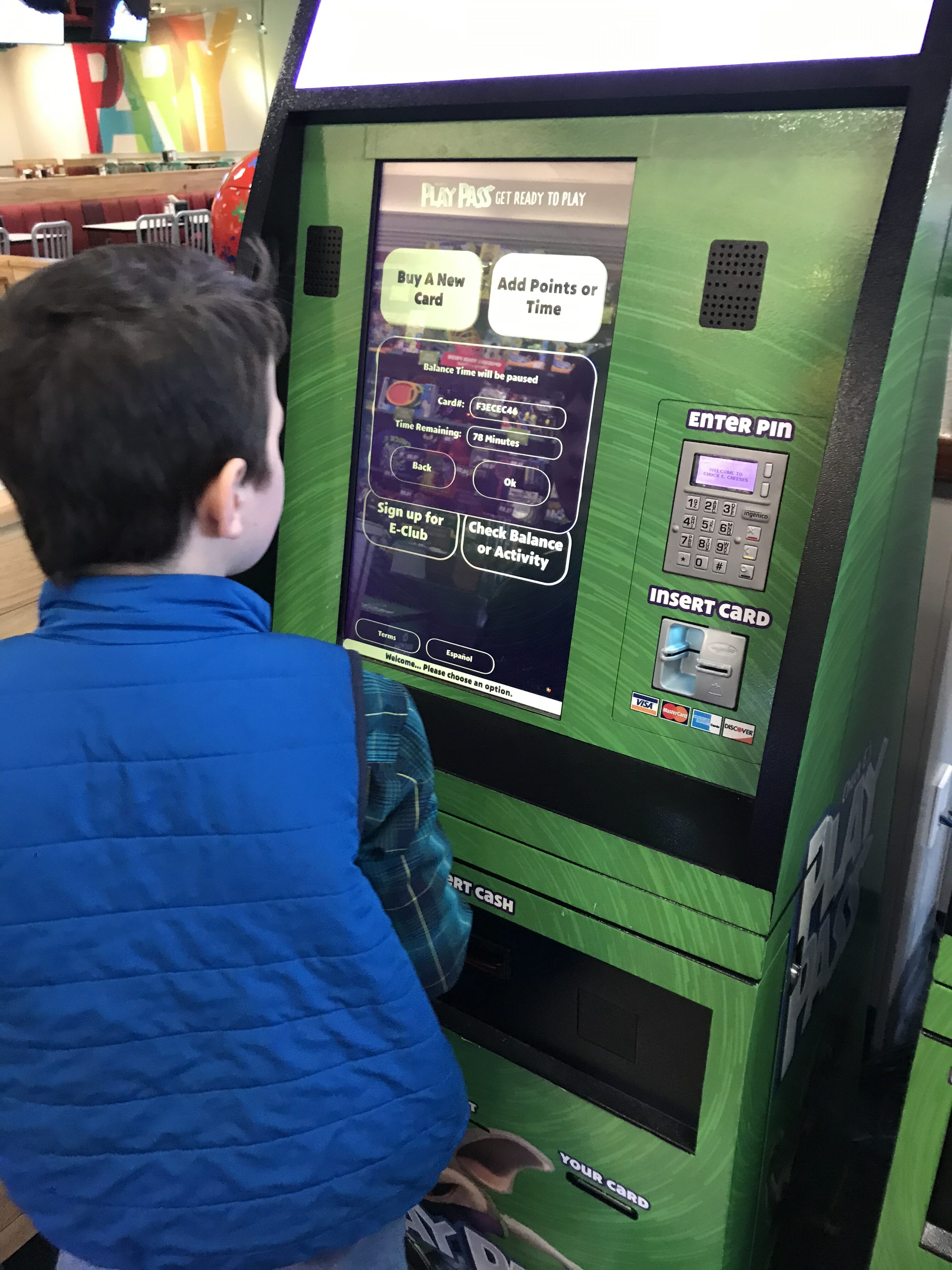 After helping to hold the ribbon during the cutting and Mr. T introducing himself to the Mayor and chatting for a few minutes, we went back inside to grab our food while their passes were still paused. Then they resumed playtime and I sat down to watch.
They had a blast and got so many tickets! We all had a wonderful time, left with full bellies and hearts, and we all slept really well that night.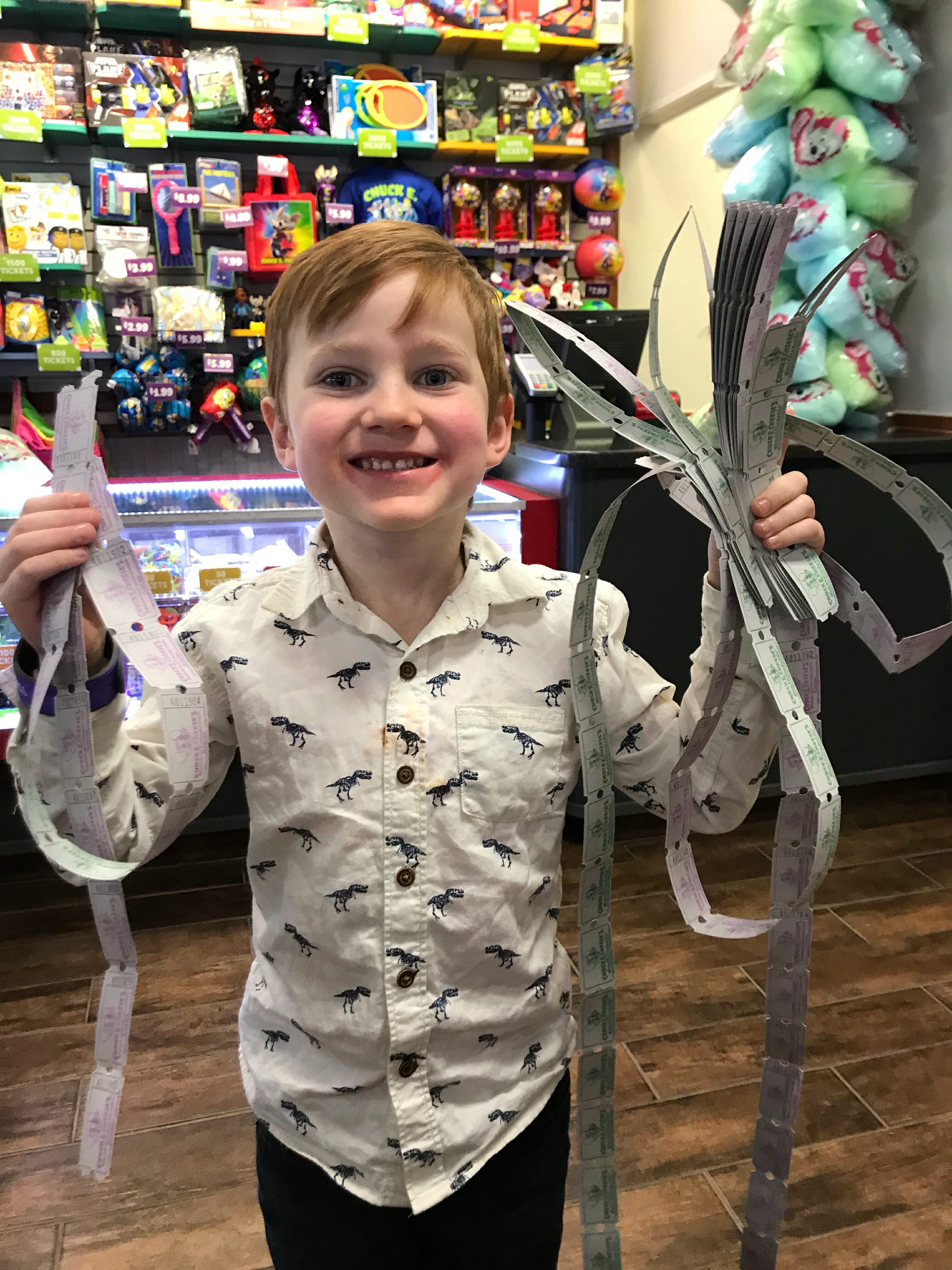 To connect with your local Chuck E. Cheese's visit them online, on Facebook, on Instagram, and on Twitter.  I can't say enough about how wonderful the staff was during our visit and we are looking forward to seeing them all again very soon.
This is a sponsored conversation written by me on behalf of Chuck E. Cheese's . The opinions and text are all mine.