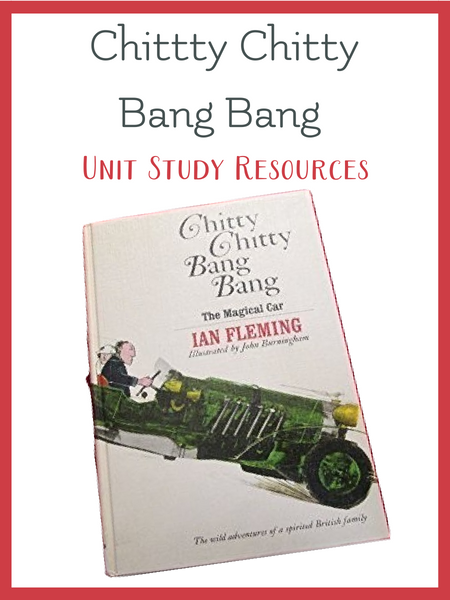 We are big fans of the movie Chitty Chitty Bang Bang! It's such a fun story, but did you know there's also a wonderful book?
It's a true delight and your children are sure to love the book and all the fun unit study resources we have collected for you below.
You can also grab the Chitty Chitty Bang Bang full movie unit study here. It's perfect for a rainy day!
Chitty Chitty Bang Bang Unit Study
Recommended Resources:
Chitty Chitty Bang Bang – (required) Ian Fleming
My Life and Work: The Autobiography of Henry Ford – Henry Ford
Mistakes That Worked: 40 Familiar Inventions & How They Came to Be – Charlotte Foltz Jones
100 Inventions That Made History (100 in History) – DK Publishing
Robert Louis Stevenson: The Complete Supernatural Stories – Robert Louis Stevenson
Chitty Chitty Bang Bang Movie Unit Study
 Add to Cart Add to Cart Add to Cart Add to Cart Add to Cart Add to Cart Add to Cart
Vocabulary:
conglomeration
newt
turnpike
windfall
chassis
tarpaulin
hydraulic
smelt
dolefully
engineering
frenzy
dejection
paragon
carburetor
hydraulic
modification
radiator
mascot
propellor
tinker
axle
transmogrification
jackdaw
sentry
shoal
sloop
marooned
sandbank
cogwheel
fore
aft
hovercraft
starboard
port
choppy
headland
trundle
famished
gelignite
dynamite
meddler
ruffian
pell-mell
grimace
confabulation
Activities for Chitty Chitty Bang Bang Unit Study:
Chapter 1
– Watch a video about how cars are made. (Science, Social Studies)
– Read a biography of Henry Ford. (History, Language Arts, Science)
– Learn about the British Chieftan, Caractacus. (History)
– Go on a nature hunt for beetles, birds' eggs, newts or salamanders, and tadpoles. (Field Trip, Science)
– On a map, locate and label United States, Russia, China, Japan, England, Scotland, Wales, and Ireland. (Geography)
– Write a list of your own invention ideas. (Language Arts, Science, Critical Thinking)
Chapter 2
– Visit a secondhand store. Choose a few items and carefully examine them. Are they worth the money? (Field Trip, Critical Thinking)
– " Commander Crackpot"  and " Paragon Panther" are both names using alliteration. Find out what this is and make up a name for yourself using alliteration (Language Arts)
– Learn about the smelting process. Write a step-by-step paragraph describing how it's done. (Science, Language Arts, Social Studies)
– What is India rubber? ( Language Arts, Science)
– Read " The Bottle Imp" by Robert Louis Stevenson. (Literature)
Chapter 3
– Draw a picture of how you envision the Paragon. (Art)
– "Chitty Chitty Bang Bang" is an example of onomatopeia. Write a list of other examples. (Language Arts)
– Keep a running list of onomatopeia throughout the book
– If you were driving 40MPH, how far would you get in 3 hours? What if you were driving 70MPH? 100MPH? (Math)
Chapter 4
– Pack a lunch and go for a picnic. (Field Trip)
– Learn how to maintain a car by having someone show you how to pump gas, check the water in the radiator, check the oil, and test the tire pressure. Finish up by washing the car! (Life Skills, Science)
– Write out twenty- two thousand, six hundred and fifty-four as a numeral. Then write it in expanded form. (Math)
– Write a story about your adventures in a flying car. What did you see? How did it feel? Where did it go? (Language Arts)
Chapter 5
– What is the Union Jack? Draw it. (Social Studies, Art, Geography, History)
– Research the South Goodwin Light Ship. (History)
– Learn about rescue and salvage ships. (Social Studies, Science)
– Locate and label the English Channel on a map. (Geography)
Chapter 6
– Listen to the sound of a foghorn- https://www.youtube.com/watch?v=8dENYJbN1z4  How does a foghorn work? What are they used for? (Science, Social Studies)
– In naval language, what direction is starboard? Port? (Geography, Social Studies, Language Arts)
– A naval knot is 1.15 MPH. How fast would 50 knots be? (Math, Social Studies)
– On your map, label France, Calais, Portugal, and Africa (Geography)
Chapter 7
– Bats navigate through echolocation. What other animals do this? (Science)
– Write a report on echolocation. (Language Arts, Science)
– Make a diagram (or find a printable) of the human skeletal system. Label the major bones. (Ambitious older kids can label all if they like.)(Science)
– Label Germany on your map (Geography)
– Find out why electricity can't go through rubber. (Science)
Chapter 8
– Where and why is Guy Fawkes Day celebrated? (Social Studies, History)
Chapter 9
– "… butterflies in his tummy" is an expression used that means "nervous." Draw a literal picture of this saying. (Art, Language Arts, Critical Thinking)
Chapter 10
– Learn about stranger danger. ( Safety)
– Chitty Chitty Bang Bang has a radar system. Find out how radar systems work. (Science)
– Label Paris on your map. (Geography)
Chapter 11
– Enjoy a French breakfast with French bread, butter strawberry jam,  and cafe au lait. (Social Studies, Life Skills)
– Punch holes in a piece of paper decorated like a banknote to spell out "Gangster" like Jeremy and Jemima did. ( Art)
Chapter 12
– Make some fudge using Madame Bon-Bon's recipe. (Life Skills, Math, Science)
– Watch the movie Chitty Chitty Bang Bang. Write a movie review, noting the major differences between the two. (Younger children can write a list.) (Literature, Language Arts, Critical Thinking)
Love unit studies? We have these other wonderful free unit studies available for you:
Swiss Family Robinson Unit Study