Mixed Media Art for Kids
Mixed media art is something I've only dabbled in a few times. But it's so much fun, I thought Mr. T would enjoy a foray into the world of ModPodge. I was right!
Disclosure: We received the Winter Wonderland course for review, no other compensation was received. All opinions are my own and I was not required to post a positive review.
We've been enjoying watching several of the project videos (Mr. T insists on watching them completely before watching them while doing a project) and have completed the Snowman this last week while we've been fighting off a cold that just won't let go. We did venture out to get a few supplies, though most stuff we already had. Below you'll see our fun Snowman project. This week we will be doing our Art Journals and art journal projects.
*Added Bonus: That's 20 art projects with lifetime membership that your entire family can enjoy!
See Mr. T engrossed in the video? He's watched the entirety of week one projects and has told me exactly what we need. He's very particular but very impatient, and a bit heavy handed with the Mod Podge, so he ended up getting frustrated at the wait time and continued on. Towards the end I got out the hairdryer so he could speed up the process, though there was already a lot of mushed together, in Mr. T's words, paint, paper, and glitter. For the next project, I'll be separating out segments of the lesson and breaking it up more.
About the course:
You get access to all the classes through your welcome email.
You get a basic supply list, if you're a homeschool mom of even just semi-crafty kids you most likely have a large portion of the list already.
A few projects require additional supplies that are listed with the project video. These are things like decorative frames that you only need for the one project.
You get Lifetime access.
The videos are fun and easy to understand. Alisha breaks down each step and goes over it all thoroughly.
The videos have lengthy parts that are sped up to keep the video short, so expect your project to take longer than the videos.
Every project in this course would make a wonderful gift. If handmade Christmas gifts are your thing, this is definitely a wonderful investment.
While it does say ages 8 and up, Mr. T is having a lot of fun with it and he's 5. He follows the directions, except for the letting it dry part. 😉 And he is an art loving kid anyway so this is right up his alley.
I love the projects, too. Though I think for future projects, I will do mine after bedtime. Trying to maneuver around so many elements and the boys, adding in my own project was a tad bit much.
But he turned out cute!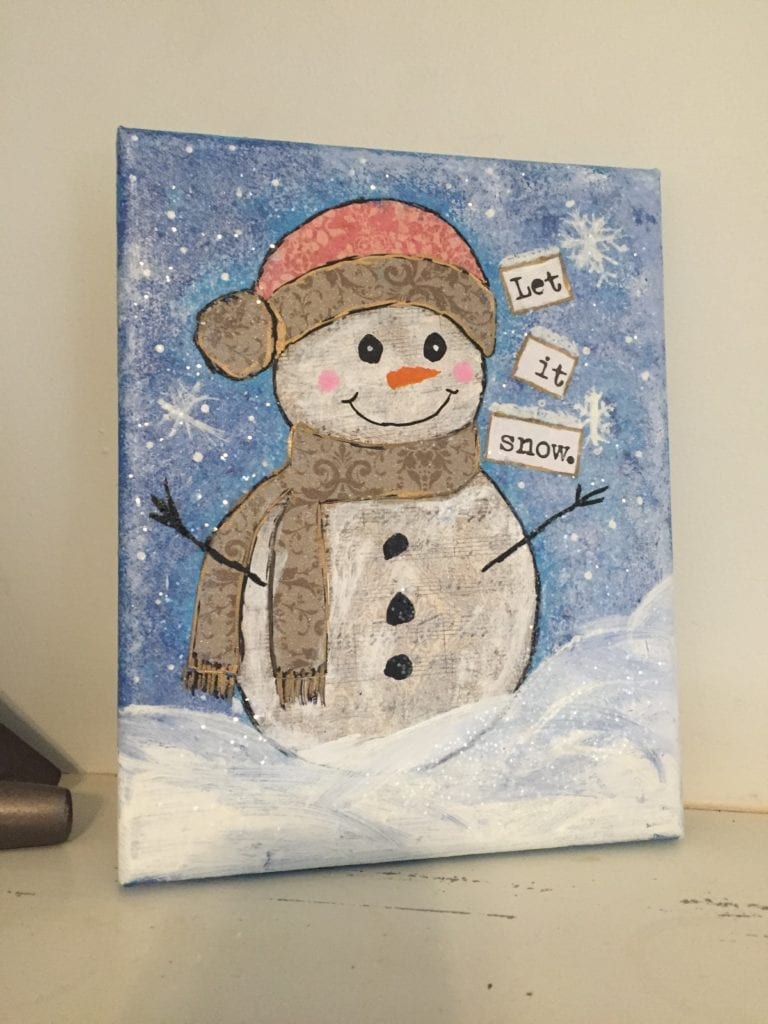 In this workshop for kids (ages 8 and up), teens, and moms too, we will be exploring and experimenting with various art forms including:
Sketching
Acrylic painting
Watercolor painting
Chalkboard art
Collage art
Sculpting
Hand lettering
Art journaling
And MORE!
And because we're entering the holiday season, I'll be including easy and beautiful handmade gifts to give, ideas for Christmas cards, and simple homemade Christmas decorations and ornaments to create.