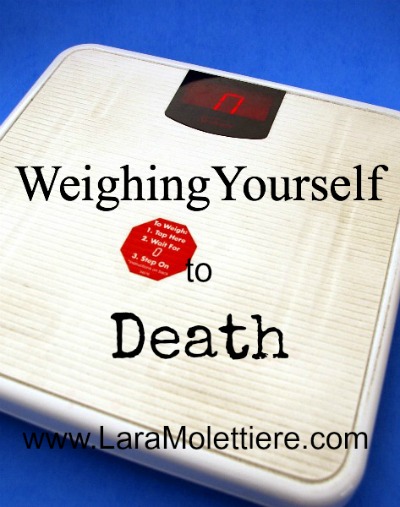 Health and fitness are very important to me. Part of the reason for this is because of my struggles throughout my life to be healthy and maintain a degree of fitness that is healthy without being obsessive.
Weighing Yourself to Death
This is a post of encouragement and hope. Not of condemnation, not of complaining, and not of glossing over. There is an epidemic in our world of hopelessness. Of people trying to control their lives, even Christians, and grasping at whatever straws they can to feel an inkling of "I have power over this". What a lot of Christian women, young ladies, and even girls do not grasp is that our desire to control our physical image has huge impacts on our spiritual lives. And that, my friends, is where we begin weighing ourselves to death.
I was in 7th grade when I started skipping meals. I had always struggled with weight and food, always been smart, and often been the subject of ridicule and "well-meaning-but-came-out-cruel" advice from elders. At 12 years old, I was 175 pounds and barely 5 feet tall. What possible control can a 12-year-old girl in a conservative Christian home have over life? Food. So I began to exert control over the one thing I felt I could. When that wasn't enough I became obsessive about walking. I began weighing myself daily.
By the time I entered high school, in a new school that was a far cry from the conservative Christian school system I had been a part of till then, I had already begun walking the line between Anorexia and Bulimia. I had withdrawn from my family, and my internal anger had become my strong hold. Quite often the cruelest people to me were the ones with whom I had grown up in the church. So I stopped going. And feeling that hurt and anger, I walked away from the few shreds of faith I had left. I still weighed myself daily, sometimes multiple times.
The next few years were riddled with terrible decisions, binging and purging, horrible fights with my parents, abuse of my body with restrictions, obsessive exercise and dieting and overuse of weight loss supplements, and so much anger.  All because I didn't measure up.
I didn't weigh in where I thought I should on the physical scale. I didn't weigh in as a daughter. I didn't weigh in where I thought I should in relationships. I didn't weigh in with self-worth. I didn't believe I could weigh in and matter to God. But I weighed in with hurt, with anger, with a deep depression. I had an emptiness that was so deep I would joke about not living to see 30, but I really didn't think it was a lie. I had been weighing myself against the impossible for so long, almost every part of me had died. I was weighing myself to death.
The hopelessness we cast upon our own souls comes from believing the lies that we are the ones who can make decisions to fulfill our hearts longings. Our anger stems from a wounded soul. As I see so many young people struggle in their faith, I cannot help but remember. I knew who God was, but I did not know God. And so many of the Christian people who tried to "help"  did so from a place of scolding, with brow beating, with anger, with shame, that by the time someone did reach out with grace and love, my hurt heart was too hard to let them in.
Friends, I am here to tell you that no sin, NOT EVEN THAT ONE, is too big for God. No amount of trying to weigh yourself against the world will fill you up and allow you to let go of the hurt the way whispering your tears to Jesus will. Stepping off the scales, be they physical, mental, or spiritual, is the first step to becoming a heavy-weight prize-fighter for the Gospel. Accept the grace offered to you and let it wash over all those wounds.
Recovering Grace
10 years into recovery, I still struggle with weighing myself physically. I allow myself once a week some months, and once every two weeks others. I now have hypothyroidism. I cannot help but believe that the 10 years of pounding on myself may have contributed to that. But I have a much greater appreciation for my health and for how God has used this struggle to help me open up about my past to others who need encouragement now. He really does make beauty from ashes if you give Him the chance. Don't ever give up hope, because you are loved!
If you know someone struggling with weight, eating disorders, and/or depression, please show them grace. Educate yourself on the possibilities, the disease, and how to help. Check yourself before and during every conversation to make sure that all your truth is spoken in love. 
Becoming a Heavy-Weight
I still struggle with weighing myself against others. With motherhood, with homeschool, with spiritual growth, and I think we all have some area where we feel we don't measure up. And I have found a few scriptures that help me to fight against those lies. Click below and print off your own copy! I use these to push through when I don't feel like exercising, or when I feel fear weighing me down, or when the ghosts of old try to hold me back by telling me I'm not good enough. When your faith becomes your motivation, and your desire to do God's will becomes your "why", there's not a scale anywhere that is capable of measuring the pursuit of Glory, so let it go and get moving!
If you or someone you love is suffering from an eating disorder, please seek help! The National Eating Disorder Association has a confidential helpline waiting to offer you help and hope now! at 1-800-931-2237