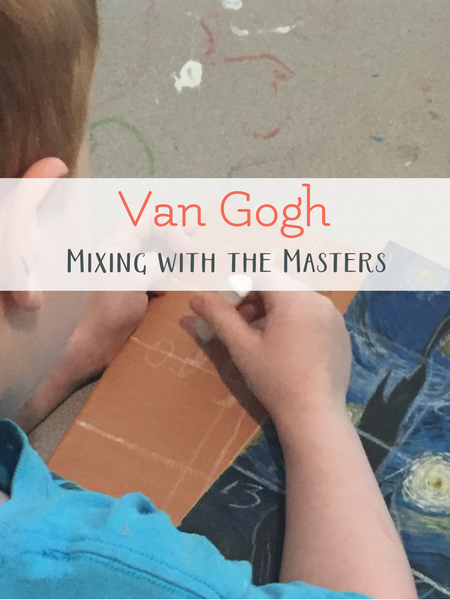 Art with Kids
Messy is good. Especially when your children are young, but if you ask my mom some of them never out grow it. Ahem.
Art in the younger years is all about the process. And the process should be fun! For our first Mixing with the Masters project, the boys wanted to do Van Gogh's Starry Night. It was a seriously complicated project for a 6 and 4 year old, but I was game to see how it would go since I'm a bit of a Van Gogh fangirl.
When you are introducing your children to the process of creating art, please give them good supplies! It doesn't have to be "artist" quality, but those sets of 10 brushes for $1 really aren't going to give them good results and you don't want your child frustrated when they should be overjoyed at being able to create.
Following the Process
Alisha makes the process so easy. She interweaves history and incorporates neat tidbits with each artist lesson. There are 3 lessons per artist and 6 art challenges within the entire course.
Since I knew the canvas needed to be colored, I did that step first. I helped the boys create their grid (something I remember doing in art class in high school!) And we were off.
Mr. F is a very diligent detail oriented child. He is 4. I was blown away with his sketching. He used his white crayon and put so much detail into his sketch! He worked and worked on it, all the while with his tongue out the side of his mouth. Do any of your kids do that when they concentrate? I think it's adorable.
Here is Mr. T's sketch. We stopped day 1 here since I didn't want the boys to get sloppy. When you undertake a larger art project, even with older children, don't hesitate to break it up. It won't hurt anything and it will keep the art process from becoming a chore.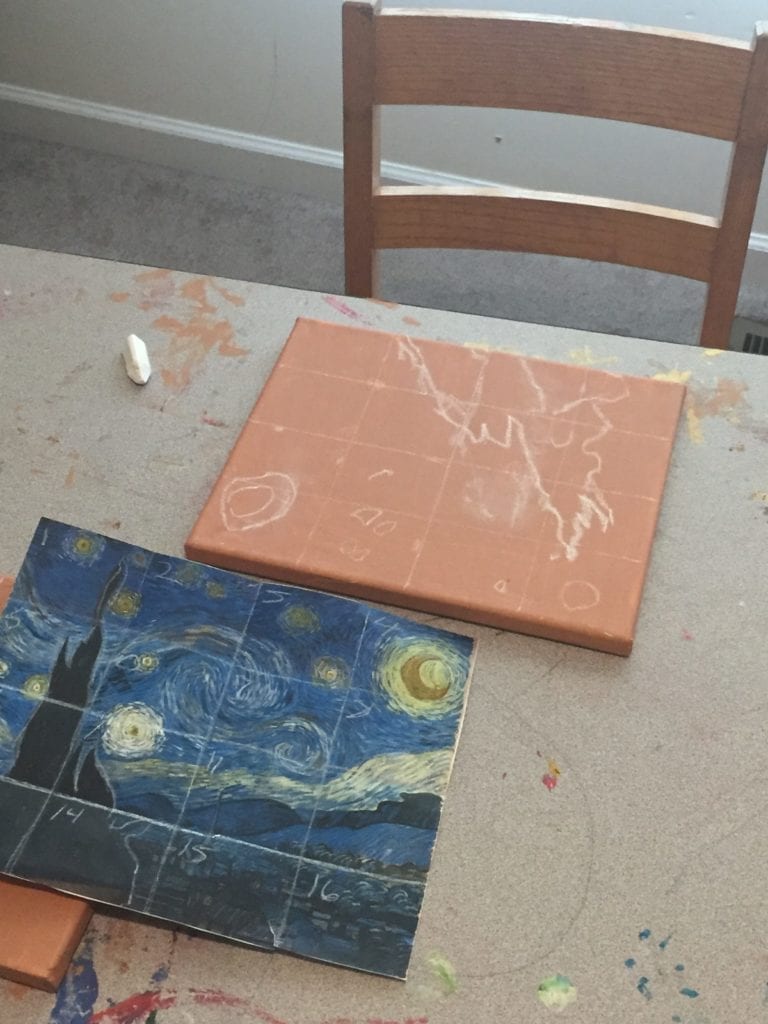 When the painting begins, Alisha gives you step by step instructions on colors, mixing, brush type, and then leads you through the entire process. The boys love her tutorials! I do, too. You can see that sometimes we end up with disposable palettes, but usually it's the plastic one we've had since Mr. T was 3 and decided he loved painting. Encouraging him in his art is such a gift for me as his mama.
Here are the masterpieces in progress. You can see how using brushes is a more advance fine motor activity and while Mr. F is excellent with his fine motor skills, he still has some time before his brush control will be as advanced as his drawing. The really interesting thing here is that Mr. T has always had better control with a paintbrush than with a pencil. Apraxia has so many facets and the motor-planning effects everything! 

And here are their finished pieces. I fully expected them to tire of the project before it was entirely finished and they did. It was a very long process and they both did so beautifully! The top piece is Mr. T's (6) and the bottom is Mr. F's (4). They have requested that our next Mixing with the Masters project not be quite so intense so I get to pick it out! I think we will try our hands at Picasso. My finished Van Gogh is below. It has a little extra added to it.
I finished my piece and am absolutely thrilled with how it turned out. We are Dr. Who fans, and so I gifted this to my husband. And if you've never seen the beautiful episode about Vincent . . .

Here you go. You may want to grab some tissues. It's truly a lovely and well done scene.
And that is it for our Van Gogh project! Have you tried Alisha's art courses yet? In case you want to try just one artist, she has separated them into
individual courses
or you can get the whole set!