Grocery Shopping with Kids
We all know how it goes. The children regularly clean out the pantry making you feel like Mother Hubbard with bare cupboards and you have to go to the grocery store. You simply cannot put it off any longer. But why? you ask as you know whats coming.
You walk into your friendly neighborhood Kroger and are immediately assaulted with cries for "Starbucks! Mommy, we need Starbucks!" and resounding yells about how unfair you are when you say "not today". Then come the looks from passers-by you just know are judging you, you just can't quite decide if it's over the screaming kids or the messy bun and paint splattered t-shirt because it was craft day. Whatever. You will succeed. They will not win today.
As you walk down the aisles, you are constantly telling the 4 year old to stop touching, don't pick that up, please put that down we don't need more ketchup for you to pour out on the floor while drowning baby carrots in it (that could just be my house) ,  which all end up turning into the Batman-voiced mom saying "I will put you in the buggy if you do that again" all by the time you hit aisle 4.
When you finally get through the shopping and head toward checkout, you are drained and the kids are grumpy and you are counting the milliseconds till bedtime. Then you realize to your horror you missed one thing off your list that you need for your carefully planned dinner and it's all the way on the other side of the store. Cereal it is! Finish checkout and declare a shaky victory once home with a fresh cup of coffee in hand.
Am I right?
These little ones really need to be entertained in order to successfully navigate the grocery store. We don't like using screens a lot so I'm always looking for ways to make shopping more fun for Mr. F and therefore more fun for me. I've tried a few different ways to get him more involved in the shopping to try and focus his attention but nothing has worked as well as our new Market Tote from bky kid. I was introduced to this sweet little tote at the 2to1 Conference.
*Disclosure- I received the Market Tote for review purposes. All opinions are my own and I was not required to post a positive review.*
Involving Children in Grocery Shopping
The beauty of the Market Tote is that it involves Mr. F in the process, giving him both ownership of the experience and something to keep him occupied. As we add his list items to the bag on the days we don't need a buggy full, the weight also helps keep him more grounded. Heavy weight exercises really help a lot of children with SPD and grocery stores can easily cause sensory overload.
Mr. F helps me make our "list" at home and we put the cards of the items we need into the "get it" pocket. Through the store as we add those items to the bag or cart, he moves the cards to the "got it" pocket. It's such an easy and fun way to keep him engaged and not climbing the shelves.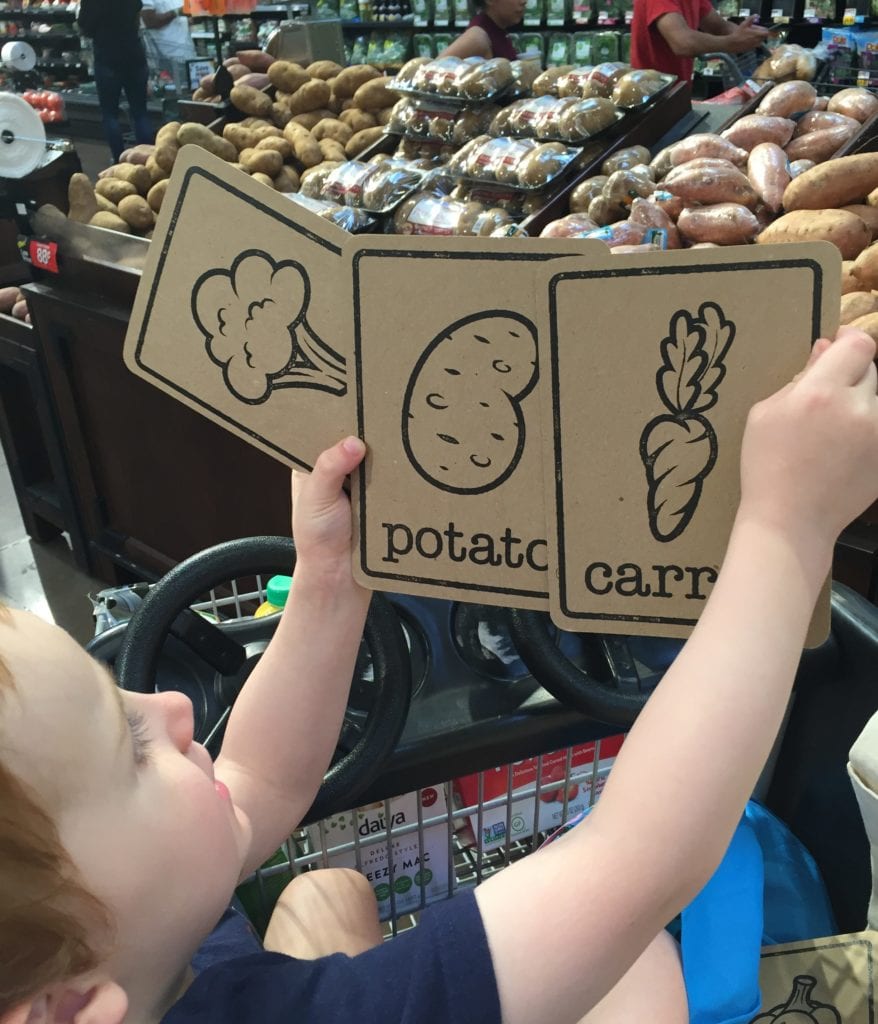 The Market Tote is constructed from a heavy canvas cloth and is constructed very well. The printing on it is bright and fun and the handles are wide enough not to dig into your shoulders while you carry it.
There is also a sweet little Market Tote set with beautiful fabric veggies for playing grocery store at home. And the really cool PlayMat t-shirts are a great gift idea for dads, granddads, baby sitters, etc.!
Now, how do you keep your littles occupied at the grocery store?
Check out the Market Tote and the PlayMat T-shirts from bky kid on Etsy.
Find bky kid on Facebook, Twitter, Pinterest, and Instagram.