Theodore "T.R." Roosevelt, Jr.
Theodore Roosevelt was born October 27th, 1858 and died January 6th, 1919. Here are a few fascinating facts about "Teddy"  Roosevelt.
Theodore Roosevelt was homeschooled. 🙂
As a child, Theodore suffered very sever night-time asthma attacks the doctors were unable to cure, but he remained active nonetheless.
He had a lifelong interest in zoology and conservation that is said to have begun around age seven when he saw a dead seal at market and took home the seal's head to begin his own "Natural History" museum.
In his late teens, he found physical exertion to help fight against his asthma, and so began his lifelong pursuit of vigorous activity and high standards for himself and his physical nature.
In 1876, Theodore entered Harvard College with the advice from his father to "Take care of your morals first, your health next, and finally your studies".
Just after college, Roosevelt published his first book, The Naval War of 1812, establishing himself as a historian.
During his tenure in the Dakotas as a deputy sheriff, Roosevelt pursued three outlaws who had stolen his riverboat and escaped north up the Little Missouri. He captured them but decided against a vigilante hanging. He assumed guard over the thieves for forty hours without sleep, while reading Leo Tolstoy to keep himself awake.
Theodore Roosevelt formed the First US Volunteer Calvary Regiment during the war with Cuba, the regiment became known as the Rough Riders. (We have an ancestor that was part of that regiment!)
Theodore Roosevelt openly despised being called "Teddy".
Roosevelt was known to read at least one (often before breakfast during his presidency) and up to several books a day, often in multiple languages. He is considered one of the most wel–read presidents, alongside Thomas Jefferson.
In 1986, American artist Andy Warhol created a piece featuring Theodore Roosevelt in his Rough Riders uniform from a photograph from 1898.
Theodore Roosevelt made famous the phrase "Walk softly and carry a big stick".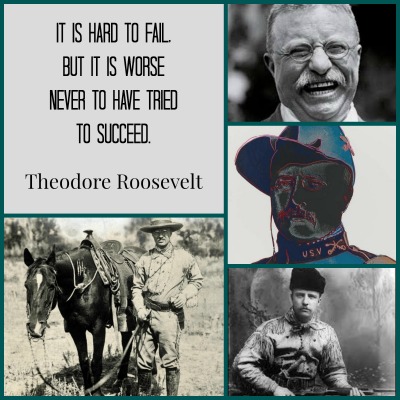 Book Riot has a wonderful list of Theodore Roosevelt's 10 Rules for Reading, compiled from his autobiography.
Just for fun, a Theodore Roosevelt finger puppet! Bully good!
For lots of great ideas, quotes, speeches, and more visit our Theodore Roosevelt Pinterest board!
Follow Lara @ Lara's Place and a Cup of Grace's board Theodore Teddy Roosevelt on Pinterest.
This post is linked with iHomeschool Networks Famous October Birthdays.