I am not a big fan of Halloween. I get sad at the inappropriate costumes and demonic exhibitions that seem to get worse every year. I much prefer Reformation Day festivities.
My children and husband love the fun parts like the candy (who doesn't?), and carving pumpkins (roasted pumpkin seeds are yummy), and the boys love dressing up. Sometimes, we'll even have hot cider if it happens to be cold (but it rarely is in Georgia).
This year, we are sharing one of our favorite children's sermons object lessons for autumn. This sweet pumpkin devotion gives you a great way to share the Gospel with your children while carving a fun pumpkin. We've included a printable version for you at the bottom of the post, so be sure to grab it! (These can even be reduced in size and printed out in small sheets to give out.)
The Pumpkin Gospel Story
Just like I chose my pumpkin, God chose me!
Ephesians 2:10 – For we are his workmanship, created in Christ Jesus for good works, which God prepared beforehand, that we should walk in them.
Just like me, my pumpkin looks good on the outside, but there's a lot of yucky stuff inside that has to be cleaned out!
Romans 3:23 – for all have sinned and fall short of the glory of God
When I confess my sins to Jesus, He is faithful to forgive me and clean out all that bad stuff.
1 John 1:9 – If we confess our sins, He is faithful and righteous to forgive us our sins and to cleanse us from all unrighteousness.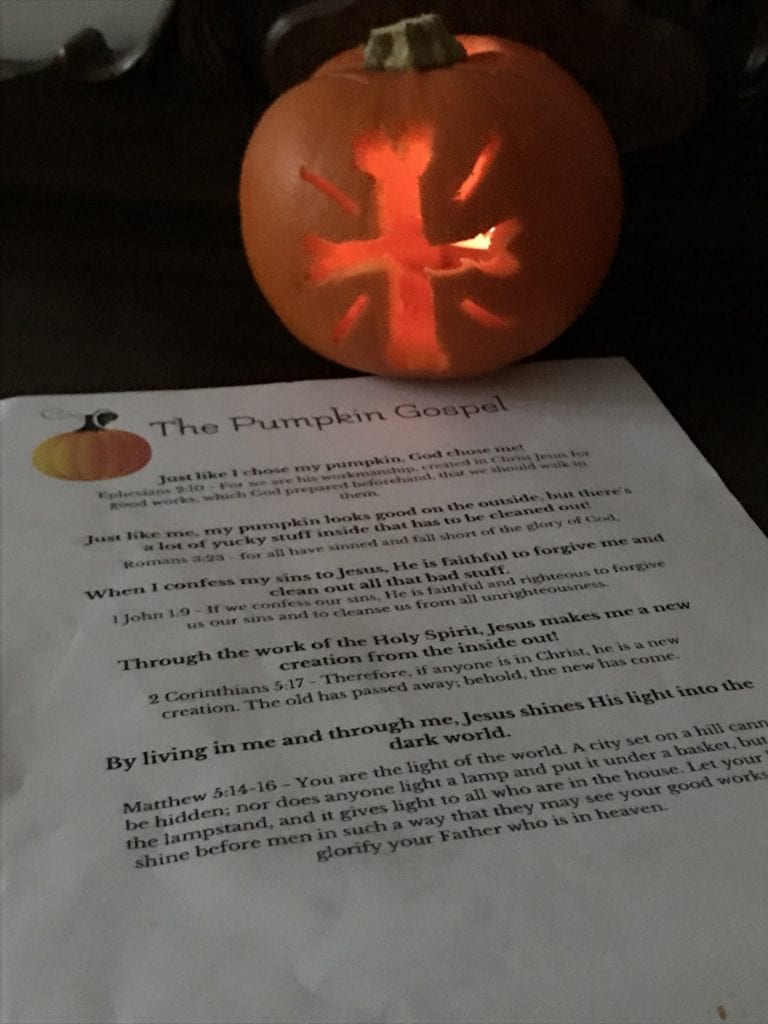 Through the work of the Holy Spirit, Jesus makes me a new creation from the inside out!
2 Corinthians 5:17 – Therefore, if anyone is in Christ, he is a new creation. The old has passed away; behold, the new has come.
By living in me and through me, Jesus shines His light into the dark world.
Matthew 5:14-16 – You are the light of the world. A city set on a hill cannot be hidden; nor does anyone light a lamp and put it under a basket, but on the lampstand, and it gives light to all who are in the house. Let your light shine before men in such a way that they may see your good works, and glorify your Father who is in heaven.