Summer in Georgia is hot. I don't mean merely uncomfortable. I mean fry an egg on the sidewalk by 10am in June hot. So playing in the water is always popular around our house. We are forever on the lookout for fun summer toys that can be used with water. Be it our water table, a wading pool, a swimming pool, or even bath time, water toys are a favorite.
Disclosure: We received Lil' Fishys for review purposes and I was compensated for my time. All opinions are my own and I was not required to post a positive review.
Welcome to the world of Lil' Fishys! I knew what was arriving so I waited till the boys were in bed to open our box. Oh my stars, y'all! These are the cutest little fish toys I've ever seen. Be sure to read all the way to the end to enter the giveaway to get some Lil' Fishys for your little learners!
See Lil'Fishys in Action
Lil' Fishys
in our
water table
are awesome for outdoor play. The boys have been having a blast! Especially with the Whales who squirt water.
*Note: The larger fish that squirt water are a great size for a garden tub but not a regular bath tub.* 
We've been having lots of fun playing with our Fishys outside. The little ones go really fast. You can control how the smaller fish move by changing the angle of their tail. They will swim in loops and straight. The higher their tales, the faster their loops, too. When we go to our friends swimming pool this summer all our Lil' Fishys will be coming along.
Bath Toys in the School Room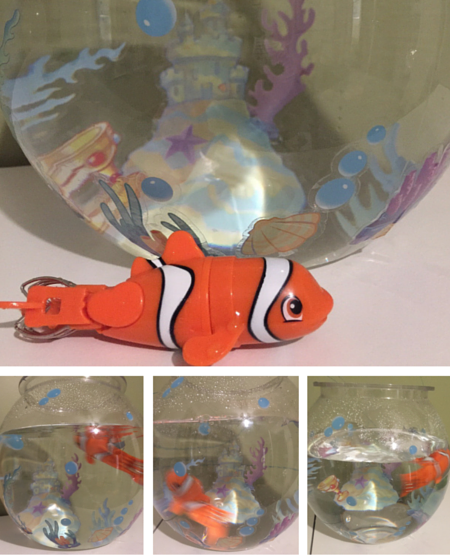 The Lil' Fishy Aquarium Lucky Playset was the first item we got into. I let the boys decorate the aquarium and it is now in the school room. The aquarium is a very durable plastic and the stickers are similar to window clings so they have an element of transparency that makes the aquarium very whimsical. We don't have Lucky swimming all the time, but he does provide the same trance like state of a calming jar, so he's awesome for days when either boy is having SPD issues.
We also love our Lil' Fishys for bath time. The boys love to have a bath in our garden tub and play with their fish of choice. The small fish like Lucky do really well in a regular tub, but the larger fish and the ones that squirt water need a much bigger space.
Overall, we really enjoy our Lil' Fishys pets.
There's no cleanup like with real fish. (We've had those before and these are my preference)
They are easy to care for and much more durable than most water toys.
We've been able to incorporate Ocean studies and review some of what we learned on our Tybee Island Marine Science Adventure.
These toys are just enough cartoonish to engage a preschooler but fun enough to keep the interest of older children. I'd say even teens would love these in a swimming pool.
Lil' Fishys has adorable FREE coloring pages you can download and color when it's just too hot to be outside.
The only real negative is that these are battery operated and if you get a school of them like we did, you will need several AAA batteries.
Join in the Lil' Fishys Instagram and Twitter fun!
Instagram Challenge will be running from 5/16-5/27/16 so follow Lil' Fishys here.
Thursday May 26th, 2016 there will be a Twitter Party with awesome prizes that you won't want to miss so follow Lil' Fishys here and iHomeschool Network here.
You can also find Lil' Fishys on Facebook.
Enter the Giveaway