There are certain poems that just thrill the soul with their rhythm and the incredible pictures they paint upon the wild canvas of imagination.
Charlotte Mason, in her second volume, tells us this,
"What kind of poems should be selected for our children? "
They must grow up upon the best. There must never be a period in their lives when they are allowed to read or listen to twaddle or reading-made-easy. There is never a time when they are unequal to worthy thoughts, well put; inspiring tales, well told. Let Blake's 'songs of Innocence' represent their standard in poetry; De Foe and Stevenson, in prose; and we shall train a race of readers who will demand literature–that is, the fit and beautiful expression of inspiring ideas and pictures of life."
She herself was quite poetic, but I digress.
One of the poems that has always captured my imagination is the beloved Stopping by Woods on a Snowy Evening by Robert Frost. That particular Frost poem has finally entered the public domain and I am sharing a delightful poetry tea time with you that brings those snowy woods to life in the most delectable of manners – sparkling, snowy tree cookies.
Poetry tea time is a fantastic addition to your study of the riches and is a natural extension of morning time. You can definitely squeeze it in now and then to bring in more truth, goodness, and beauty to your homeschool routine. Now, on to the poetry tea time snacks!
Sparkling Snowy Tree Cookies
These beautiful snowy tree cut out cookies are as delicious as they are impressive! If your homeschool tea time allows for friends to visit, these are a wonderful creation to share.
Ingredients
For cookies:
3 cups all purpose flour
2 teaspoons baking powder
½ teaspoon salt
1 (2 sticks) cup butter, softened
1 cup sugar
1 egg
½ teaspoon almond extract
1 teaspoon vanilla extract
Additional flour for rolling
For icing and decorating:
1 (16 ounce) container classic white frosting
Instructions
1. Preheat oven to 350 degrees. Prepare a baking sheet with parchment paper. 
2. Whisk together dry ingredients: flour, baking powder, and salt. Set aside.
3. In a mixing bowl, blend the butter and sugar until creamy and light. Add egg, almond extract, and vanilla extract. Mix well. Slowly add dry ingredients and mix until combined. Dough may be a little crumbly.
4. Turn out the dough onto a surfaced sprinkled with flour. Press into a ball and then roll out to ½ inch thickness. Use cookie cutters to create shapes. Carefully lift shaped cookies to the baking sheet. 
6. Bake cookies for 7 to 9 minutes. Do not brown the cookies. Allow cookies to cool for at least 7 minutes on the baking sheet before carefully removing to a cooling rack. Cool completely before decorating.
7. To make you faux royal icing, remove lid and foil from frosting container. Heat in the microwave on high heat for 30 seconds. Stir well. Repeat in 15 second intervals, stirring each time, until the frosting has melted to a stirrable consistency.
8. Spread frosting over the cookies and immediately decorate with sprinkles. For larger sprinkles, gently press into the frosting so they will not easily fall off the cookies.
10. Allow cookies to dry completely or serve immediately.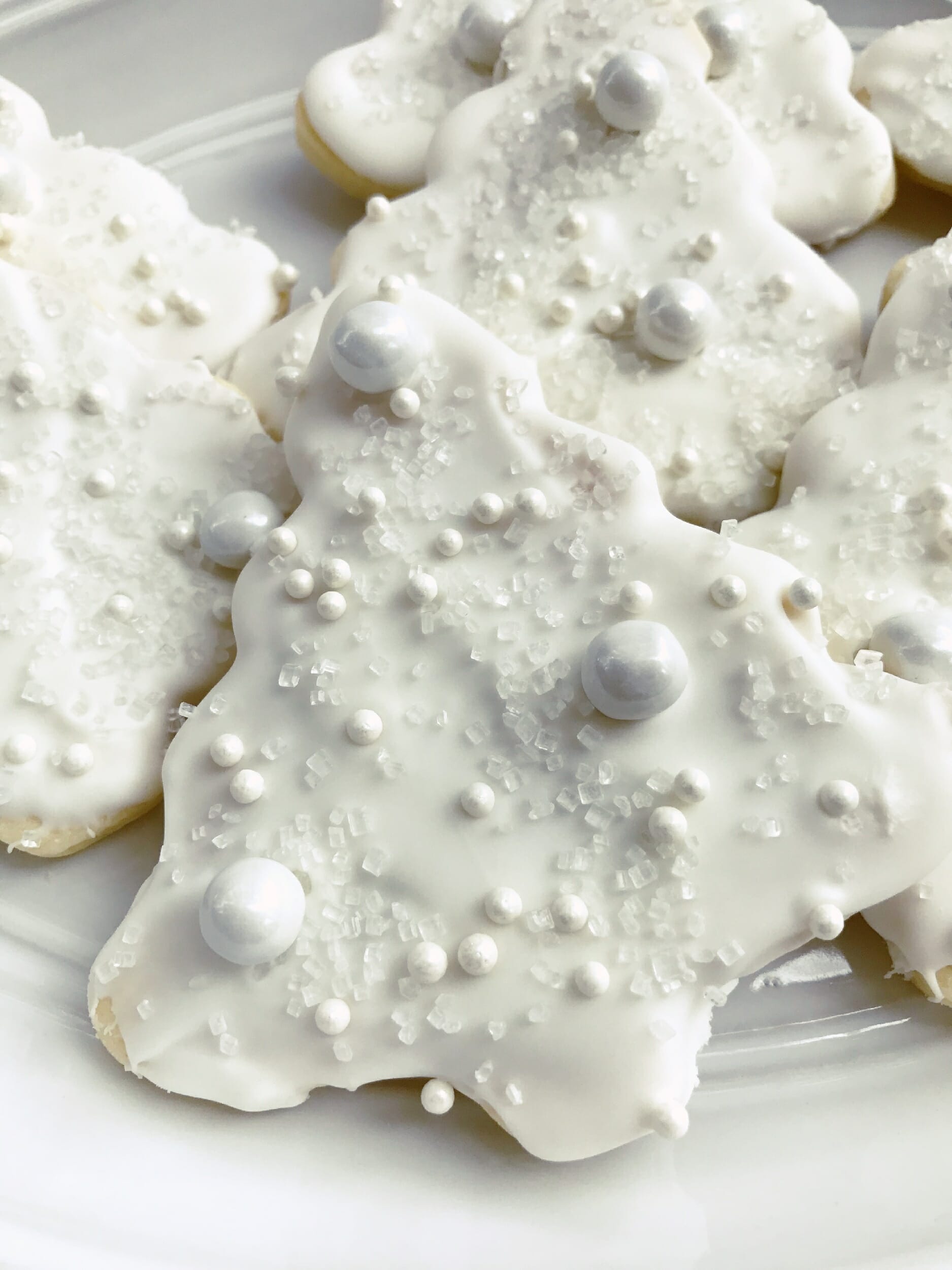 Stopping by Woods on a Snowy Evening by Robert Frost
Enjoy this fantastic rendition of the beloved poem by the author himself.
Our favorite illustrated edition can be found on Amazon here.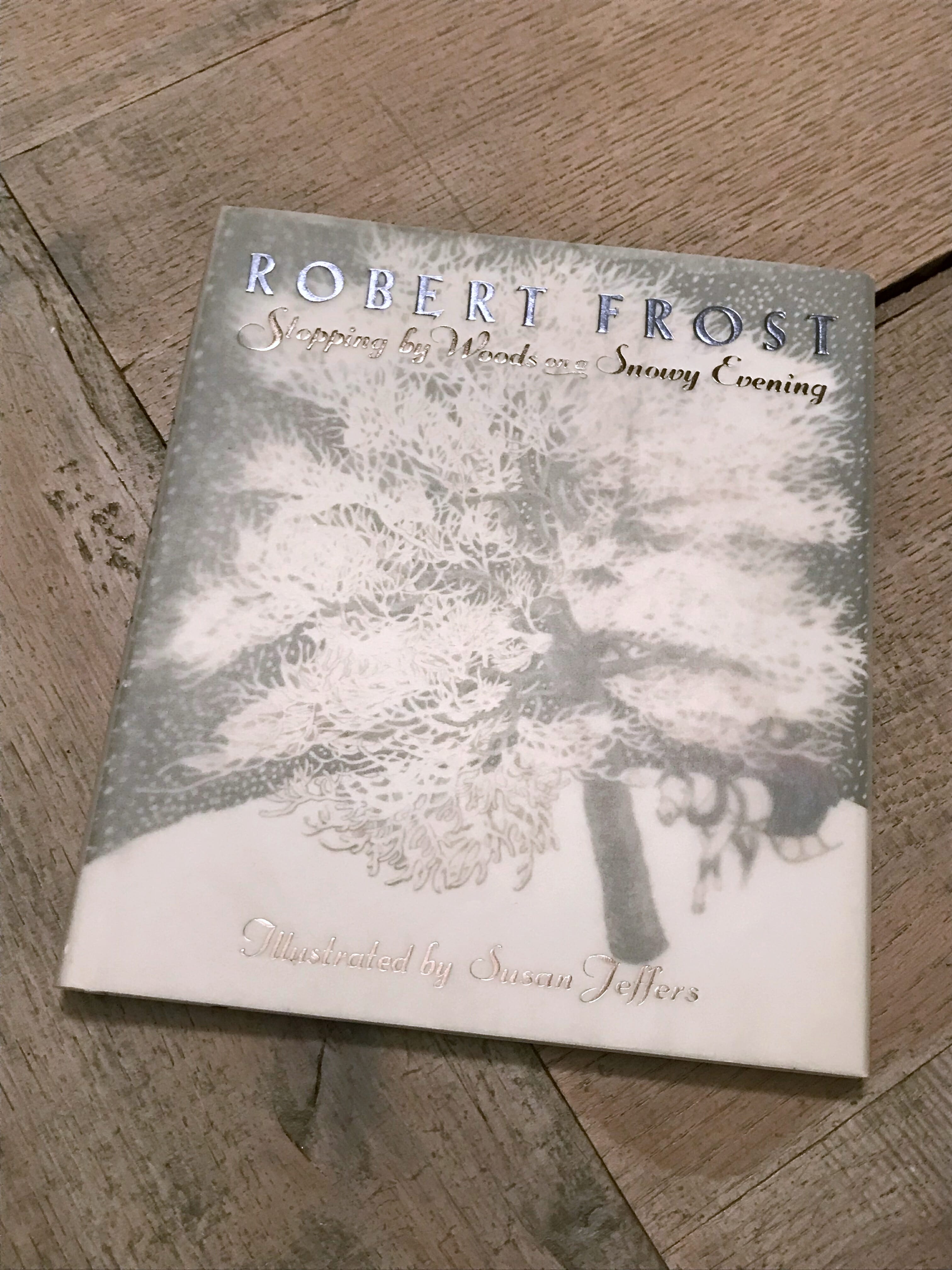 Stopping by Woods on a Snowy Evening by Robert Frost
Whose woods these are I think I know.
His house is in the village though;
He will not see me stopping here
To watch his woods fill up with snow.
My little horse must think it queer
To stop without a farmhouse near
Between the woods and frozen lake
The darkest evening of the year.
He gives his harness bells a shake
To ask if there is some mistake.
The only other sound's the sweep
Of easy wind and downy flake.
The woods are lovely, dark and deep,
But I have promises to keep,
And miles to go before I sleep,
And miles to go before I sleep.
An Art Lesson for Stopping by Woods on a Snowy Evening
Visit our friends at HodgePodge to get this fun chalk pastel art tutorial to go with your poetry and tea! Make a delightful afternoon of it and enjoy. Get the art lesson tutorial here.