Oh, friends! I am so excited to be offering a Stitch Fix Gift Card because it's one of my very favorite gifts to receive. If you have someone on your list that loves style or is just too busy for shopping, a Stitch Fix Gift Card is the perfect way to help them indulge in a little fashion fun! I had to go shopping recently and take my boys. I was reminded of all the many reasons Stitch Fix is my favorite service.
Kiwi Crate and Koala Crate are nice because I don't have to pull together activities. Amazon Subscribe & Save keeps me from having to go to a bunch of different stores.  Thrive Market is great because I get tons of saving on all our health and allergy friendly foods.
But nothing, I mean NOTHING, trumps being able to try on awesome clothes without having to drag my two boys out into a store, deal with melt downs and tantrums, hiding in the clothes racks (honestly  this is sometimes my response when too many onlookers watch a lengthy tantrum), trying to find pieces I like, haul everything and everyone into the fitting rooms only to decide that I don't like anything I chose. Stitch Fix alleviates that issue completely. It really is a sanity saver for this mom. It's also done wonderful things for my wardrobe! Speaking of, here is Stitch Fix #9 (I just sang that in my head to the tune of Love Potion #9 if you're wandering 😉 ).
Stitch Fix Number 9
Mavi Jayla Moto Skinny Jean – These were so fun and amazingly soft! At first, hubby teased me that these looked straight out of the 80's, then I tried them on. My hubby liked them so much on that he was almost okay with the $128 price tag. So was I. Almost. These jeans do amazing things for your rear view, however, I couldn't justify spending that on a pair of jeans especially this close to Christmas. But I did have some moto-detailed pants pinned and Tina, once again, did a great job sending me pieces I liked! Those Pinterest boards are so important, like I told you in my Best Stitch Fix Tips post.
Brixon Ivy Cyndi Lace Pencil Skirt – This skirt is lacy but edgy perfection. The black lace overlay over a blue lining, the black vegan leather waist band, and scallops at the bottom. I adored it, but since I already have several pencil skirts and I really want a more winter weather swing/a-line skirt it went back. (I have one pinned that is beyond incredible with a gorgeous victorian feel. I've got my fingers crossed!) If you're in an office job, you should absolutely request this skirt! It would also make a great date night piece.
Market & Spruce Fierro Elbow Patch Crew Neck Sweater – Tears. I adored this lightweight sweater with it's sweet pink elbow patches. I already have a navy sweater covered in tiny sequins. I sent the Fierro back. And now I want it back. A lot. I know. It's kind of like buyers remorse in reverse. It happens, though. I was trying to keep my wardrobe simplified. But in reality, I should have kept this piece and let go of the other navy sweater. Live and learn, right?
41Hawthorn Presley Colorblock Button-Back Sweater – The pattern and buttons detailing on this are so fun! I did have this pinned, but I know there are several color options available and this one is by far my least favorite. If neutrals are your thing, this olive brown and cream sweater is a dream! If jewel tones are your jam, like me, then remember to pin it in those colors! I did a shot of the back because it is so cute. The front asymmetrical pattern is great for lengthening shorter torsos.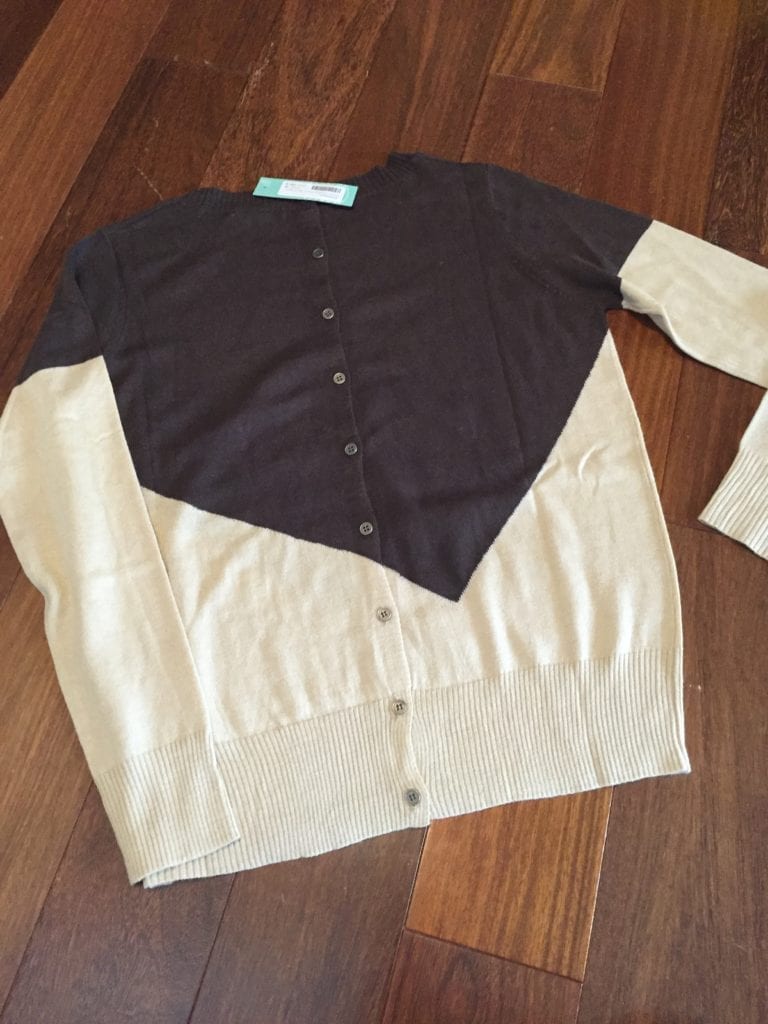 Echo Adalia Striped Blanket Scarf – I actually thought this was a bit drab in the shades of gray I saw when I opened my box. Then I took it out. The stripes and varied patterns were fun. And then I pulled an Agnes. "Its-so-fluffy-I-could-die". Oh my stars! This is the softest scarf I've ever touched. (for real, you can sing Sheldon's song and pet it.) It's 100% acrylic so my allergies aren't an issue. And the gray color goes with everything! I love that it's big enough to use as a wrap. I kept this. And may have lived in it since, but I'll never tell.
Tina is still my favorite and Stitch Fix is my "mom" time. And now on to sharing that awesome gift of style with one of you! Go ahead and grab some Stitch Fix gift cards here for the ladies in your life. You can order physical gift cards this year, e-gift cards, or if you accidentally forget to order in time, you can even get a printable one. I really can't recommend this service enough for busy moms.
Because I truly believe that a Stitch Fix gift card is an amazing gift (my sweet mom has been gifting them to me for close to two years), I'm giving away one $20 Stitch Fix gift card!! Good luck and have a very Stylish Merry Christmas!
*Giveaway is open to legal US Residents 18 and older and is from 12/13/2015 till 12/18/2015 11:59 PM. Full rules are on the entry form. This giveaway is sponsored by Everyday Graces and is in no way affiliated with Stitch Fix*
a Rafflecopter giveaway