Stitch Fix Men – An Honest Review
You know I love my Stitch Fix. My dear friend Tina has been styling me for 16 fixes now and most of my closet is made up of Stitch Fix. They helped makeover this homeschool mom and I'm seriously grateful. When they began teasing the idea of Stitch Fix for men, I knew my hubby would have to be one of the first.
Yes, I love him just as he is, but he despises, detests, possibly hates shopping. I know exactly where Mr. T gets his habit of hiding in the clothes rack from. You think I'm kidding, don't you?
Since Hubby needed new clothes, this couldn't have come at a better time. And guess what? I got to fill out his profile and Pinterest board since he generally defaults to me on clothing selection. <- I may have done a happy dance.
Our Fixes arrived on the same weekend and oh. my. stars. Y'all, I had to exert every ounce of self-control I could muster not to open his box before he got home from work. And here is what he got!
Mr. J's First Stitch Fix for Men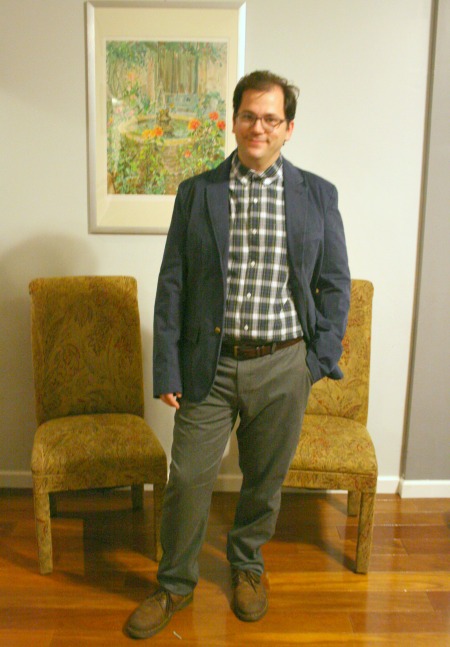 So let's talk about mixing and matching. All the pieces that came in this fix by a lovely stylist named Alysha, could be mixed and matched to create different looks. So we have the Original Penguin brushed twill trousers. I'm not going to lie, my ever frugal husband was a bit sticker shocked at $110 (remember he usually sends me to shop or hides while I pick things out), but the fit, feel, and construction of these pants is just incredible. They are a bit long, but we indicated that hemming pants is not a problem on his style profile. I just have to get out my tailoring kit. (Fun fact, I made a living doing tailoring and bridal alterations in what seems like a past life. I digress.) Verdict: Kept.
The Hawker Rye Dark Green plaid shirt is a fun shirt he can dress up with the JACHS Grove Stretch Blazer, or roll up the sleeves and pair with jeans and boots for a casual outing. Mr. J loves plaid so he was exceptionally happy to get the shirt and a nice blue blazer. Verdict: Kept both.
Here you can see the green Hawker Rye Essential Shirt and 7 Diamonds Voyage Slim Fit Chino. Now, when left to his own devices, Mr. J almost always chooses relaxed fit pants. Something I'm not fond of. So I may have marked straight and slim fit pants in his style profile, and it may have worked out that he liked them! Even though he balked a bit when he read the tag before trying them on. These gentlemanly slacks were $78 compared to the first pair and very well made. Verdict: Kept.
Here's another mix and match with Mr. J's first fix and a look at it all together. I am delighted that his first fix was a 5 out of 5! Especially since mine was, too. I will say the buy 5 discount of 25% makes it more economical to purchase if you get a stellar fix. Can you think of a man you'd like to gift a Stitch Fix to? Don't forget Stitch Fix Gift Cards for the stylish (or perhaps needs a little help in that department) men in your life!
Stitch Fix 16
Tina is, again, my hero. I know it sounds silly, but we have managed to cultivate a good rapport between Pinterest, my styling notes, and she even reads my reviews! Her note this time was so sweet. She knows I've been struggling with hypothyroidism this year and found me some gorgeous (and comfy) fall duds to keep my spirits up! I cannot say it enough, if you find a stylist you love, ask to keep them!
My friend Missy introduced me to LulaRoe Leggings and managed to find these adorable sleeping foxes for me. I knew I wanted a dark olive tunic to ear with them and Tina came to the rescue. I love the 41Hawthorn Colibri blouse. In fact, this is my third. I have a red one, a blue one, and now a green one. They are so comfortable and wash up so well, especially with LulaRoe Leggings. That gorgeous Kiwi Cocoon  cardigan is also from 41Hawthorn. So snuggly!


Now, this Kut from the Kloth Benter Mixed Material Top is just beautiful. The florals are sweet and the fabrics are silky, but still warm. Plus it's purple and gray, possibly my favorite fall color combination! The blanket scarf is from a fix last fall and it's so soft and warm. Now, let's discuss these jeans. They are Liverpool brand so I know they will last. They are really stretchy and comfy and I may be wearing them (again) right this second. I will never admit to how I've lived in these jeans since I first tried them on. Never. Oops.
And last, is the adorable Gideon Polka Dot Sweater from 41Hawthorn. It's so soft and comfy, but I don't have a picture in it yet. I promise, I'll update this as son as I get one. 🙂 It matches my d'Orsay polka dot flats from this spring's fix, too!
Update:
This sweater is just amazing. It also washes really well (and lays flat to dry 😉 )
So don't forget to ask and give Stitch Fix gift cards this holiday season! Style is a gift that keeps on giving.