This week has been wonderful! We've been blessed with lots of extra daddy time (he works for the school system) so we've been taking school very lightly. If you want more day-to-day cup of grace fun, you can always follow us on Instagram! It's been a while since we linked up for Collage Friday, but here's what we've been up to!
Mr. T had a blast doing our Magic School Bus Explore the Human Body Kit Chicken bone experiment. He really got into looking at the bones before we put them into the vinegar overnight. We even pulled out a piece of spinal cord from a vertebrae! (I thought it was really cool, you may not ;)) And then he and daddy spent a lot of energy trying to get that wishbone apart after it became so rubbery, but Mr. T got the bigger piece! We've not done as much as I had planned in our unit study this week, but there's still lots of time left and it's a treat to have daddy home! You can see some of our fun activities coming up on the Human Body Preschool Unit board! It is fun to listen to Mr. T go through all Aslan's appendages, "Mommy, there's a bone in his leg/arm/head/foot, etc".
Poor Mr. F was relegated to sensory snow fun inside. He's still got an awful cold! But Mr. T and Mr. J had a ball outside making snow angels, snow balls, and snowmen! I made snowcream for everyone and homemade hot cocoa! Aslan was not very excited about the cold white stuff everywhere but he is excited to be sleeping upstairs.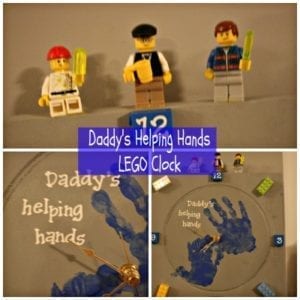 And here is our really cool clock! When we visited the LEGO store a while back, we made Minifigs to look like Mr. F, Mr. J, and Mr. T. We also got a little tub of loose bricks.
The boys helped me make the hand prints after Mr. T painted the clock base. All the clock pieces, including the ModPodge and sticker letters came from Hobby Lobby. I used wood glue to adhere the LEGOs to the clock base, and ModPodge to seal on the stickers. I think I may add some more small blocks, but right now it's up and everyone is super happy with it! It was also pretty easy to do even for this non-technical mama!
How did you spend this week? Were you snowed in or was it warm?