The Dinner Decision and Dilemma
Dinner is a source of contention in our house.
It starts because I slip out of meal planning. Then it becomes a mad scramble for dinner. "What do you want/I don't know" is the battle cry that begins it all.  Then the kids don't like what I've come up with (this is before it's even cooked, mind you). And it only goes downhill from there.
Before you know it, I'm threatening leftovers for breakfast until they are eaten, no more tv ever, and early bedtime. Generally to no avail. Ugh.
Now, on the weeks when I have a plan things go more (or less) like this. We finish school for the day, the house gets straightened up. The boys sit down to watch Magic School Bus or Drive Thru History. Then . . .
Me: Wash up! Dinner's almost ready.
The boys: Okay! What are we having?
Me: A delightful paleo meal sure to tickle your taste buds (the angels are singing of course).
The boys: *squealing with delight* Yahoo!
Riiiiiight. So it feels more like that for me, but the boys still complain some. They are children, after all.
The question then become how on earth does a busy mom manage meals, housekeeping, homeschool, a career, therapy appointments, extracurriculars, and stay semi-on top of things?
Simplification.
For me, the most obvious thing I need to simplify is meal planning. My boys, all three of them including my husband, like to eat. I love the unity of the family sitting down to a candlelit table for a meal together, even if it's just pancakes, and sharing our days, our ideas, our stories, and our concerns. So, how to simplify?
Disclaimer: I received this product for free from Moms Meet (momsmeet.com), May Media Group LLC, who received it directly from the manufacturer. As a Moms Meet blogger, I agree to use this product and post my honest opinion on my blog. The opinions posted are my own.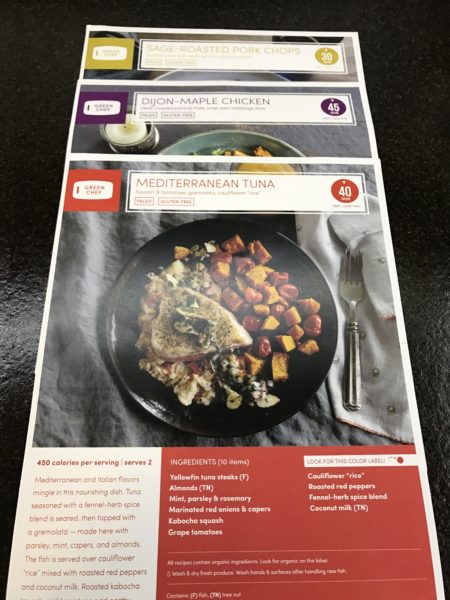 One of the trendiest services right now are meal subscription boxes. There are a plethora of companies offering all kinds of meals. We have food allergies, so having a paleo option is a must. Many of our friends are gluten free. Some are vegan. Green Chef has all these options and more! Here are the details of our Green Chef Paleo Box.
Green Chef Unboxing with Chef Teddy
As you can see here, Mr. T always gets a little iffy over vegetables and fish. But he loves to cook and to record it, which is how our
Kids in the Kitchen
series began. Getting him involved in the cooking makes him more willing to try the new foods. It's a win-win because he's a great kitchen helper.
*Yes, half my head is cut off in the video, but Mr. T asked so sweetly to be in the video and to help, and was adamant that you see all of him.*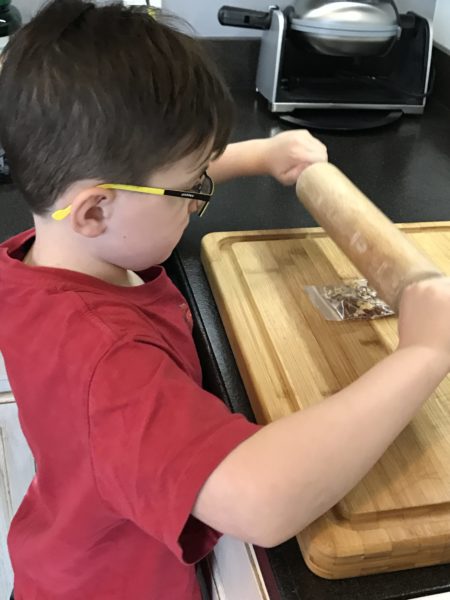 Our box came with the recipes shown above. The Sage Roasted Pork was my absolute favorite. For starters, how awesome is it to serve a plate that looks like this to your hungry family? This is restaurant quality, ready in 30-45 minutes depending on the recipe. Perfection!
The arugula salad was so simple and fresh that I'm making it a few times a week now. Extra points for recipes I can add into our usual repertoire. The pork came out beautifully moist and flavorful. And those brussels sprouts. I'm serious, people! I could not stop eating those brussels sprouts cooked up with that beautiful bacon and the sweet pears just made it divine. I just. couldn't. stop. And if you watched the video, Chef T made a horrified face at them and he just happened to clean his plate! They really were that delectable.
Save $50 off Your First Green Chef Order Here! bit.ly/2k5BS0a
The tuna dish was lovely, but I ended up eating it too fast to take a picture. Such is life on Parkour night at our house. And Mr. F is a die-hard tuna fan. It is his favorite sushi roll. So he was thrilled. That leaves the last dish of Dijon-Maple Chicken. And that just happened to be a Daddy and Mr. T dinner night.
When my husband gets home at a normal time, which happens pretty infrequently since he's in theatre, he and Mr. T love to make dinner together. It give them a chance to talk "man to man" and to have fun and giggle and just be together. Green Chef made that process go so smoothly and dinner was extra delicious that night. Plus, Mr. T was really proud of his creation and the boys gobbled down the parsnip fries. I am definitely going to add those to our list of sneaky ways to get veggies in.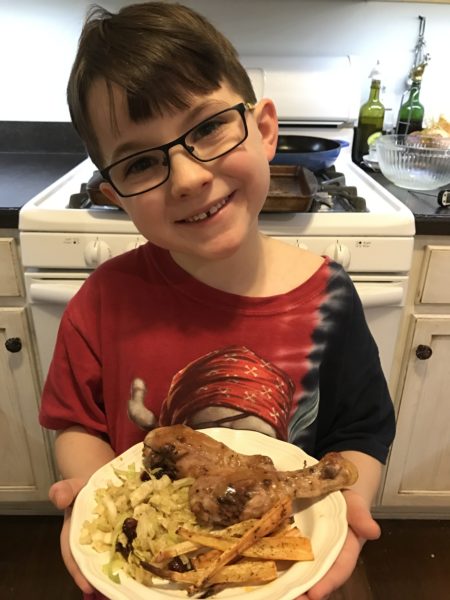 Save $50 off Your First Green Chef Order Here! bit.ly/2k5BS0a
The Verdict on Green Chef
I must say that I loved how easy it made the dinner planning part of our week go.
Having a paleo option is great for our allergies because I didn't have to make any substitutions.
It is too expensive for us to use every week, but during busy weeks the expense is less than we would spend eating out or on food going bad because it wasn't cooked.
The Paleo option also only comes in a 2 person box. We really need a 4 person on the nights when all four of us are here.
Learning new recipes and trying new vegetables and spices is just plain fun.
Overall, Green Chef is a great way to simplify your busiest weeks and make family time more fun.
About Green Chef
You can find Green Chef on Facebook, Twitter, Instagram, Pinterest, and Green Chef Blog.
The Food
USDA-certified organic meal kit delivery service with pre-measured and largely prepped ingredients, including homemade sauces and marinades.
Easy-to-master, chef-crafted recipes that use fresh, seasonal ingredients from carefully chosen suppliers are ready in just about 30 minutes.
Family Plan: Wholesome family-style dinners that appeal to parents and kids alike. 2 dinners a week for a family of 4 available in Omnivore or Carnivore. 
2-Person Plan (3 dinners a week for 2 people)
Omnivore: Crave variety? This diverse, flexible menu has meat, seafood, and vegetarian dinners.
Carnivore: Meat and seafood lovers, dig in. Every dinner includes a land or sea protein plus veggies.
Gluten-Free: Always gluten-free and flavor-full, with meat, seafood, and vegetarian dinners.
Vegetarian: More than just salads, every dinner makes veggies the star in unique, delicious ways.
Paleo: Eat like an epicurean caveman. This paleo menu is rich in fresh produce and proteins.
Vegan: Plant-based just got better. An innovative menu with natural, specialty ingredients.
Family Plan (2 dinners a week for a family of 4) Omnivore or Carnivore