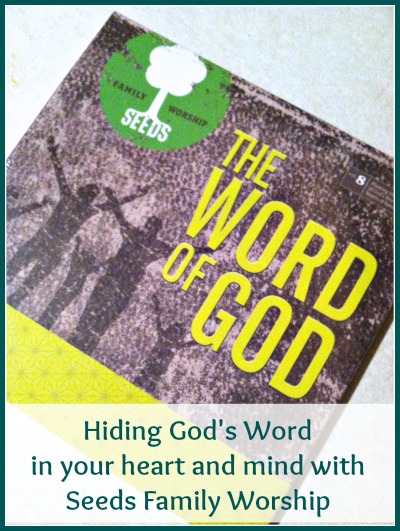 Seeds Family Worship is one of our favorite "tricks" for memorizing scripture. We love the catchy tunes and the fun way the scripture is presented. As a mom who is not a "little sponge" for information anymore, I've even been able to learn a lot of scripture while listening. The Word of God is a wonderful compilation from Seeds Family Worship.
One of the things I love most about Seeds Family Worship CDs are that they are scripture set to music, not lyrics inspired by scripture. The scripture songs on this album are all of the quality we expect from Seeds Family Worship, and they even have a few very special guest vocalists! All the profits Seeds Family Worship makes go right back into their awesome ministry! How cool is that?!
Seeds Family Worship: The Word of God includes:
1. The Word of God (Hebrews 4:12)
2. Your Life is Hidden (Colossians 3:2-3)
3. Impress Them (Deuteronomy 6:4-7 )
4. Jesus Christ is Lord (Philippians 2:9-11)
5. Breathed Out (II Timothy 3:16-17)
6. Your Word in My Heart (Psalm 119:9-11)
7. Do What It Says (James 1:22)
8. Genuine (Romans 12:9-10)
9. Act Like Men (I Corinthians 16:13-14)
10. A Woman Who Fears The Lord (Proverbs 31:30)
11. Your Life is Hidden (Colossians 3:2-3)
12. H.E.R.O. (Philippians 2:9-11)
The boys really have enjoyed this new addition to our Seeds collection. There are soft and sweet songs, and songs Mr. F can dance to. And all of the songs are full of life-giving words. New family-approved-faith-filed-music is always a great find!
Some of our other favorites from Seeds Family Worship are Seeds of Courage and Seeds of Character! If you have never given Seeds a try, you should! They make great gifts, too!
*I was give a copy of The Word of God for review purposes. No other compensation was received. All opinions are honest and my own and I was not required to give a positive review*