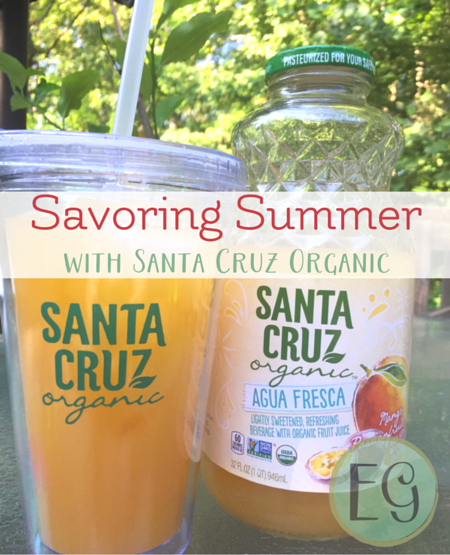 Savoring Summer
How do you savor summer with your family? We love spending time outside together exploring, adventuring, and sipping lemonade on our deck in the evening. We also love having Agua Fresca as a treat when we visit our favorite local restaurant with a patio. When we saw that one of our beloved brands came out with an organic Agua Fresca, we couldn't wait to try it! It just might be time to retire the lemonade.
Disclosure: I received this product for free from the sponsor of the Moms Meet program, May Media Group LLC, who received it directly from the manufacturer. All opinions are my own and I was not required to post a positive review.
What is Agua Fresca?
Agua Fresca is a water and juice based delight that is lightly sweetened. It's a little zippy, very refreshing, and a fantastic way to stay hydrated in hot weather.
Santa Cruz Organic Agua Fresca is inspired by traditional aqua fresca. It contains just a few ingredients including organic fruit juice, sugar, and a smidgen of lemon juice. All the ingredients are certified organic by the USDA. Santa Cruz Agua Fresca is also Non-GMO Project Verified and Gluten Free.
If you've never had traditional Agua Fresca, stop reading, go to your local grocery store and grab some, then come back. Seriously, I'll wait. It is the most refreshing thing you'll drink this summer. Also, read all the way to the bottom and enter to win two bottles of Santa Cruz Organic Agua Fresca for your family!
Which flavor did you get? I think Mango Passionfruit is my personal favorite. Now that you've tried it, you now I'm right. What can you do with Agua Fresca besides drink it straight?
Fresca Floats
Our first order of business was to create a super yummy summer treat. What can you make with the organic goodness of Santa Cruz Agua Fresca? Mr. T suggested floats, so that's what we did! Santa Cruz Organic Agua Fresca has 3 flavors: Pomegranate, Mango Passionfruit, and Grapefruit. We decided to use the pomegranate for our floats.
You may remember that we have food allergies, so normal "ice cream" isn't an option. We made vanilla banana ice cream with Sweet Leaf Vanilla Cream Stevia, frozen bananas, and organic Almond Milk. Process it until it's smooth and creamy, then serve it up in mason jars for your Fresca Float base.
Top it off with your favorite flavor of Santa Cruz Agua Fresca and enjoy! Our Pomegranate Agua Fresca floats were so yummy!
We may or may not have plans for some Fresca Daiquiris after the children go to bed. But they will be made with some light rum, an organic sugar rim,  and consumed while watching fireflies dance across the Georgia twilight. I'll let you know how they turn out.
Connect with Santa Cruz Organic

Enter to win two bottles of this organic deliciousness for your own family by entering below. Good luck, friends!