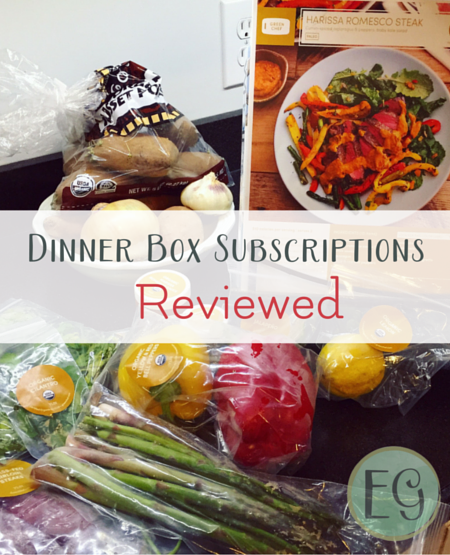 Why a Dinner Box Subscription Might be for You
Are you:
Longing for more family dinners but just can't seem to get it together to plan and prep meals? 
In a season of crazy busy and short on time?
Suffering from a chronic illness that makes nap time seem more appealing than kitchen time?
Trying to eat healthier but not feeling successful at trading out old foods for new ones?
Not an experienced cook, but wanting to learn how?
All of these and more are awesome reasons to try out a Dinner Box subscription service. But oh my stars, there are so many now! It's like there was an explosion of choices all at once.
We tried out 3 of the most recognized to see which one works best for us and I'm sharing the results here with you. We tried out HelloFresh, Green Chef, and Home Chef.  We may try one or two more and we aren't planning on weekly subscriptions, rather we are looking for relief for me on the 1-2 busiest weeks we have per month.
Family dinner is important to us, even more so as I work through The Lifegiving Home (our current EG reads selection), and I want us to maintain our healthy eating instead of trying to make "fast food" work within our allergy and diet restrictions. With all our activities, I was falling behind and we were spending too much eating out and on produce going bad before we could use it. We decided to try out a few different boxes and see if that helped. It did!
Without further adieu, here are the boxes, the meals we received, and our general experience with each one. This one is long so feel free to scroll to a particular service if you know you're looking for a specific review.
The meals:
Beef Sizzle Stir Fry with Bok Choy, Bell Pepper, and Jasmine Rice
Roasted Vegetable Quesadillaswith Chipotle-Chili Mayo and Guacamole
I opened the Hello Fresh box and felt the cool air coming out. Living in Georgia, I was a little concerned about how things would arrive since we are already experiencing hot weather. Each meal's ingredients came packaged in it's own box, except for the meat which was sandwiched between some very amazing cold packs.
The recipe booklet broke everything down into easy steps and presented them in the order that made dinner come out perfectly. These would be a great idea for kids in college wanting to eat more than frozen pizza, and they offer gift certificates!
The produce was perfectly fresh. With our food allergies, we did need to make some substitutions, but it was all things we keep on hand. If you don't have food allergies, then this is absolutely an awesome service straight out of the box.
Hello Fresh offers a Veggie Box, a Classic Box, and a Family Box as their food choices.
All produce and meat is conventional.
You can schedule whenever you want, no minimums or regular delivery required!
The cons for us:
We required substitutions: We subbed in gluten free tortillas for the boys and Paleo Wraps for me for the quesadillas as well as Daiya cheese. We also used our own Primal Kitchen mayo.
For the Beef Stir Fry, we subbed in coconut aminos for the soy sauce and I subbed in cauli-rice for the actual rice.
Not a big deal at all. Everything got devoured and we delicious. Hello Fresh was the most affordable of all the services we tried.
The meals:
Thai Larb Chicken Salad – Ground chicken & veggie stir-fry, lettuce wraps
Orange Roasted Cod – Chard, orange & green bean salad, cauliflower
Harissa Romesco Steak – Cumin-spiced asparagus & peppers, baby kale salad
The packaging was amazing. The box was actually cool, the jute insulation is hanging out in our garage waiting to be reused this summer, and everything was gorgeous, crisp, bright, and ORGANIC!
Here is where Green Chef stands out:
Organic produce and meats. We always shop off the Dirty Dozen list for organic produce. With the food allergies and hypothyroidism, I feel like the little bit extra to get the produce on this list as organic is worth it.
Sustainable sourcing.
The meals are crafted by chefs, ready in 30 minutes or less, and the meals are balanced and between 450-750 calories per serving.
Meal plans include Vegetarian, Carnivore, Vegan, Omnivore, Gluten-Free, and Paleo. (<- Boom! No substitutions needed here!)
There was not a mediocre meal in the box. I posted our Harissa Romesco Steak to Instagram, because I really couldn't believe the date-night worthy fare was made by me in our kitchen in such a short amount of time!  Every meal was mouth watering, paleo, and easy to prepare.
Color coded stickers on each piece of packaging tell you which recipe that spice, prepped veggies, whole veggies, and meat correspond to. Yes, some of the veggies even come prepped.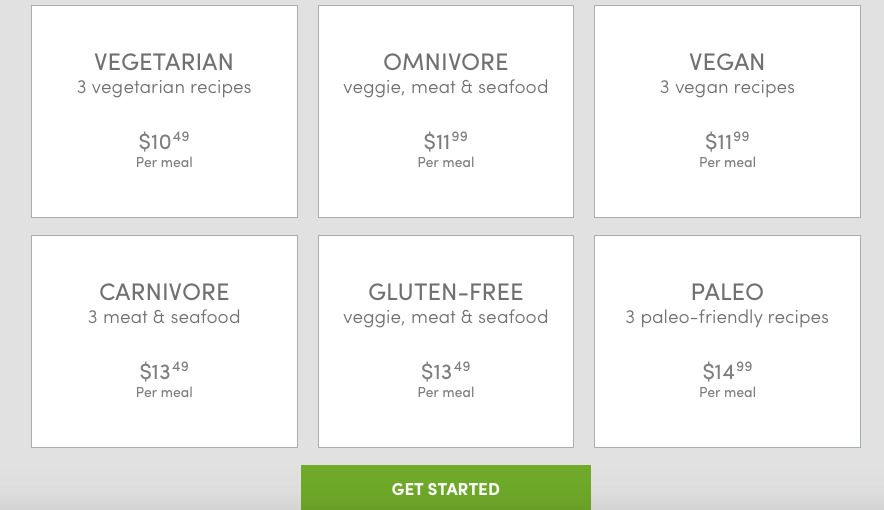 The only con we had was that Green Chef was the most expensive box we tried.
The caveat here is that I do eat paleo 90% of the time and the rest of the family eats this way 70% of the time (because I don't always like to fix 2 meals) so we do spend more on groceries than a family that eats conventional produce/regular bread and grains/processed foods. The cost difference compared to our typical meal expense wasn't horrible. It actually saved us money since I didn't wave the white flag, drag our family of 4 to eat out, and no organic produce in our fridge went bad from not being used in a timely manner. 
The Meal:
Onion and Mushroom Smothered Flat Iron Steak with sweet potato mash and sea salt-roasted green beans
You knew at least one box wasn't going to be stellar, right? Well, our Home Chef box arrived with the bottom sides soaked from the condensation. I actually took the box from our FedEx driver and immediately ran it upstairs to get it unpacked and refrigerated.
The produce packs looked OK, but the butter in them was warm to the point of smushing when picked up so I threw those out. The meat was down with the cold packs and it was still very cold. I heaved a sigh of relief.
We cooked the meal the very next evening because I was hesitant to wait since the produce got a bit warm. I opened the packages of green beans to find them splotched with dark spots and slimy. I washed them with water, with Fit wash, and finally gave up. They were past their usage. Thankfully I had some french style green beans in the freezer that roasted up beautifully.
The steak, sauce, and sweet potatoes were great. The experience afterward was not.
Here's the really awful part. I emailed Home Chef. And got no response.
I emailed again, having paused my account in the meantime. I quoted the issue I emailed about in the first correspondence and received a canned response, the representative had paused the account for me in case I wanted to use Home Chef again, and they couldn't wait to cook with me again. Seriously?
Now, I did notice there were several raving fans on their Facebook page. And the food was good. But I also saw other people posting about poor produce. If I'm going to spend money on something to help me manage our food better, I want a consistent record and good customer service.
I won't say don't try Home Chef, but I will say that you should proceed with caution until their delivery times are faster or they get better customer service reps. They do have a nice set up for dietary preferences and offer breakfast and fruit basket add-ons that look like they would be good. I'm still not sure  if we will try a second box from them or not.
And those are the boxes we tried. Every busy mom should think about treating herself and her family once in a while to a week of awesome dinners that won't work mama to pieces or stress her out.  Don't you agree?