We are delighted to bring you our first review as part of the Moms Meet blogger team!
We all know refined sugar is just not healthy. Most sugar, even the white granulated stuff in the stores is made from GMO sugar beets, not even real cane sugar. While honey and sucanat work great for my boys, they are not kind to my (lower metabolism/hypothyroid) waistline. I've tried other stevia brands before and was always left with a terrible bitter aftertaste. I was excited to try SweetLeaf Stevia, the Organic Packets, the SweetLeaf Water Pack, and the liquid sweeteners. Here's how they racked up! There was also a bonus product of Cream of Coco soap that is just amazing!
SweetLeaf Stevia Organics, Water Pack, and Liquid Drops
The SweetLeaf Organic Stevia packets made sweetening my coffee so much easier. I followed the recommendation to start with just half a packet and then sweeten to taste. Half a packet was plenty! And while it was just the right sweetness for me, there was no aftertaste. I was amazed! It also worked great in my Trim Healthy Mama muffin in a mug and oatmeal. I don't do a ton of baking right now, but there is a cookbook from the SweetLeaf company that looks like it has some awesome dessert recipes! And since it works for MIMs, then I am sure it will work great for baking. SweetLeaf also has a baking blend.
The Water Pack has 3 perfectly purse sized bottles that are Lemon, Valencia Orange, and Berry flavored. No more icky fake sweeteners when you go out to eat and drink your water! And for people like my mom who just don't like plain water, these are a great no-calorie flavor option for all the time.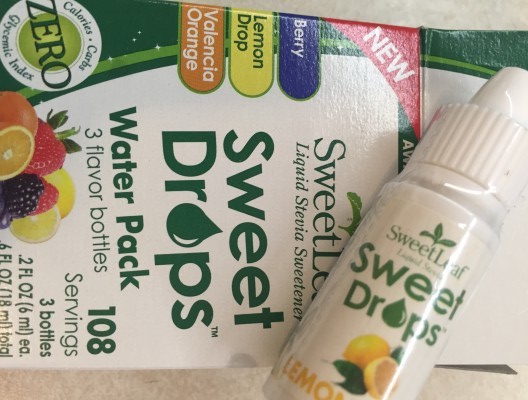 The liquid sweetener flavored drops are awesome and come in a huge variety! I received the Pumpkin Spice and Peppermint Mocha in my review pack and was so impressed, I immediately ordered a Vanilla Creme to have on hand for myself and the boys. As you can see in the picture at the top, I have been able to use it with their warm milk before bedtime and have their assurance it's just as good as the kids size Vanilla Creme they both love from Starbucks! Score for no sugar or honey hyperness! There are also a few other flavor packs similar to the Water Pack above that are full of delightful flavors for coffee lovers, dessert fans, and even soda lovers on the go.
Cream of Coco Face and Body Soap
The last piece of my delightful box was a complete surprise! The Cream of Coca face and body soap was packaged in a really great cardboard wrapper, and as soon as I opened it, I swooned from the tropical vacation dreamy scent. The lather is just perfect and I am pretty sure we will be ordering more of this soap. You can even use it for hand washing delicate laundry. The best part is it isn't made from coconuts, like you might think from the name. It's made from the Mbocaya nut from the Paraguayan coco tree. This is huge since coconut is one of Mr. F's many allergies and it's what we used to use when we made our own soaps.
About SweetLeaf Stevia
SweetLeaf Organic Stevia® Sweetener is a Certified Organic, zero-calorie sweetener made from high-quality stevia leaves.
With a delicious taste that is sweeter than sugar, SweetLeaf Organic Stevia Sweetener is perfect for sweetening hot or cold beverages, cereals, baked goods, desserts, fresh fruit, yogurt, and more.
SweetLeaf Organic Stevia Sweetener is gluten free, and contains no artificial ingredients, calories, carbohydrates, or glycemic response, making it ideal for people managing their blood sugar or calorie intake.
One packet of SweetLeaf Organic Stevia Sweetener is as sweet as two teaspoons of sugar.
SweetLeaf Organic Stevia® comes in 35 ct. ($4.99) or 70 ct. packets ($8.99). Prices may vary based on the retailer.
Find SweetLeaf Stevia online and on Facebook
 *Disclosure: I received this product for free from the sponsor of the Moms MeetSM program, May Media Group LLC, who received it directly from the manufacturer. As a Moms Meet blogger, I agree to review and post my opinion on my blog. My opinions do not necessarily reflect the opinions of May Media Group LLC or the manufacturer of this product.*