I am a sinner. Saved by unbelievable, life-altering, amazing grace. My ash-ridden past, in moments of weakness and despair, sometimes pulls me into that empty desert wilderness of Exodus and I lose sight of my Redeemer. I forget to glory in my weakness and let His strength fill me. I wander instead of being still. Again, I find myself crying out for the Father who always guides me back home.
Recovering Redemption meets you there. Whether a non-believer looking for hope, a Christian who has perhaps never had the Truth handed to them without a lot of sugar-coating, or maybe you have just lost sight of the goal, lowered your eyes, found yourself empty and longing for the filling Living Water and are looking for a way to regain what you think you have lost. To reclaim the Joy of living in Him. To reclaim your redemption.
The book begins with the absolute truth that for the gospel, literally "good news", to be a bringer of joy then you have to understand there's bad news that comes first. Matt and Michael are very honest and straight forward in their presentation of scripture, backed with real-life examples and sprinkled with wisdom from their years of service in ministry and their own lives. Their personal testimonies are incredible reminders that God uses people from every walk of life and He uses us at the exact right time according to His good plan!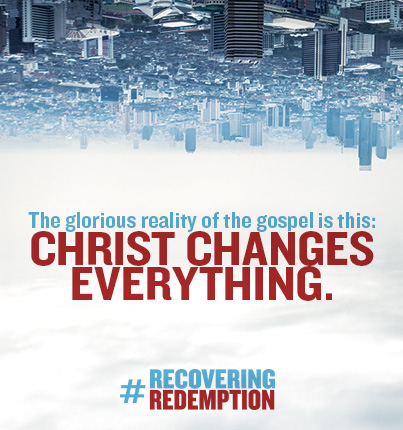 Recovering Redemption begins with all sin at the Fall. It covers attempted redemption where we try out all those cheap fillers to fill the empty, to rescue us from our vices: ourselves, others, the world, and religion. We are reminded "The heart of our problem is a problem of our hearts." (p.37) There are many reminders throughout the book of scriptures where Jesus asks us "where is your faith?". Where are we looking for that peace, that joy, that fulfillment? When we recognize our weakness and that we've been looking in the wrong places, what then? When we are ready and longing to get back to where we really belong?
"And is you'll begin to recognize that you, like everyone, are diseased at the roots, incapable of effecting your own release and rescue, aware that all your attempts at redemption amount to pouring your best hopes into "broken cisterns that can hold no water" (Jer. 2:13) . . .
Then please hear us say: This admission of need and reality is a good thing. This is where the stuff you hate the most about yourself can go to die. This is how the High Surgeon of heaven begins performing corrective procedures on your heart that can ultimately set you free." (p.39)
The whole redemption song is woven throughout this book. Guilt, shame, justification, adoption, vivification, mortification, grace, mercy, love, sanctification. All the uncomfortable stuff that makes us squirm in the pews and all the amazing and beautiful Truth that allows us to breath deeply again. If you are in a dry season spiritually, Recovering Redemption is a step toward walking back into the rain of God's grace. Truth spoken in love is not always sweet at the time, but to break down the walls we build around our hearts takes a chisel (or a jack-hammer), and the end result is us, but closer to God's own image and heart.
For those who are new Christians, or who would like to know more, this is a simple guide that leads you through the journey to redemption. Full of scripture, testimonies, and real examples of the joys and trials of living by faith, Recovering Redemption lays out why we need to be redeemed, why all the filler in the world (and of the world) leaves us empty and longing for more. Christ really does change everything!
Check out the incredible and uplifting stories by following #RecoveringRedemption across social media channels.
There is a fantastic DVD study and study book to accompany Recovering Redemption that can be found here. B&H Publishing has been very generous and is giving away a copy of Recovering Redemption: A Gospel-saturated Perspective on How to Change and Recovering Redemption Bible Study DVD to one of you! Just enter using the Rafflecopter form below! If you don't want to wait, grab your copy here!
You can find B&H Publishing and all their wonderful resources at Facebook, Youtube, Twitter, and Pinterest.
:a Rafflecopter giveaway

Recovering Redemption: A Gospel-Saturated Perspective on How to Change by pastor Matt Chandler and counselor Michael Snetzer.
About the Authors:
Matt Chandler: (@MattChandler74)
Matt Chandler serves as Lead Pastor of Teaching at The Village Church in the Dallas/Fort Worth metroplex. He came to The Village in December 2002 and describes his tenure as a replanting effort where he was involved in changing the theological and philosophical culture of the congregation. The church has witnessed a tremendous response growing, from 160 people to over 11,000 with campuses across the DFW metroplex.
Matt is currently involved in church planting efforts both locally and internationally through The Village and various strategic partnerships. He serves as president of Acts 29, a worldwide church-planting organization. Over the last 10 years, Acts 29 has emerged from a small band of brothers to nearly 500 churches in the United States and around the world. Beyond speaking at conferences throughout the world, Matt has also written several books, including The Explicit Gospel, published in April 2012, and Creature of the Word, released in October 2012. His greatest joy outside of Jesus is being married to Lauren and being a dad to their three children, Audrey, Reid and Norah.
Michael Snetzer:
Michael Snetzer serves as Recovery Groups Pastor at The Village Church in Flower Mound, Texas. He received his Masters in Counseling from Dallas Baptist University. For seven years he served as a counselor at the Center for Christian Counseling. He has served on the pastoral staff at The Village Church since 2007. He has worked part-time at North Texas Christian Counseling since 2012.
He has three children: McKenna, Ava, and Greyson. He and his wife, Sonia, were married in 2007.
**I received a copy of Recovering Redemption to review and a copy to giveaway. No other compensation was received and the opinions are my own**