Description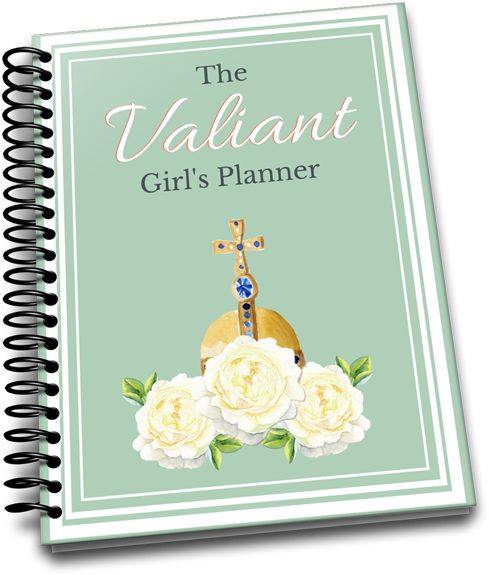 The Valiant Girls's Planner is a PDF printable planner designed for elementary girls to use to help keep them on track. Homeschool student planner created for 2nd through 8th grade young ladies.
The months are undated so the planner can be used for multiple years. There are scripture cards for the Valiant Code (shown in preview file). The weekly and daily sheets are meant to help your student take ownership of their time and choices and to keep track of what they need to accomplish.
This printable planner is especially helpful for children who are easily distractible or who need to know their schedule and potential changes to routine in advance.
The planner includes:
The Valiant Code
Scripture cards
12 labeled month pages with one of each of the 12 Codes
Weekly page
Daily page
Daily tasks
Daily schedule page
Summer Bucket List
Winter Bucket List
Reading log
Growth Activity Tracker
Skills I want to master
Tips for printing
This is a PDF printable planner. No physical product will be received.
Don't want to print your own? We recommend Family Nest Printing

60 pound paper

prints well and binds well for the covers and divider pages. For the planning pages, I prefer

32 pound paper

. It is sturdy enough to last and to prevent much bleeding through if you like heavier inked pens. I love using the

Pilot G2 gel pins.

Only print one quarter at a time for younger students. A full year is very bulky and can seem overwhelming, especially to an easily distractible child.
Have your finished planner bound at an office supply store

, or get a 3-ring binder to hold it. I prefer the binding option because I like that it is lighter to carry around that way. Mine was bound in under 30 minutes with a clear cover black backing, and spiral binding at Office Max

Printing double sided

on the daily planning pages works well and saves paper.
There is a limit of 3 download attempts. If for some reason you cannot get the download to work, please email [email protected] and we will get it sorted out. I'm here for you!
This is a digital product so we are unable to accommodate refund requests.