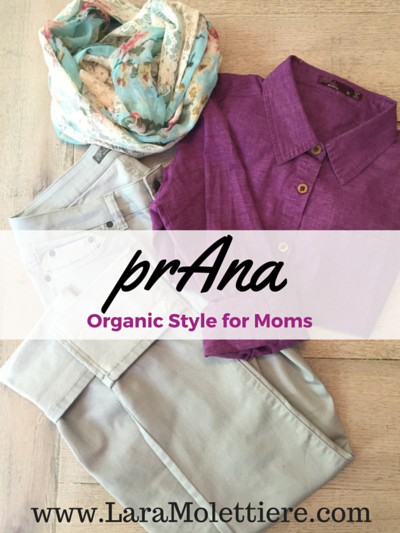 We strive to live as naturally as possible. Eat healthy, exercise, and take care of our part of the world as best we can. Even when it comes to our clothes.
Disclosure: I received this product for free from the sponsor of the Moms Meet program, May Media Group LLC, who received it directly from the manufacturer. As a Moms Meet blogger, I agree to use this product and post my opinion on my blog. My opinions do not necessarily reflect the opinions of May Media Group LLC or the manufacturer of this product.
prAna: We create versatile, stylish, and sustainable clothing and accessories that you can wear during every activity, every adventure, every day. How do we know? Because we base our designs on our own experiences. You see we're more than makers, we're doers—yogis, climbers, and world travelers—and we use our knowledge to make clothes that look good and play hard. We like to focus on the details, and aren't afraid to go bold when it comes to colors and whimsical patterns. We love to combine classic style with modern materials, ever mindful of where and how our creations are made.
How can you not fall in love with the idea behind prAna? I chose the Kara Jean in silver and the Sutra shirt in Light Red Violet for my pieces to try out. And they are giving you a sweet discount to try out prAna, too!
Discount code: MMS16LM

Discount code details: Valid for 15% off at prAna.com. One-time use per customer. Not valid for Influencers, on Gift Certificates or with any other offers. Valid thru May 30, 2016.
I also got a mom's night out! Yay! I do like to be comfy and these jeans are amazing. I've chased Mr. F all over, cooked dinner, dined out, walked 3 miles in Georgia heat, and not once have these jeans felt scratchy, tight, or the tiniest bit uncomfy. They also wash beautifully. They come with a tall cuff, but I'm vertically challenged and prefer smaller cuffs so I made my cuffs smaller. Every mom should have a pair of these. They transition seamlessly from morning errands to preschool pickup to date night. And they are as soft as wearing a cloud.
The Kara Jean
Foldable cuffs accent the slim fit and tapered leg of the prAna Kara Jean. Soft stretch denim is 75% organic cotton and has grown into such a favorite over the years that it's branched out into other items.
Details & Materials: Fitted Organic Stretch
Soft stretch 'Kara' denim, Offered in solid and printed, 5-pocket jean with rivets, Size 4 = 28.5 (72.4cm) inseam when cuff is folded (5 fold), Fitted, Tapered leg, Low rise
79% Organic Cotton / 19% Polyester / 2% Spandex
Retail price: $89
The Sutra shirt in light red violet, which is a warm purple perfect for  adding a pop of color to your "mom uniform". As shown above, it compliments the usual ponytail, Fitbit, Starbucks, and cat eye sunglasses for work time while Mr. F is at preschool and Mr. T is at farm class.
A few of my favorite things about the Sutra shirt:
It has body but not a lot of weight. "It breathes like Egyptian cotton" as quoted by Edna Mode in the Incredibles. Perfect for Georgia summers!
The buttons! They are such a neat accent.
The cut. It's tailored but not tight. It's flattering on every single body type but because it's such a versatile cut, it also makes the Sutra an awesome wardrobe option for a lightweight jacket.
It coordinates with my favorite Stitch Fix scarf.
It doesn't really wrinkle. I hate to iron. It's a match made in clothing Heaven.
Available in a beautiful green and blue as well. I may need both.
The Sutra Shirt
The prAna Sutra Shirt answers the prayers of longtime fans
of the Sutra Pant. A fantastically comfortable blend of soft hemp, recycled poly, and stretch is given a classic button down silhouette you can wear everywhere – and you will. Roll up sleeves are held in place by tabs.
Great for travel
Details & Materials: Hemp, Recycled, Stretch
Woven Hemp/Recycled Polyester blend, Classic button down silhouette with chest pockets, Roll up sleeves with tab, Hidden pockets at wearer's right, Standard fit
53% Hemp / 44% Recycled Polyester / 3%
Retail price: $85
Don't forget your discount!
Discount code: MMS16LM

Discount code details: Valid for 15% off at prAna.com. One-time use per customer. Not valid for Influencers, on Gift Certificates or with any other offers. Valid thru May 30, 2016.
Find prAna online at