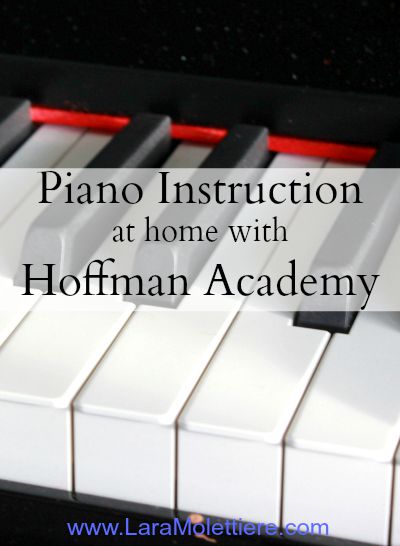 Music Matters
Music is a moral law. It gives soul to the universe, wings to the mind, flight to the imagination, and charm and gaiety to life and to everything. – Plato
Music is a gift. The ability to listen, really listen to it, is a learned delight. The ability to play it, to read it, to understand it is a practiced art. To be able to create it is an exquisite talent. Giving your child the gift of music is something that will bring joy to you both.
Disclosure: We received the Hoffman Academy unit one printable materials for review purposes. No other compensation was received, all opinions are my own, and I was not required to post a positive review.
While some music lessons can be cost prohibitive, Hoffman Academy has made their video lessons available for free! You can opt (and I would recommend that you do, but also enter below to win!) to purchase the printable lesson worksheets, parent guides, listening and practice CDs for each unit for $19. That's less than the cost of a single lesson where I grew up.
You can see Mr. T practicing his Piano Posture here. He has a stool under his feel since he's not quite tall enough to reach the ground 🙂 He is completely enamored with the Hoffman Academy Program. He's been using it (and asking for it) for just over two weeks now. How do you get a 5 year old with suspected dyslexia, sensory processing, and a love of instant gratification to sit down to practice piano?
The Hoffman Method
The Hoffman Method is different. The very first lesson, your child learns to play Hot Cross Buns. The first lesson! Talk about instant.
So your child is immediately engaged. The Hoffman Method uses a unique combination of ear training, improvisation, sight reading, music theory, technique, rhythm, and solfege to give your child more than just basic piano lessons. The skills above are woven throughout the program so by the time your musician completes all 6 levels, they are able to compose, sight read, play some by ear, keep rhythm, and are a well-rounded musician rather than just a pianist.
The piano is also an excellent instrument to learn music. If you can learn to sight read, rhythm, theory, etc. on the piano, other instruments become easier to learn.
The worksheet pages and games are fun!
Workbook pages are not usually something Mr. T does willingly. Because the writing is larger and the pictures make up some of the page, Mr. T enjoys the worksheets. He loves the musical alphabet snakes and worms and drawing notes. You can see a sampling below. These are not your ordinary boring theory books. The games are also appropriate for multiple ages.
Because we are watching each lesson at least twice, we are also breaking up the worksheets for each lesson and doing one at a time. Mr. T has asked for review and to do extra days of lessons so something about this method has really clicked with him and I'm ecstatic.
The videos are engaging
We've tried a few different online learning courses for multiple subjects. If the instructor isn't engaging or the content isn't great, Mr. T loses interest within seconds. Mr. Hoffman is very fun to listen to and he's very encouraging. He also uses fun puppets for some review at the end of video lessons and Mr. T watches those over and over and over.
I must say, even though I studied piano for many years (many years ago) I rather enjoy going through the lessons with Mr. T because it's so very different from how I was taught. The
Hoffman Method
is perfect for young children because it engages all their senses in a way that helps keep their attention. It's also great for adults, though they might not enjoy the puppet shows as much. If the
Hoffman Academy
offers classes for mid-level pianists online in the future, I will be first in line!
Mr. F couldn't stand to be out done by big brother so he even sat down to watch part of lesson one and try it out. He decided his hands weren't quite big enough yet 😉 But he still likes to play!
Follow Hoffman Academy Online
Enter to Win Hoffman Academy Unit One
Win Unit One Materials, a $19 value, for your piano student! Enter through the rafflecopter form below. The Giveaway will run from 9/23 to 11:59 pm 9/29/15. Good luck!
a Rafflecopter giveaway